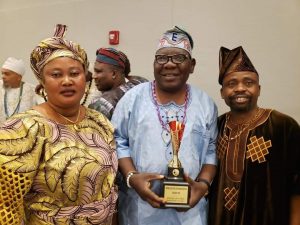 A rising fuji musician, Alhaji Besco Azeez is among a few Nigerians conferred with merit awards in Chicago, USA.
A body, First Eye Concept, stimulated the award, which were presented on September 10, 2022 at the University of Chicago where the Yoruba Cultural Exchange Festival held.
The Tabloid.net gathered that the very bright fiesta was a convergence of the Yorubas, including the Oludo of Ido-Osun, Oba Adedapo Aderemi, while Besco entertained with his Barrister Fuji to the applause of all, especially guests who had no previous taste of his act.
After the historic party, Besco expressed gratitude to God for his journey so far and counting him worthy among the blessed musicians.
He also showed appreciation to all his benefactors, including the awarding organisation and an insurance executive, Haja Monsura Lawal.
"I dedicate this award to all my well wishers and to all Dr. Sikiru Ayinde Barrister fans worldwide. S.G Entertainment, we move with God's power," he remarked.
Since Besco, also known as the Arole Agba, arrived the US in August, in collaboration with a promotion firm, SG Entertainment, he has performed and thrilled guests at Houston Texas, Dallax Texas and New Jersey.
He continues his tour with other scheduled engagements at different cities till December.