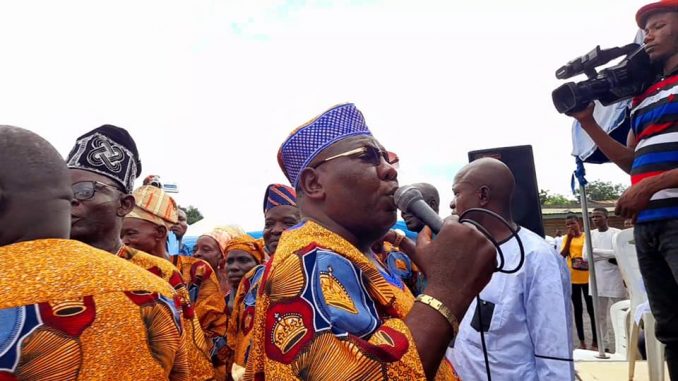 Last weekend, affectionate memories of the late fuji music giant, Dr Sikiru Ayinde Barrister came alive in the relaxing town of Lanlate in Ibarapa axis of Oyo State, when another fuji musician, Besco Azeez Adisa (Bessy Wonder), who cut a near image of Barrister, mounted stage at a burial ceremony.
It took some guests some time in amazement before they could come to term with reality that the also plump Besco was not Barrister reincarnate. They were more bewildered watching Barrister captain and lead talking drummer, Alhaji Yekinni Ayanwale (Aderoju) in that band.
TheTabloid.net gathered that Aderoju occasionally featured as a guest drummer whenever Besco needed his service to fortify mass of his percussion for an unimpeded inspiration.
It was learnt that guests could not hold themselves as they danced their hearts out to variety of his assertive lyrics backed with a right rhythm by drummers and instrumentalists.
Appearong in an Ankara fabric, Bessy Wonder, exuded satisfaction at the end of the show evident in a short review he did on his return to his Ilorin, the Kwara State capital base.
Some weeks ago, he made a similar impact in guests of the foremost theatre practitioner, Alhaji Adebayo Salami (Oga Bello) at the fidau for Oga Bello's late mother held in Ilorin. Besco was said to have also mesmerized all thespians at the occasions such that they all trooped to dance floor and appreciated Besco's re-enactment of Barrister stagecraft.
A notable Barrister fan, who is also the current chairman of Nigeria Bar Association (NBA), Ilorin chapter, Alhaji AbdulGaniy Bello, is visibly ecstatic by the recent limelight enjoyed by Besco, saying it is a result of the musician's persistence and hard work.
"You would agree with me that he has been unrelenting, especially after the death of Alhaji Barrister. This means, he is serious in his determination to preserve Barrister's legacy. As far as we are concerned here in Ilorin and Kwara State as a whole, he is our Barrister, and he has been humble about his rising profile," he noted with an innocence  but assured smile.