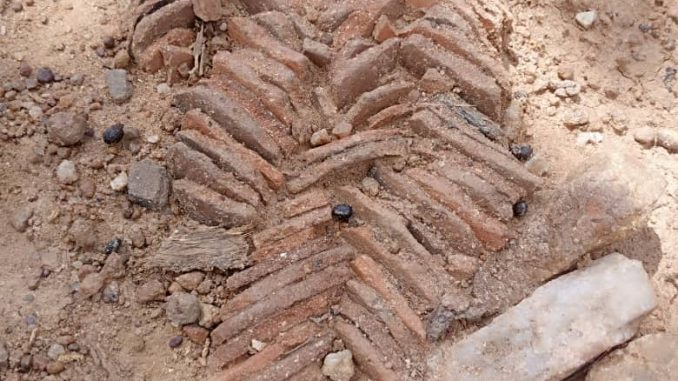 An archaeological and touristic feature, a long potsherd pavement  has been discovered at the palace of the Onimesi of Imesi-Ekiti, Oba Adetunji Olatunde.
The visibly animated traditional ruler, revealed during the visit of the Senior Special Assistant to the Governor of Ekiti State on Tourism Development, Ambassador Wale Ojo – Lanre to his palace and added that the potsherd pavement had a trail not only in the palace but in other part of the town.
He affirmed Imesi as an ancient town of a rich history of old kingdom that gave birth to many towns in Yoruba land, saying that aside the potsherd pavement, his town also  harbours many heritage and tourists sites like Iseku stream found to be a traditional healing water and a cave which shielded his forefathers against enemies.
"I am a product of a rich cultural pedigree. I understand the value which the enhancement of tradition, arts, culture and tourism could bring to a town. That is the main reason we are branding Imesi as a cultural-tourism town of immense proportion. You see that our Imesi Museum of Royal Antiquities which is the first in the state is 95 per cent completed and will be inaugurated during the first year coronation ceremony between June 12 and 17 during which Imesi will host the first Royal Arts exhibition in Ekiti State," he said.
Ojo-Lanre,  who remarked that he was in Imesi Ekiti in furtherance of the assignment on  profiling historical and cultural heritage of tourism significance in Ekiti State, was elated while Oba Olatunde was conducting him round the palace, and unveiled the potsherd pavement, which the monarch said, dated back to hundreds of years.
He stated that those potsherd pavements were evidence of age long civilization associated with the ancestral towns of historical significance, adding that with the assistance of archaeologists there could be more revelation on the Imesi potsherd pavements