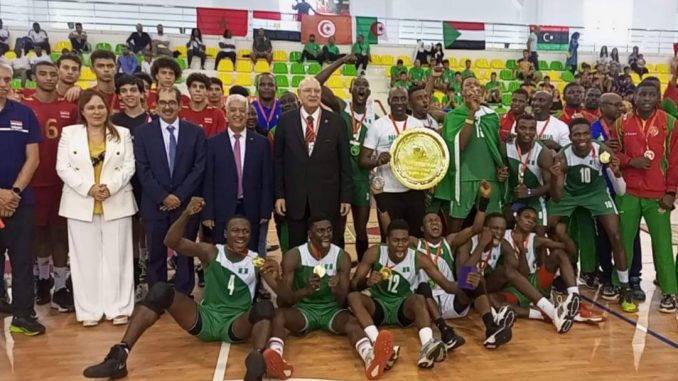 Nigerian U-19 Volleyball team (male) today in Morocco defeated their Egyptians rivals and won again the U-19 African Nations Volleyball Championship.
The Tabloid.net gathered that Nigeria, from the blast of whistle, kept the game under their control and recorded a win in the first set at 25-20.
Having used that set to warm themselves up, the players went harder on the Egyptians and cancelled them at 25-18.
Nigeria Volleyball Federation account revealed, "The Egyptian began the third set on a high spirit, taking points alongside the Nigerian team. Both teams took points from 25 to 25 before Nigeria eventually won by 31 to 29 points."
Head Coach of Nigerian team, Mr Adekalu Adeniyi was reported to have applauded his players and confirmed that they responded timely to his instructions throughout the final match, dedicating the victory to God.
"Today is the happiest day of my life in 2022 because Nigeria retained the trophy won in 2020. The players played according to the game plan from the blast of the whistle and never complained whenever they lost points.
"The players have shown greatness from the first day of the championship and exhibited a high level of discipline during the course of play," he enthused.
The coach also expressed his gratitude for the opportunity to lead the team to the glory having previously served as assistant to Coach Sani Mohammed to win the 2018 African Youth Games title and the 2020 U19 Boys African Nations Volleyball Championship held in Nigeria.
He said, "Now, I am lifting the trophy as the Head Coach. I want to also appreciate the Nigeria Volleyball Federation led by Engineer Musa Nimrod for their tremendous support to the success of the team as well as every Nigerian."
Adeniyi, however, noted that the players still need further training to be better volleyballers of their dream, though, he stressed, they are blessed with special qualities to become national assets at senior level.