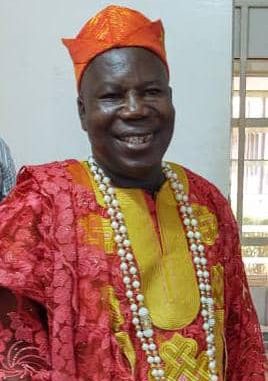 Religious clashes have been a recurring decimal allegedly caused by intolerance and domineering tendencies among groups. Many have narrated their tales giving picturesque accounts of their survival, while many did not make it to recapture the incidents, leading to their premature exit to the great beyond.
The Alado of Ado Awaye in Iseyin Local Government of Oyo State, Oba (Rev) Ademola Olugbile Folakanmi belongs to the former and attributed to God his escape from a theatre of a group he called Oro cults in Iseyin as a faithful of the Deeper Life Church in 1991.
Even though Oba Folakanmi suffered physical injury in his stitched lips, that experience lionized him spiritually and created path for his rise in Christendom to a Reverend, who founded a church known today as the Royal Lamb Apostolic Church. That the acclaimed odd name of his church would coincide with his destiny, was not his making; the choice was circumstantial, tallied with fallout of the violence from Oro cultists, inside hospital where he was admitted alongside other victims of that clash.
He reminisced: "There were two ladies among us that were beaten; they were at the throes of death, and doctors had all gone home. I was called out in the spirit to do deliverance for those two ladies. If I didn't do it, they would die before daybreak. But I asked, 'with what do I do the deliverance?' I asked because my lips had just been stitched. Eventually, I did the prayer, but my lips got broken again as a result. But after about four days, the ladies came back to life."
That particular occurrence further strengthened his faith in his decision, which resulted in his quit of a desirable job of bank manager at the least expected time of his career, having studied and graduated with a Higher National Diploma in Banking and Finance at the Polytechnic Ibadan. He was doing profoundly in his deliverance mission in his church and elsewhere until message to return home to fill the long vacant stool of his forebears, came to him.
Since 1983 when the immediate past Alado joined his ancestors, his successor had remained elusive on account of marathon disputations, which is a natural hallmark of succession to throne in Yoruba land, except in Ibadan. The Oyo State capital is reputed for its enviable history of a seamless system, whereby succession is structured in ascendancy line.
But after 34 years of scramble, Oba Folakanmi's appointment was approved and signed by the then Oyo State Governor, the late Senator Abiola Ajimobi in 2017. He would consequently be installed at occasion, which had the Alaafin of Oyo, Oba Lamidi Olayiwola Adeyemi personally performing his coronation.
Finding revealed that no Alaafin had ever left Oyo and traveled to Ado-Awaye to install any Alado; it was on the other way round, after which the Alado would return to town from Oyo with pomp and pageantry. Perhaps, Oba Folakanmi reaped the fruit of patience by his royal family, which, according to him, had suffered exclusion from the throne for about two centuries, while other ruling houses kept the slot in their pockets.
Arrival of Oba Adeyemi on soil of Ado-Awaye on that day, till date remains a moment he will always relish for its historical significance and love shown to him by the Alaafin, whom, he confessed, he had dreaded as a tough and unapproachable imperial majesty.
"But when I moved in here, I discovered that he is a father. He will call us to tell us that he is aging and looking for who to hand over the baton to among us. He will tell us 'you, these obas, go and work. We are looking for who we can hand over the baton to when we go home. We are looking for successors that would preserve and promote Yoruba cultural values," he recalled.
While the Alaafin's message was not targeted at a particular traditional rulers present at the gathering, the Alado, however, felt a pinch on his skin alerting that the message was his because of the Iyake Suspended Lake, which had not received attention it required to turn a goldmine to his town, Oyo State and Nigeria as a whole. Pronto! Oba Folakanmi returned home and set ball on motion and wore a thinking cap on how to actualize the vision seen in the Alaafin's message.
Quickly, he fell back to his three cardinal points of redemption through passion for development, after which he began an aggressive publicity as reflected on Google which has rated the lake higher than people back home could imagine within a space of four years.
He confirmed, "If you search Google where tourism is being rated, you will see that the Iyake Suspended Lake has been rated 4.9 out of five points. And in a post-COVID-19 era, over 100,000 people have visited the lake, as a result of our promotional efforts."
The delightful traditional ruler added, "There are some numbers of platforms that the Iyake Suspended Lake has gone into. We have created a website; we are on Facebook and also on Instagram. So, all these things make information about the lake to go viral. And in my own little contribution, I just wrote a book, Iyake Suspended Lake, The Pride of Africa, which we believed will also add to the potentiality of the lake going viral."
Although the Alado expresses optimism that the Oyo State Government piloted by Governor Seyi Makinde would hearken to his fervent prayers, he, however, lamented attitude of past administrations despite some promises, all of which ended empty. Still, he is hopeful, saying "Since when we came on board, we have had a lot of contacts with the present administration in Oyo State, especially with the presence of the Special Adviser (Tourism) to Governor Seyi Makinde.
"Honourable Ige is a man on ground and, with the chairman of the Oyo State Tourism Board and all others concerned, we are sure that, by the grace of God, the present administration in the state will do something. We have marked an area as the Oyo State Pavilion and we have talked with Mr Governor that we would want the state government to come and build the Governor's Square in that place. When that is done, it would always propel the mind of the governor to always go there."