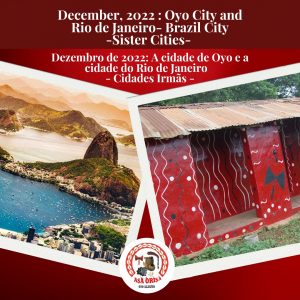 Eight months after the transition of the late Alaaafin of Oyo, Oba Lamidi Olayiwola Adeyemi, one of his efforts has yielded fruits with the recent upgrade of Oyo as a sister city to Brazil Rio de Janeiro.
A December 26, 2022 release from Brazil authorities confirmed that Oyo City-Nigeria and Rio de Janeiro City-Brazil were declared sister cities under the Law No. 7,736 published in Rio de Janeiro city and authored by Council man Reimont.
According to the Law, establishment of programs of cooperation in cultural, social, educational, scientific, tourist, technological, economic, environmental and commercial exchange between the two cities is reason behind the new development.
In her reaction, the Alaafin Cultural Ambassador, Dr Paula Gomes attributed the development to the late Oba Adeyemi whom she described as monarch of history.
"How I wished Baba was alive to witness this great accomplishment. Anyway, it still remain his legacy. I am very happy and I thank all those involved. The work continues after Oba Adeyemi," Gomes said.