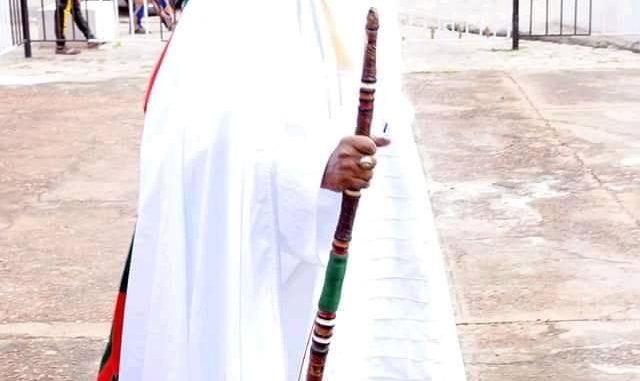 Not many were in the know of his scheduled visit to Yorubaland. So, his arrival at the palace of the Ooni of Ife, Oba Adeyeye Enitan Ogunwusi on Wednesday December 2, 2020 was breaking news to Ife people and the media. The Emir of Kano, Alhaji Aminu Ado Bayero, in company of his entourage, which included leaders of Yoruba community resident in his domain, turned up at the Ooni's palace.
He was treated to a reception reserved only for a traditional ruler of his class, especially considering the impregnable bond between his late father, Emir Abdullahi Ado Bayero and Oba Ogunwusi's predecessor, Oba Okunade Sijuwade both of whom passed on a year apart in 2014 and 2015.
The Tabloid.net gathered that among Nigerian traditional rulers, Emir Bayero and Oba Sijuwade were reputed to have often been on same page on varied national issues. In 1984, both traveled to Israel on private visit but return to Nigeria only to be welcomed with a sanction on the order of the General Buhari/Idiagbon federal military government due to the then strained diplomatic relations between Nigeria and Israel.
In April 2017, the immediate past Emir of Kano, Muhammadu Sanusi was also a guest of Oba Ogunwusi. He was accompanied to Ile-Ife by members of Kano Emirate Council, following a clash which threatened the co-existence of Yoruba and Hausa community.
Sanusi regaled the Ooni of his earlier visit to the ancient town as a member of his predecessor's entourage to the 30th coronation anniversary of Oba Sijuwade to underscore the cordial relationship between Kano and Ile-Ife.
"It is indeed remarkable and we thank Allah for the way he does his things because the relationship between our two predecessors which was critical to building bridges across the Niger and unifying the people of this country has continued with us and I hope we will keep being agents of peace and unity for our great country," he noted.
Given the foregoing, last Wednesday's visit to Ile-Ife followed the pattern which Ado Bayero met on assumption of office in March, 2020 with a view to further strengthening the existing relationship with Ile-Ife and Yorubaland in general, hence his superlative words on Ile-Ife as cradle of the Yoruba civilization, center of excellence of culture, and education in Africa.
The Emir stated that his visit was a homecoming in reference to the acclaimed friendship between his father and Oba Sijuwade, adding "My respect for the Ooni Ogunwusi is so much that anytime I see him, I feel like I'm seeing all of my forefathers put together. We are pleased to note the prime position of the Ife Kingdom considered as the ancestral and spiritual home of the Yoruba people all over the world."
Being a youth himself, the Emir expressed his concern over the fate of Nigerian youths against the backdrop of the prevailing social reality, making the young generation not only susceptible but also volatile as evident in the October End SARS imbroglio, which nearly crippled the nation.
The aftermath of the incident was a meeting between President Muhammadu Buhari and some traditional rulers led by the Sultan of Sokoto, Saad Abubakar and the Ooni of Ife. At the meeting, issue of Nigerian youths was on top of the agenda and exhaustively deliberated by all parties.
Emir Ado Bayero reminded Oba Ogunwusi of the Abuja meeting and came up with a suggestion of a robust engagement to find a lasting solution to the challenge, which the issue has posed to the security of the country.
He said, "I wish to use this opportunity to suggest a cross-exchange of ideas about new ways of tackling the issue of education, employment, and social development amongst our youths because it is through cross-fertilization of ideas that new solutions to contemporary challenges are found."
Both traditional rulers were unanimous in their submission with a chorus that to the youths belongs the future, hence the need to carry them along in their administration as well as the nation's development plan, with the Ooni stressing that the youths need capacity building to be more relevant in the emerging society.
"We don't have to wait for the government, let us do our best individually and it shall be well with us. Thank God for the peacefulness that greeted your emergence as the new Emir of Kano. I love your simplicity and humility, and I am so glad about the maturity displayed by you and your immediate predecessor Alhaji Sanusi Lamido Sanusi. God is the only giver and taker of power," the Ooni noted.
At the palace of the Alaafin of Oyo, Oba Lamidi Olayiwola Adeyemi, on Thursday December 3, 2020, Ado Bayero continued his advocacy to the admiration of his host, calling on the youths to know their true history, which, according to him, would serve as compass to navigate the new world.
In that regard, he showered a generous encomium on Oba Adeyemi whom he described as his father for his deep knowledge of ancient and contemporary history, while he clarified that the visit was his familiarization tour, also pointing out that it was in continuation of the relationship between his father and the Alaafin.
He disclosed that the history of Oyo, like that of Kano, predates modern day Nigeria by hundreds of years, saying further that the two towns had developed sophisticated system of political, commercial and military expertise that was unequaled.
"Modern day Oyo, like modern day Kano is a centre of excellence in education, culture and commerce. It is therefore essential that we continue to demonstrate these qualities to the world and to generations of young Nigerians, so that they may come to know our true history, which would re-enforce their confidence as they face a very challenging and globalised world.
"Kabiyesi, I watch you as a role model. You are my father and I am with my Baba today. As a patriotic and nationalistic father, Your Majesty is known to have stated way back in 1984 that 'Traditional Rulers should be seen as the perfect embodiment of the culture of a place as well as the synthesis of the aspirations and goals of the nation. This is not only in social values of veracity, Egalitarianism, justice and democracy, but in dress, utterances and complement," he said.
The Emir also expressed his gratitude to Oba Adeyemi over the peaceful coexistence with the Hausa community in Oyo, assuring that he would continue to appreciate him for that fatherly role as host to one of the largest Hausa community in any part of Nigeria.
He stated, "Your Majesty, we thank you and the people of Oyo and State for the hospitality and acceptance shown to our folks living and making a decent living here and make bold to state that our brothers from this end are living peacefully in Kano."
Oba Adeyemi too corroborated his guest's reference on his relationship with his late father and revealed that the late Emir shared his position leading to their advocacy for the upward review of traditional rulers allocations to five percent during the regime of the late General Sani Abacha.
The Alaafin added that during the Murtala Muhammed regime between July 1975 and February 1976, alongside the late Emir, he was on holy pilgrimage to Mekka and Medina with the late Head of State, also revealing during the regime of General Ibrahim Babangida, he was appointed as Amirrul-Hajj during which he recorded an unprecedented success in that year's Hajj operations.
"I surprised General Babangida when I returned home on record time with all the pilgrims and remitted the balance of allocated fund. The general said 'No', I should take it but I insisted that if he wanted to give me money, it should not be that remittance. I keep record and I want it to be on record that I returned unspent money to the coffer of the government. General Babangida appreciated it," he revealed.
Given the preparation for the 2023 general elections and loud clamour for power shift, Ado Bayero's visit is seen in some quarters as a part of Northern agenda towards that elections, arguing that the North would not leave anything for chance to have their political interest jealously guided.
A socio-political analyst, Mr Emmanuel Akande told The Tabloid.net that the North would not joke with politics and power of the coming dispensation, drawing experience from his childhood years in the Northern part of the country where he lived with his parents.
"They are so calculative and not given to too much talk unlike our Yoruba people who are daily on social media. Don't you think that this Amotekun corp in itself a threat to the North? They will look for ways of courting our traditional rulers because of their people living in Yorubaland. But everything bothers on security and politics of 2023," he said.
However, the Alaafin strongly differed with that critical position as he led the Emir on Friday to the Oyo Central Mosque, where they observed the jummat congregation prayers with Oyo Muslims and preached peace and unity among Nigerians of all ethnic groups.  Oba Adeyemi also commended the Emir for his visit with promise to always play fatherly role to him whenever it is necessary.