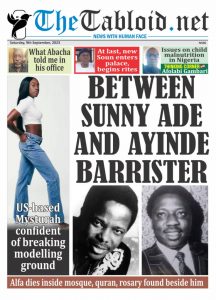 To those who have been inducted into the fraternity of Nigerian indigenous music analysts, Omoba Sunday Adeniyi Adegeye (King Sunny Ade) and the late Alhaji Sikiru Ayinde Balogun (Ayinde Barrister) are figurative offsprings of one father.
At the juvenile age of their respective careers in the 60s, both were recording artistes for the late stars-making entrepreneur, Alhaji Yakub Bolarinwa Aboro's label known as the African Song.
Their shared history with that records company dated precisely back to 1966 when the then Sunny Adex and his Green Spot band waxed his debut titled "Alaanuloluwa" and Ayinde Barrister with his Ajisari Group debuted with his "E je ka gbo toluwa".
Although KSA's vinyl was said to have recorded a calamitous sale in the market, stardom and fortune smiled on him in his subsequent releases, especially his "Challenge Cup" album which claimed to have sold beyond the company's projections.
KSA, thus, became a celebrity while Barrister lived in the low world of obscruity as a sweating sergeant in the Nigeria Army after he had missed violent death by a whisker at the war front during the Nigerian Civil War that raged from May 1967 to January 1970.
But through resilience, focus and his voluntary disengagement from the military in 1976, Barrister carved a distinct niche for his brand of music; he named it fuji and instantly hit the limelight, becoming a household name in the Yoruba-speaking towns and communities, even beyond the South-west and Kwara, especially across the River Niger.
His success tale magnetised other young talents to the genre; and he became a force to reckon with on the social landscape then dominated by Juju of KSA and Chief Commander Ebenezer Obey; Apala of Alhaji Haruna Isola and Alhaji Ayinla Omowura; and Sakara of Yusuf Olatunji and his arch-rival, S. Aka.
When KSA was crowned the king of Juju at a public show in Ibadan, the Oyo State capital, by the late Alaafin of Oyo, Oba Lamidi Olayiwola Adeyemi, upon request by a specialised title 'The Entertainer' published by the Sketch Press Limited, Ibadan, the Ondo Prince was sky-bound and practically unstoppable.
Elder Dayo Odeyemi, then an editorial staff of the weekly, attested to the fact that the much publicised installation lifted KSA's career.
"He was no doubt on top of other juju musicians as the result of the polls we conducted revealed. In the same year, he performed at my wedding and played an active role throughout," Odeyemi, who later served as media consultant and confidant to Barrister, revealed.
KSA was a blockbuster by all standards in his sophisticated musical instruments, expanding patron base, increasing album sale and style variation.
Patiently watching him climbing the staircase of fame, the indefatigable Barrister was more inspired, revving his pace (from night clubs to parties), entering studios and releasing chart busting albums to the ovation of his growing fans.
Barely after KSA succeeded in floating his own label named Alade Records, consequent up a celebrated legal battle with his once benefactor, Abioro, Barrister followed suit luckily without a jab with the powerful Abioro. He founded his Sikky Oluyole Records in 1977.
Not long afterwards, he also embarked on his first musical tour to the UK with his band members in 1978, apparently, again, following the footsteps of KSA who had earlier performed before UK and the US audience and returned home with screaming news of acceptance.
Inadvertently, a race had been fired between the two shining stars, finishing line of which neither of them could see in the realm of their respective imagination.
Just as Barrister returned from his UK trip and released an elpee wherein he paints a graphic image of his exploits in the Queen's land, it was no longer in doubt that fuji was indeed after juju and in a devil-may-care speed to outrun and possibly dispossess juju of its regular lovers.
A socialite, who incidentally was and still is a fan to KSA and Barrister, Otunba Adisa Osiefa, affirmed that Barrister personified a moving train on the pace to crush any obstacle on his path by freely flirting with lyrics and beats of other genres intentionally to expand the reach of his fuji.
"I am in the best position to tell you that Doki (Barrister) did win many fans of other musicians to his side. I was a fan of KSA long before I got to know Doki. But when we attended his show and found his music unique and himself a well mannered person, I became his fan and friend," the Epe-born admitted.
Through that connection, KSA, Barrister, Osiefa and his other friends, like the Asiwaju of Ada, Chief Kola Oyadeji, became a close circle which they jocularly christened committee of friends.
When Osiefa commissioned his Adidas Hotel, Lagos in the mid 80s, he recalled, KSA and Barrister were in attendance.
KSA, Osiefa added, was also present at a get-together which the committee of friends organised in honour of Barrister who was billed to tour, with his band, the US in the Summer of 1986.
"I am older than them but we were all friends doing things together. When I say we did things together, I mean things which young successful men back then, did," he said with deliberate smiles.
Record has it that Barrister would always make reference to KSA either in his albums or at live performances with respect reserved only for a senior colleague, despite that both are recipients of the Members of the Order of the Federal Republic of Nigeria (MFR). KSA received his national honour earlier than Barrister.
However, save for his album in the early 70s in which he mentioned artistes on Aboro's record label, KSA was not fond of singing the praise of Barrister in his many albums.
This reference is a spot where fans of Barrister easily pick a hole in KSA's relationship with their music god, thereby calling him names such as a jealous and an enemy who brander bitterness against Barrister for his pivotal role in the near eclipse of juju music.
But a UK-based music promotion executive, Alhaji Ademola Otolowo of the 100% Entertainment fame, is in disagreement with such allegation, citing his personal encounters with the two giants.
Like Osiefa, Otolowo also maintains a cheery relationship with KSA and Barrister from the 70s, according to him. He explained that though he could not rule out human factor in their relationship due to demands of their trades, he had evidence that KSA and Barrister were not enemies as a section of fans often allege.
The one called Baba Omo revealed that he had hosted Barrister in his London residence after Barrister's Okota Music Theatre home abruptly went into flames in March 1996.
Otolowo disclosed that the accumulated pressure, arising from the incident and the surging traffic of well wishers, made it imperative for Barrister to escape out of the country for rest after he had successfully recorded his cd which gives a detailed narrative of the inferno.
He further revealed that many fans were oblivious of the fact that KSA visited Barrister in London and commiserated with him over his burnt house.
"KSA came in a Limosine and wore a casual shirt and trousers. He was well received. They chatted, joked and laughed together. We took pictures which I keep till date for a day like this.
"We are the promoters of these people. We know what goes on behind the scene among the musicians. I won't want anyone to say KSA and Alhaji were enemies. That is not true," the Iwo-born submitted firmly.
TheTabloid.net also gathered that KSA played a mediator role in a certain feud between Barrister and an unascertained individual or group in 1988.
Much of this chapter was revealed at the 10th remembrance party for the late leader of the Awada Kerikeri Organisation, Mr Ojo Ladipo, held at the National Theatre, Iganmu, Lagos.
Barrister was on the bandstand while KSA was a guest of honour. In his speech, the king of the world beat made a passionate appeal to Barrister to bury the hatchet and move on.
Also, when KSA lost his dear mother, Mrs Maria Adegeye in June 2010, the bed-ridden Barrister was said to have reached out to him in compliance with Yoruba communal culture.
But the deafening absence of KSA at the Fuji Chamber, Isolo, Lagos after Barrister's demise on December 16, 2010, six months after his (KSA) mother's passage, further fuelled the fans' misgivings, but it was learnt that KSA made contribution to the burial.
Osiefa, who was vice-chairman of the burial planning committee, confirmed, "I was told KSA made a contribution but I don't know the amount. The late Buhari Oloto was the chairman of the committee."
Similarly, KSA witnessed the first Colloquium and Barry Day staged by a group of fans known as The Ayinde Barrister Legacy Group.
Held on February 8, 2013 at the upscale Sheraton Hotels and Suites, Ikeja Lagos, KSA arrived the venue early and expressed his sense of loss of Barrister in the music world.
Otolowo insists that fans of musicians would scarcely understand the operational framework of artistes and other stakeholders in the industry.
<span;>He is close to saying that the picture of their lifestyle depicts an analogy of 'the more it looks, the less it and vice versa.'
"Both Alhaji and KSA have made their marks in their careers. It is, therefore, uncalled for for fans to be waging war against one another. Over what?, Otolowo, who is a year older today, queried.
KSA will clock 77 years in few weeks (September 22). Despite that advanced age, he is still much active on the stage, singing, jumping and incredibly doing all his signature dance skills that keep young musicians of his children age green with envy.
Barrister 13th remembrance will hold on December 16, while his 76th post-humous birthday comes up February 9, 2024 when all his fans, under the leadership of Mr Olaide Olawumi, would roll out the drum and host their second edition of what they branded 'BarryFest' at the Ilaji Hotels and Sports Resort, Akanran, Ibadan.