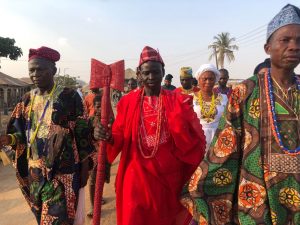 The ancient Oyo town witnessed the annual Bere rite this week, taking off from Koso where Sango faithful did a procession to the palace of the Alaafin.
It was another success for the traditional religion believers who came out and identified with Sàngó devotees in a peaceful conduct on the streets.
Speaking with TheTabloid.net after the event, the Cultural Ambassador to the Alaafin, Dr Paula Gomes was escatic in her natural way beaming with a smile of satisfaction and urging the Yoruba sons and daughters to treasure their cultural heritage.
He educated public on what the festival symbolises, saying it annual holds during the dry season.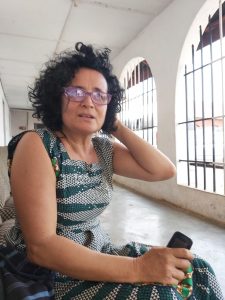 Bere, she said, means straw "and in the olden days, this was the time to celebrate the changing of roofs built with straw."
According to the Portuguese, tradition has it that the Palace of the Aláàfin was the one to be changed and people from other towns would carry the straw (Bere) to Oyo to support the Aláàfin.
Gomes stated, "By that time, during the celebration, Akòó would take place, when Aláàfin and Mogbà Kòso took some straw, tight together to keep it in order to know the years of the Aláàfin spent on the throne.
"Besides that Sàngó Kòso would be offered with Ewédù ( vegetable). Nowadays Bere is celebrated to remember the tradition and to still appease Sàngó Kòso with Ewédù (vegetable)."
Gomes further clarified that during the celebration, Sàngó Kòso, Sàngó devotees and Mogbà Kòso eat together the delicious àmàlà served with Ewédù and chant around Kòso to invoke the spirit of Sàngó under the sound of Bàtá drums.
An Oyo indigene, Mr Akeem Adewale, who spoke with our correspondent, said though the town just lost its chief imam, that incident did not prevent Sango devotees from performing their rites.
Adewale said in Oyo, traditional worshippers enjoy equal right with Muslims who are the majority. "The late Alaafin, Oba Lamidi Olayiwola Adeyemi made us to understand that we should live together in peace. You cannot see where traditional worshippers and Muslims fight. It won't happen in Oyo," he said.