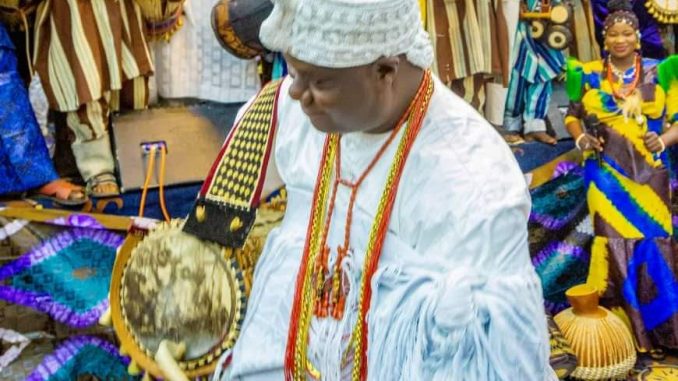 In his exquisite 'Ojaja Arena' inside the Ife Grand Resort on Ife-Ibadan expressway, the Ooni of Ife, Oba Adeyeye Eniitan Ogunwusi Ojaja II dispelled what could have been dismissed as a mere computer manipulated image otherwise called photoshop when he left the luxury of his seat, threw himself to the stage, picked a drum and astonished his fellow traditional rulers. That was on June 30, 2022.
Almost all the royal fathers seated were virtually speechless watching their host in a rare display of artistry on drum, using his left hand to create rhythm which practically electrified the filled hall hosting the 2022 edition of the annual Ayangalu Drum Festival.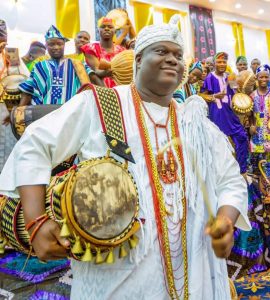 While the Apetu of Ipetumodu, Oba Gbenga Joseph Oloyede, had earlier seen the Ooni in the act a day earlier, he, however, was enamoured by the flexibility and pace displayed by Oba Ogunwusi on the drum known as Iya Ilu (mother of all drums).
"Leadership is not all about giving directives, it is also about demonstration like what we saw in Baba Ooni. He showed us and in fact challenged all of us that we cannot afford to leave our cultural heritage behind in our vision to transform our towns and communities to the 21st Century environment. It was a memorable experience which must have shown the world of what Baba Ooni is made of," the Canada returnee monarch said.
The Eburu of Iba, Oba Adekunle Adeogun Okunoye was no less impressive, saying the Ooni showed his passionate commitment to grow Yoruba culture and make it more appealing to the non-Yorubas in Nigeria and in the diaspora.
"Baba Ooni asserted that Ayangalu migrated from Ile-Ife. He showed originality and taught us that our culture has prospects more than we think it has. His performance also is a strong statement that he does his talk on his cultural renaissance campaign round the world," he remarked.
Similarly, the Alapomu of Apomu, Oba Kayode Adenekan Afolabi was also ecstatic, saying he was not surprised by the Ooni's act, adding that all Yoruba traditional rulers should be an embodiment of our customs, culture and traditions.
He explained, "More so drum is a powerful symbol in yoruba land and serves an oba as a powerful tool of communication. I am not taken by surprise seeing our father drumming. He's chosen by our ancestors to lead us and what he's doing is part of his responsibilities to yoruba race. It's already inbuilt. Oonirisa is our father, we are his children and replica all over our various domains."
The Olu of Itori, Oba Abdulfatai Akorede Akamo was more appreciative of the Ooni's performance, adding he expected no less from the custodian of the cradle of Yoruba race.
Oba Akamo pointed out that the Ooni was committed to research and engagements aimed at moving Yoruba culture forward and make it more competitive among others in the global stage.
"That has always been his assignment, and that has always been his words whenever we are with him either in Ile-Ife or elsewhere. Social media has made the show viral now, and this is very good for promotion of our culture. I commend him for revealing the entertainment side of him," he submitted.
Director, Media and Public Affairs of the Ooni's Palace, Otunba Moses Olafare confirms that Oba Ogunwusi used the two-day festival to tutor participants about history and relevance of drum in human relations, asserting that the Yorubas was the first ethnic group connected to the talking drum.
According to Olafare, the Ooni said Ayangalu descended next to Oduduwa at a place called Atiba in Ile-Ife from where Oranmiyan moved to found Oyo Kingdom.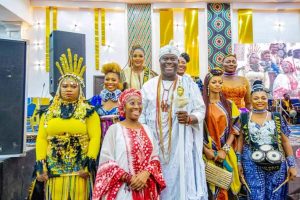 Oba Ogunwusi elucidated, "Globally, people usually called our ancestors animists, because they had a strong relationship with them. The Ayan Agalu festival has been in existence from a time memorial as one of the deities. No matter the tribe, either black, white or brown, the world cannot do without the drum.The whole world has done a lot in the rhythm of drum as it concerned.
"Basically, We are just remembering our ancestors and giving them the honour that it's due to them, I urge the Oodua race worldwide, Yorubas in particular to jointly continue celebrating Ayan Agalu so as to let the whole world know that the the drum originated from us.
"Our ancestors used drum majorly for communication, for it goes beyond entertainment and till date Yoruba people use drum for communication and as a vital tool for preaching peace and harmony.
"By the spirit of Ayangalu festival, we use the rhythm and tone to communicate peace and peaceful coexistence to our people. We are like the barometer in the next electioneering campaign in Nigeria, Osun gubernatorial election is coming up in the next two to three weeks and that will lead to major election in Nigeria by next year January.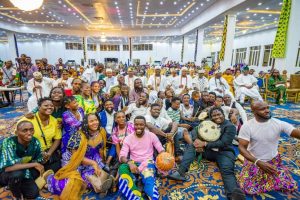 The Tabloid.net gathered that the Ayangalu Ambassador, who is also Chief Executive Officer of the Adire Oodua Hub, Princess Ronke Ademiluyi, applauded the Ooni "for celebrating our female deities and other heroines such as Moremi, Olokun, Osun, Osara and Ayan-Agalu among others."
It was learnt that the festival held from June 29 to June 2022 was convergence of over 200 individual drummers and groups, out of which 48 best groups were screened for competition that eventually produced categories of winners who returned home with cash prizes