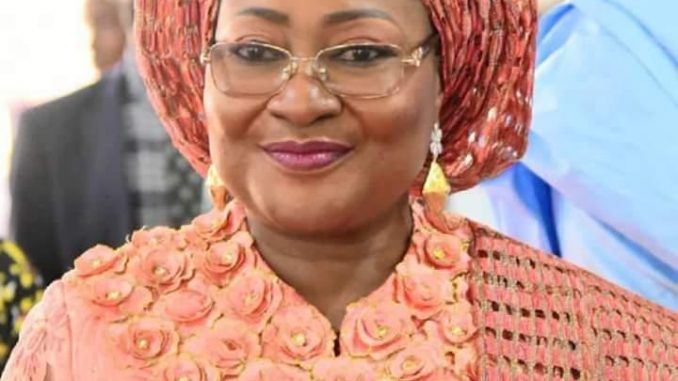 Alhaja Kafayat Oyetola, wife of the Osun State Governor Adegboyega Oyetola provides complimentary services to success of her hubby administration. Tunde Busari writes
In history of Community High School, Apara, Atakumosa Local Government of Osun State, never had any generation of female pupils witnessed a day which a governor's wife's feet touched soil of the school and left an imprint after her visit.
However, Alhaja Kafayat Oyetola, wife of Osun State Governor, Alhaji Adegboyega Oyetola, changed that history five months ago, precisely, on May 28, 2021, when she arrived the school compound on feminine mission, being the 'Menstrual Hygiene Day'. Delightfully, Oyetola distributed sanitary pads among students, who were in frenzy; practically overwhelmed by the strange act, which appeared like a protracted dream to them.
A teacher of the school, who did not want his name in print because, according to him, he lacked authority to speak on it, shared from students' surprise and told TheTabloid.net that the school compound wore an unusual image, for the presence of the first lady, who was said to have blended well with students and boosted their morale.
"I never saw that woman physically until that day, and I picked interest in her. She motivated our students. The kind of students we have these days don't show seriousness to education, and that has been one of our frustrations as teachers," he said.
Also, a Professor of Linguistics at the University of Ibadan, Professor Adenike Akinjobi, is no less impressed by Oyetola's showing, and charged wives of other governors to borrow a leaf from her to make life better for female folks generally, saying such act would consolidate efforts of their husbands on whom, she stressed, all eyes of the electorate are directed.
"That act is what wives of governors should do to help their husbands in quest to deliver dividend of democracy to the electorate who voted for them. Unfortunately, such good deed is not often seen; that is why this one by Mrs Oyetola is commendable and a good example to her colleagues in other states. Every girl in secondary school age bracket must pass through menstrual experience, and what the first lady did will have a multiplying effect in these girls who must have seen a role model in her so that when they also grow to become somebody in future, they will remember the gesture and want to do the same thing," she said.
Oyetola did not leave the school premises without dropping some words of caution to students and teachers on need to identify advocacy campaigns hygienic life, particularly a faithful maintenance of school toilets with a view to preventing avoidable diseases in school environment.
She acknowledged many headaches which accompany menstrual period of female folks, revealing inaccessibility materials needed to aid flows, submitting that the inability to access the useful material easily expose them to health hazards during their monthly period. Passionately, she spoke against female genital mutilation and cutting, dismissing it as promotion of ignorance and a drive to the past.
That fruitful occasion at the sleepy community, it was learnt, is a tip of similar feats to the credit of the woman since November 2018, when her husband was sworn in as fifth executive governor of the state of the living spring.
She took her campaign to Awka, the Anambra State capital and made a passionate appeal to mothers to concertedly confront what is called gender based violence in face of its spread in the society. She identified denials, verbal harassment, physical assault, rape as examples of what female are subjected to, assuring that she would not seal her lip and watch the vices degenerating beyond those elements.
At 'Mothers' Day' Summit with the theme "Fighting Gender based Violence in Covid-19 era", she called her fellow wives of governors to also rise against discriminatory violence to rescue female dignity from their male counterparts.
Besides, Oyetola's Non-Governmental Organisation (NGO) branded 'IleriOluwa Development Initiative' has also been connected with some life-transforming schemes, including empowerment of over 500 rural women farmers with a range of agricultural items. The first phase of the agricultural scheme held in January 2019.
The organisation, she said at one of its outings, focused on a renewed attention to women in agriculture to reduce pains of poverty in the state, saying that a surplus food is an antidote to hunger, promising low-income female farmers of periodic assistance to boost their production level and ultimately food security in the state.
She noted, "The agricultural sector has always been the main pillar for the sustenance of humanity. Here in Nigeria, the current food situation has made this more of a need for us. The prices of foodstuffs in our markets demand that we produce more food for our people. The situation has underscored the fact that there is no time better than now to return to the land. We must guarantee food security for our people."
Insecurity, which has lately descended on the nation daily gives Oyetola a sleepless night, hence her resort to God as a saviour against the impending anarchic society where law is matched and human life is brutish.
To this end, she hosted women in Osogbo where Muslims and Christians offered prayers in an inter-denominational service. In her remarks, she acknowledged that insecurity had become a nightmare in every nook and cranny of the country, praying to God for a succor to have the nation peace restored.
"This development has raised concern for every Nigerian. This is the reason why we, (the Nigerian Governors Wives Forum (NGWF) have resolved to have this country-wide program of prayer. I am happy that our women in Osun have responded to this call. I thank you for this. There is no part of this country that can afford to ignore the situation of insecurity in the country today. We all need to approach the Almighty God to urgently change the direction of events in our nation and make us healthy again," she said.
She also made a patriotic call on Nigerians to have a behavoural change, adding that change of approach to issues of nationhood was key in quest to have a peaceful country.
What looked like harvest of her devotion to women course was witnessed four months ago when her fellow wives of governors, under the aegis of South Governors Wives Forum (SGWF), unanimously elected her as their head at a meeting hosted by wife of Edo State Governor, Mrs Betsy Obaseki in Abuja.
Oyetola has recorded success evidently seen in Ifedayo Local Government of the state, which the United Nations Children Fund (UNICEF) had declared an open defecation free council, a contrast to stigma of 2017, when the local government was listed among open defecation councils in Nigeria.
Elatedly, she said, "It is still on record that we are the only state in the Southwest Nigeria which has consistently been working in getting rid of open defecation and with the results showing".
"Today, we have Ifedayo as a performance record, I am happy to say that work is advanced in two other local government areas. We hope they will join Ifedayo as one of the areas that are free of open defecation practice in Osun. I thank our people for your commitment to this campaign".
She also drew attention of public to dangers in the open defecation, which she opined are huge and expensive, saying open defecation carried grave health consequences for all.
Oyetola warned, "It is a destroyer of our health and pollutant of our environment". It has been discovered that open defecation is one of the factors leading to mortality among children under five years of age. This is apart from the fact that the practice could enhance rape and sexual violence against our women and our girls."