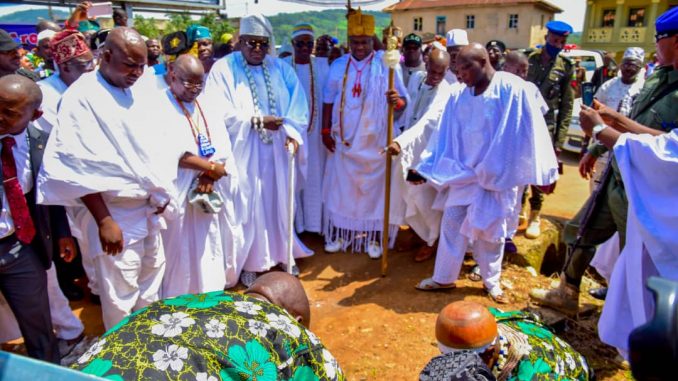 Even though it is an annual traditional festival in memory of the ancestors of Erinmo, an agrarian town in Osun State, the 2020 edition of Agidanyin wore a unique apparel suggestive of awaiting transformation to bring more fortunes to the town of Oba Michael Odunayo Ajayi, the Elerinmo of Erinmo in immediate future.
As a royal father, who is reputed for leading by example on community projects initiatives, Oba Ajayi did not restrict the festival to traditional rites, drumming, songs and cultural dances. He used the festival as platform to demonstrate again his kind heart as well as his determination to give his subjects a meaningful life.
To add royal touch to his programme, he extended invite to the Ooni of Ife, Oba Adeyeye Ogunwusi as special guest to also witness the new template he was building in traditional festival. And the Ooni, who is said to hold the Elerinmo in high esteem, did not disappoint. Oba Ogunwusi did not only attend, he brought a crowd of people from Ile-Ife to Erinmo to add glamour to the festival.
His arrival electrified the whole town as his long convoy snaked through the streets of Erinmo amidst wild ovation and special applause for Oba Ajayi whose six years on the throne has changed the face of the town for good, in terms of improving the capacity of the old and young.
Oba Ajayi facilitated the sponsor, Annegift Foundation, to empower his subjects with about 200 modern agro equipments. Physically challenged also smiled back home with welfare support packages just as about 1000 people benefited from small scale entrepreneur training. Also, two new boreholes were provided for healthy water supply to the community.
Dressed in his usually all-white attire, the Ooni expressed his satisfaction to the Elerinmo for having deployed his wealth of experience to steer the ship of his town since he ascended to the throne of his ancestors, describing him as a mainframe of Yoruba cultural heritage. He urged Oba Ajayi to continue in his propagation of the culture and transformation of his town, assuring him of a bright future.
The elated Elerinmo also showed gratitude to Oba Ogunwusi whose presence, he said, gave him sense of accomplishment. He stated that he is on the throne basically to take his people to higher pedestal of their individual and collective dream.
He added, "Agidanyin festival is Erinmo and vice versa because the festival is about our root. It is about our ancestors. It is a festival of improved harvest and development, hence my special focus on issues which will impact on economic growth of my people.
The festival was rounded off with thanksgiving service held at the Christ Apostolic Church (CAC) Oke-Isegun in the town. There was special jummat service at Erinmo Central Mosque two days earlier.