On each day of the week, between the hour of 4:30 and 7 in the evening, they are seen running, sweating and slugging it out with one another under the watchful eyes and strict instructions of their coaches who are so passionate with their jobs.
These youngsters–male and female–are a delight to spectate on the hard surface of the First Bank Sports Complex at the Satellite Town, off, Lagos-Basagry expressway, as they demonstrate not only seriousness but also enthusiastic disposition to build careers in the game of Basketball.
Through their devotion to their coaches' drillings and strength committed to the game, they all seem to be on a right track to their dream destination.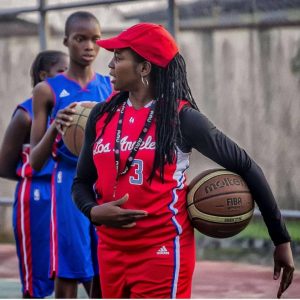 Welcome to the Taye Adeniyi Basketball Academy (TABA) founded soon after the Corona virus pandemic in 2020 subsided. The founder, Adeniyi, who had seen it all as a national and international player didn't just rise from bed one morning and pick players on the streets. It took her years of mental engagements on realistic ways to pay back to the game that gave her fame and livelihood even after her retirement in 2002.
While she was plying her trade in Greece and Cyprus, she critically observed how players were discovered, nurtured and managed to become assets to clubs and national teams.
She did a comparative analysis and eventually found out where her home country, Nigeria, was not getting it right in players development, despite an array of unexplored talents scattered on the country's landscape across the 36 states of the federation, including the Federal Capital Territory.
On the drawing board, she felt the pinch of some of her odd experiences in the national camp and made up her mind that one day she would show the world that a passionate individual could make the difference in reshaping destinies of budding players for the better.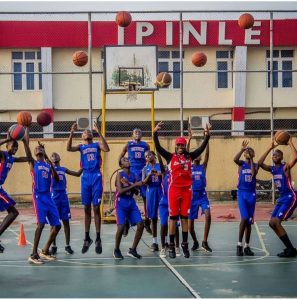 After she had successfully unveiled the academy, players, whose parents had watched Adeniyi in the shirts of the First Bank Basketball team and D'Tigress, encouraged their children to obtain forms and get enrolled. With these forms, the academy can access vital data of the players with a view to understanding their individual requirements to reach optimal height of performance.
TABA Academy is a catch-them-young initiative opening to Basketball enthusiasts from age three to 20 but with special provision for the interested above the stipulated age bracket.
Looking back, the proprietor is full of smiles for the journey so far in producing potential Basketball greats, saying "to the glory of God, we have been able to train kids who are doing very well in their schools and also attending camps in Lagos Nigeria."
Not resting on her oars, Adeniyi, who still keeps a coaching job with The First Bank Basketball Club, her former team, discloses that she is working very hard to have a platform to further showcase the academy kids and get them into competitions where they test their performance level.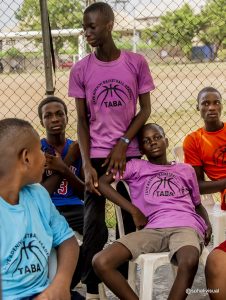 "It is very important to expose players to competitive match situations to know how much of what they have learnt have got into their system. I am a product of this early competition as a pupil. Teaching these kids the fundamentals of the game is key to how far they would go in the game," she said.
Of course, there are a number of Basketball academies in the country just like it obtains in Football, TABA Academy is on a different pedestal on the strength of the close relationship among coaches and their players, a factor which has built a strong bond in the academy.
"I see these kids as part of me, and I mean it. I treat them like my kids. But this doesn't mean I indulge them. No. A parent who does that is not worth her status. I realised that I need to be closer to them to get the best out of them. And as I speak to you, I am achieving just that. I know them individually and understand their strengths and weak points. So, when you see me in their midst, you may even be confused to know the difference. That is the spirit I am using to get them focused and more interested in the game.