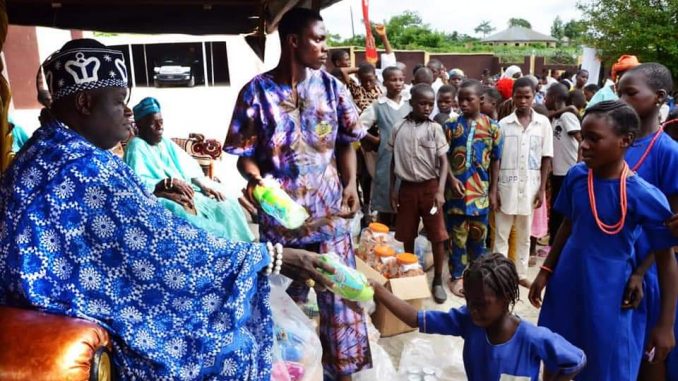 In what has turned his annual festival for youths since he ascended to the throne in 2014, The Elerinmo of Erinmo land, Oba Michael Odunayo Ajayi Arowotawaya (II) hosted in his palace tens of school pupils and treated them to another historic show commemorative the 2022 edition of Children's Day.
Resplendent in a blue agbada matched with crown, Oba Arowotawaya, on May 27, congratulated his excited guests drawn from eight schools for witnessing yet another celebration in sound health and charged them to be more hardworking in their studies.
The Elerinmo also sent message to parents and guardians to prioritise education of their children and wards to have a social security at their old age and save society of criminalities.
Oba Arowotawaya, who graduated from the University of Ilorin at age 20, said future of children starts from today, hence the need for them to build a strong foundation upon which their tomorrow will stand.
"If you have read my history, you will see that I set forth at dawn by the encouragement of my parents who gave me no room to waste time. That is a good foundation. Therefore, parents should ensure a good foundation for their children to guarantee a greater tomorrow," he admonished.
The royal father promised to leave what he called a lasting legacy of which children would be proud, calling on government, parents and well-meaning people to invest in children's education because, according to him, children must have right to free and qualitative education to secondary school level.
The Elerinmo added, "Children, brought up in the high value of african system, will have self confidence to face the future. I must leave the throne better than I met it. It may be of interest to note that some of these children at primary and secondary school levels are already on my Oba Arowotawaya Foundation (OAF) full scholarship funded by me.
"Since my enthronement in July 2014, I have hosted children on children's day and Christmas day. This year makes it the 8th edition and we partnered with Indomie, a noodle brand, to feed over 1000 children.
The Tabloid.net gathered that Oba Arowotawaya's late father, who doubled as the Asiwaju of Erinmo, Dr Joseph Olubowale Ajayi, attended the first primary school in the town, St Peter's Primary School, and later set record of emerging the first university graduate from Erinmo and its environs.
Oba Arowotawaya further revealed that this year edition was a twin event as the town got the much-awaited approval and cheque delivery of the Grant of about N10m from the World Bank through an agency, the Community and Social Development Agency, (CSDA), Osun State, after the town had earlier raised the counterparts funding of one million required since 2022.
He clarified that the grant was required to rebuild some of the infrastructures of our Erinmo Grammar school.