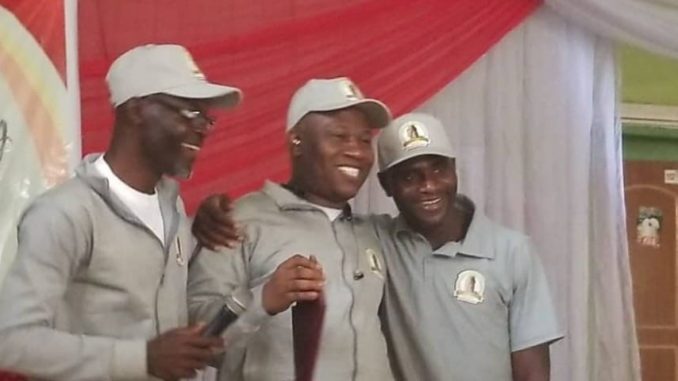 A social group, exclusively comprising fans of the late Fuji icon, Dr Sikiru Ayinde Barrister, Barry Black Votary Fans, exhilarated Voyage Inn Hotels, off Kudrat Abiola Way, Lagos on December 12, 2020.
Members within and outside Lagos gathered and relived the life and time of Barrister under a convivial ambience, anchored by the duo of Prince Abiodun and Mrs Abeje Elebuibon, both of whom are members of the group.
Barry Black Votary Fans are a class of soul mates bond by their respective passion for the music of Barrister. The group is a social media invention operated on whatsapp window and facebook through which members daily interact with a variety of programmes.
The get-together was the third edition organised to further pledge continued commitment to protection and promotion of the legacies which the late musician bequeathed through his many cds.
Resplendent in grey customized uniform inscribed with Barrister's image, the entire members were ecstatic by the turnout as well as the outcome of the event, which had as special guests of honour a wife of Barrister, Alhaja Aderayo Balogun and a fan, Chief Mutiu Okunola.
Alhaja Balogun and Chief Okunola expressed their delight to the members who showered them with a naked love for their response to the group's invites.
She was particularly captivated when the music-Oke Agba- in which Barrister generously sang her praise in 1980, rented the tastefully decorated hall, gently rising from her seat and dancing to the sound, a sight which attracted ovation and appreciation by members.
The former staff of the defunct National Concord Newspaper described her husband as a loving and caring man who could go extra mile to please his family, disclosing that 10 years after the transition of her husband, she still lives in the realm of fantasy that Barrister is alive.
Chief Okunola, popularly called MKO, took the audience down memory lane on Barrister's fuji as a tool for caution and advice on good governance.
"Barrister was an advocate of the masses. For instance, in Ayé, an album which he released in 1980, Barrister encouraged Nigerians use home made products instead of relying on imported items," he said.
The President of the group, Asiwaju Adesina Bello delivered opening remark in which he emphasized the importance of celebrating Barrister posthumously. Bello appreciated members for their steadfastness and admonised them not to look back, praying that they would also be celebrated in their life time.
"Without you, I cannot be here; without this enthusiasm which you show over Barrister, I can't be this excited as well. Let us continue with this spirit because it is rewarding. Barrister cannot rise and sing our praise but his spirit is around praying for all of us. I also thank our guests of honour for being part of this third edition of our get-together," he said.
A member, Princess Omoola, in her speech, asked: "Who is Barrister?" and defined him as a family man and creator of a genre.
"He was a man who was responsible and who loved his family. That is why he always mentioned his wives and children in his albums. The Sikiru Ayinde Barrister that everyone knows is the creator of fuji worldwide. He is a man loved by his fans and, till today, his fans still sustain his legacy," she remarked.
Some members were honoured with different categories of awards for their respective services to the upliftment of the group to its current height.
A member, Mrs Olaide Oluwakemi Gold offered opening prayer while another member, Ustas Adigun Idris also offered special prayers for Barrister's family and BBVF members.
An administrator of the group, Aare Yusuf Akintunde stated that before Barrister left on December 16, 2010, he had prophesised in his 'Fuji Missile' released in 2001 that when he departed his fans would miss him.
Later in the day, an e-book, published for the occasion was distributed to members through their individual whatsapp window.
Akintunde noted that the e-book was a device to showcase members' profile to the world with emphasis on their integrity. He said the book was compiled to present the group as credible individuals gathered with a mission to breathe life to their passion for the music of Barrister with a view to attracting more like minds.
The Data Analyst/Researcher with NAFDAC affirmed his joy for what he called the success which the group recorded at the annual event. He added that the edition coincides with the 10th year memorial anniversary of Barrister, making it, according to him, unique. The spirit among members, he said, was right with everyone relating as if born from one womb.
"If people could travel to Lagos from other states, you would agree with me that it is a serious business. I thank all members including those who wanted to come but could not make it. We all understand and appreciate their commitment. We have a lot to do together in future. God shall bless all of us in our works to build this Barry Black Votary Fans to a higher plane," he prayed.