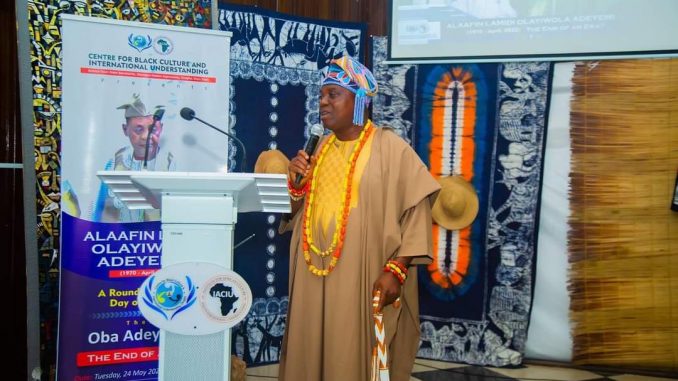 Still struggling to come to terms with reality of the transition of the Alaafin of Oyo, Oba Lamidi Olayiwola Adeyemi on April 22, 2022, the Aragbiji of Iragbiji, Oba Abdul-Rasheed Ayotunde Olabomi, Odundun IV, has dropped his judgement on Oba Adeyemi whom he affirmed was a total father to him and many other fellow traditional rulers in Yoruba land.
At a Roundtable and a Day of Tributes held at the Centre for Black Culture and International Understanding, Osogbo, the Osun State capital, recently, Oba Olabomi told his audience that Oba Adeyemi lived the historical status of his stool and earned his respect till death did them apart.
Themed: Oba Adeyemi III: The end of an era?, the event, anchored by Professor Toyin Falola through Zoom device, was attended by dignitaries across the globe, including royal fathers from Osun and Oyo States, all of whom spoke of the Alaafin in superlatives.
"Whenever Baba was attending any event in Osun State here, he would pick his phone and call us to join him or find a way to have us around him during which he would talk to us on varied issues that were beneficial to us. And that is an attribute of a good father to his children. I pray that Baba's soul will continue to rest in peace, and the people of Oyo will not disappoint us as they appoint a new Alaafin," Oba Olabomi said.
The Aragbiji, who had to leave the event early to, according to him, attend the annual Egungun festival in his town, appreciated the Host of the session, Professor Siyan Oyeweso as well as Professor Falola whom he revealed was his History teacher.