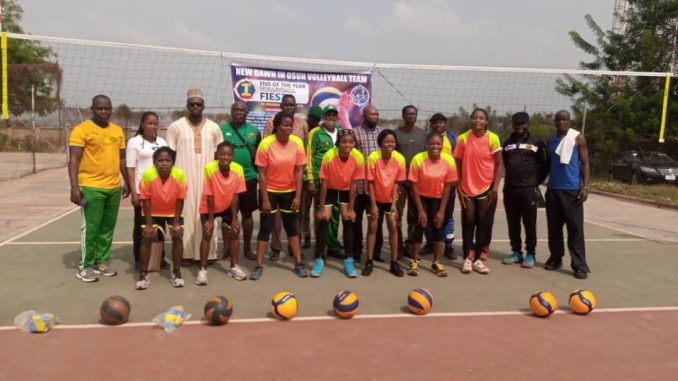 A US-based former international Volleyballer, Prince Tunde Omisore is currently breathing a new life into the game of Volleyball in Osun, his home State with the success recorded at end of the year exhibition matches hosted in Osogbo, the Osun State capital.
During the week, the Osogbo Stadium was beehive of setting, spiking and net defence when youthful male and female teams from Ikirun, Inisa, Ilesa, Iree, Ile-Ife joined their hosts team in Osogbo in show of skills, strength and determination to the applause of officials and spectators.
The Tabloid.net gathered that since Omisore five-man member Osun State Volleyball Association was made public, the Ile-Ife prince has left no stone unturned in restoring the eclipsed glory of the game in the state.
He started by providing support for the state's participation at a Under-17 tournament held in Ibadan, the Oyo State capital after which he retouched the Volleyball court which was an eyesore and embarrassment to the state sports council.
The rehabilitation of the court cost him a fortune, which he described as necessity to implement his vision as the numero uno of the association, adding that leadership goes with responsibility.
Omisore disclosed that when he found himself in the position of the chairman of the association, he sat down and challenged himself on need to use his tenure to bring desired change to the game in alignment with expectations of those who graciously nominated him, saying his passion for the game remains as it was when he was an active players in the 90s.
He gave assurance to remain passionate because of his history as a beneficiary of the game, revealing that what he had done so far is just a tip of the iceberg on his journey to make Volleyball more attractive to the youths in Osun State, in particular.
However, he said that his mission could be difficult if starved of support and cooperation by the state sports council statutorily saddled with responsibility to develop sports.
He applauded Volleyball coaches in the state, expressed satisfaction to the commitment credited to them and urged them to always hunt for talents to be nurtured to pick a career in the game.
"That is how to go about it. Our youths in Nigeria need to be productively engaged, and Volleyball is one area which can engage them and give them a brighter future. Playing the game to high level should not end in our generation. Nigeria is blessed with more talents which should be developed as it was in the past to reach stardom as it was in our days," he said.