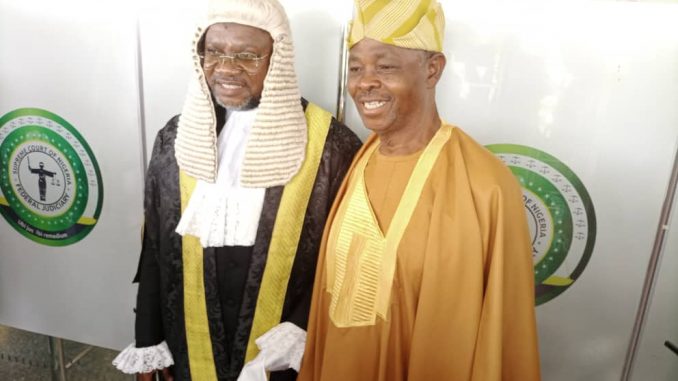 A two-term President of Osogbo Progressive Union (OPU), Alhaji Ajadi Badmus is a fulfilled man today many years after he had successfully completed his tenure characterised by hordes of accomplishments including the Osun State University and a bloc vote which saw the immediate past Governor of Osun State, Ogbeni Rauf Aregbesola to the government house.
One of the reasons for Badmus' elevated mood is the recent conferment of the prestigious title of the Senior Advocate of Nigeria (SAN) on an Osogbo indigene, Barrister Kunle Rasheed, (K-Rad) who has proved his mettle in Law profession.
Badmus affirms that K-Rad's accomplishment is vindication of Osogbo as a town blessed with human resources needed to develop not only the town and Osun State but also the country as a whole, saying further that he spent his two terms in office of Osogbo apex socio-cultural body to struggle for capacity building of the indigenes to hold relevant positions in future.
The principal emeritus says he could not contain his joy during the decoration of K-Rad in Abuja where other eminent personalities join him to witness the historic occasion held at the Supreme Court, adding it was one of his best moments in the history of Osogbo watching K-Rad in the midst of legal heavyweights in the country.
"You needed to be in Abuja to appreciate how excited I was when Kunle was being decorated. I was very happy because of some unpleasant experiences which I went through even long before I became the OPU president. Osogbo used to suffer derision and all sorts of embarrassment from towns which liked to see us from the precinct of rivalry. But we thank God that today the whole world is witness to the glory brought to us by K-Rad and other young elements of the town in different professions.
Badmus, therefore, urged people of Osogbo to build on the feat by continuously working for further progress of the town. He charged the people to play down their differences and put collective interest of the town ahead at all time with a view to always getting what Osogbo deserves as the capital of Osun State, especially in the area of physical development.
He admonished K-Rad not to relent on his efforts to place Osogbo in its rightful position, reminding him that all eyes are now on him just as much are being expected from him, in terms of using his new status to impact positively on Osogbo youths who look up to him as role model.
"With his new status, he has opened the gate for our sons and daughters in Law practice to also work hard knowing that they can also reach the peak of their career. I am glad that Osogbo is witnessing this during my lifetime, and I am positive that this is just the starting point for prospective SANs in our midst. May God give Kunle good health and long life to enjoy the fruit of his hard labour," he prayed.