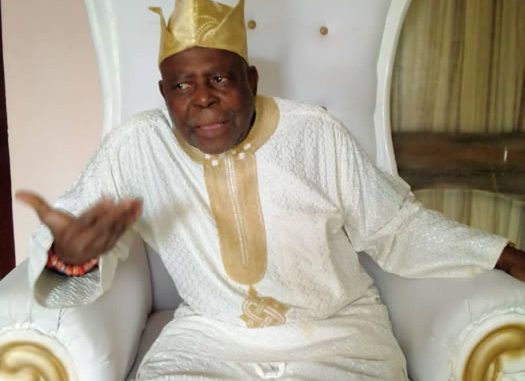 Disturbed by corruption which has severally been pictured as hydra-headed contagion battling the nation over the years, the Araba of Osogbo, Ifayemi Elebuibon has added his voice to campaign against the scourge, recalling his personal experience with a law enforcement agent on Lagos-Ibadan-expressway.
Elebuibon, who is exposed to advanced world through his traditional religion, declared that corruption was responsible for the backwardness which the country is going through, warning that unless it is fought by the government with sincerity, no progress would be achieved.
He recalled one of his trips during which a security agent on patrol asked his drive to pull over, and requested for the vehicle documents.
According to him, his driver presented all the valid papers to the officer, who collected them and deliberately delayed him.
From the back seat, Elebuibon said he called his driver to confirm the validity of the papers and got an affirmative answer, making him to suspect the unspoken words of the officer.
"When I realized it was getting too late on that spot, I decided to intervene to know the exact thing that man wanted. As soon as I alighted, and the man saw me, he was reversing.  He did not wait. He just asked my driver to come and collect his papers. I was on the same spot watching him performing that drama.
"My driver collected the paper from him, and we continued our journey. If what he was doing to my driver was right, I don't think he should see me and run, when I am not his superior officer. Corruption in this country is that worst. It is not limited to law enforcement agencies, it is found everywhere and becoming our way of life, unfortunately," he said.
The Araba also recalled another incident involving some electricity distribution company and his aides in his Osogbo residence.He said he did not owe the electricity company but the officials obstinately insisted in disconnecting the power.
"I was inside the house when I was alerted of the goings-on at the electricity pole. I stepped out and saw the official as he was making attempt to climb the ladder. I asked him some questions on the statement of our account with them. He was talking as if he was not even sent from office.
"Then I told him that I did not owe but if his interest was to disconnect the light, he should go ahead and climb the ladder. I did not say more than that and left. They later told me that he did not climb the pole against his threat. It was very annoying that everybody is just out to exploit other people. That is the situation in the country," he noted.
Elebuibon, who recently marked 10th year anniversary of his Araba status, implored parents and guardians to teach their children and wards right value with a view to turning out better, despite the prevalent social ills in the country, adding that there are still some Nigerians who live above corruption in their places of work.
"But how many of them do we still have? Even if they are only 10, they can impact positively on others. But leadership has a key role to play in reducing corruption and all its tendencies in the public and private sectors. It is a shame that we don't learn good lessons from those countries which our leaders often visit for medical check-up or holiday," he lamented.
The Araba also described COVID-19 as a plague which caught the world unawares, reflecting on how the pandemic got him entrapped in the US. He said his experience during the period could be reserved for a memoir owing to restriction it imposed on travellers.
Eventually, he said, he returned to Nigeria but in the waiting hands of government officials in Abuja after which he returned to Osogbo.
"When one read news of how fund for management of COVID-19 was being toyed with, one could not but laugh at this country where everything including human health is being messed up. We read a lot of stories. Just a few days, there was a story of fund meant to feed schoolchildren found in some private accounts. Which kind of people are these and which kind of country is this?" he queried.