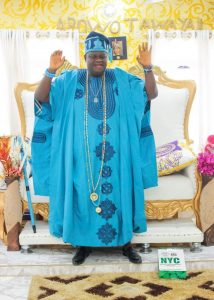 The 2022 edition of the annual Agidanyin Founder's Day Festival is 12 hours away with the hosting town, Erinmo in Osun State already in a festive mood.
The Elerinmo of Erinmo, Oba Michael Odunayo Ajayi Arowotawaya and the Chairman, Planning Committee also the Obaloro of Erinmo, Chief Taiwo Agbonmagbe are already crossing the t's and dotting the i's to have yet another successful festival.
Agidanyin festival is a traditional fiesta which is celebrated annually in remembrance of the great Agidanyin, the son of Obalufon Alayemore, who founded the town.
The Tabloid.net gathered that Agidanyin was reputed for his bravery in battle field, recording many exploits.
Oba Arowotawaya noted that the Ooni of Ife, Oba Adeyeye Eniitan Ogunwusi had attended previous edition of the festival to underscore its significance, adding "Agidanyin festival is a medium to make the world realise the significance of upholding the strong heritage and culture of the land."
He further said, "here in Erinmo Kingdom, we want to use this medium to make the world know that what we are doing is upholding the strong heritage and culture of the Yoruba race, to showcase our tradition and culture to the entire world and we want to keep it intact while we do not want anything to dilute our tradition and inheritance from our race".
The royal father of the day is the Owa Oye of Imesi Ile, Oba Enoch Ademila Akinyemi Oyoyo II, while a member of the House of Representatives representing Oriade/Obokun Federal Constituency, Honourable Wole Oke, will be chairman.
The Olobu of Ilobu, Oba Ashiru Olatoye Olaniyan is the Special Guest of Honour.
Erinmo traditional chiefs including the Lebedo of Erinmo, Chief Joseph Osobu, Edinmo of Erinmo, Chief Joseph Agbesuyi and Loja of Afajigede Ijaregbe Ilesa, Chief Rotimi Oniyaomebi are also set for the festival.