Mo kansarasi won
Bon ti n se
Sisunmonilaamoseeni
Oroki Social Club
NiluOsogbooo
Forty-nine years after the release of the timeless elpee-Oroki Social Club– by the late Alhaji Haruna Isola, Secretary of the club, Pa Dejo Babalola and his assistant, Alhaji Sule Daodu have revealed to The Tabloid.net the circumstance leading to the album which has reportedly sold million copies and still sells at cd outlets till this morning.
Babalola and Daodu, both octogenarians kissing their 90s, were nostalgic during separate interview sessions in Osogbo, unanimously depicting the album as a watershed in the life of the club. While the secretary said that members had no prior knowledge of HarunaIsola's plan to pay tribute to the club in his 1971 album, his assistant revealed that the musician had played the song before them after which he led his band members to the studio to record it in vinyl.
However, both agreed that the unprecedented success of the album caught them unawares and consequently shot the club to the limelight, adding that it transformed the club to one of the famous in the entire Yorubaland with social clubs from Lagos, Abeokuta, Ibadan, Ilorin and other towns, in turn, visiting Osogbo to see Oroki Social Club as an emerging tourist attraction of sorts.
"Though we had become powerful and influential in the town before Haruna waxed the album, the record further boosted our popularity and influence among the elite such that they liked to have us invited to their occasions because of the way we comported ourselves and the unity of purpose with which we operated the club.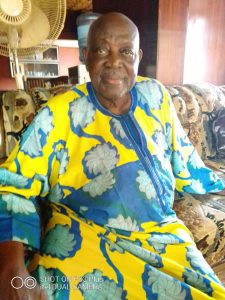 "I am very happy to tell you that some of us, who contested 1976 elections, used the name of Oroki Social Club to win. Those of us, who did not contest but sponsored candidates for the elections, also got their candidates elected because of the goodwill which Oroki Social Club had won for us," Daodu, who later became chairman, Osogbo Local Government Council in 1976, reminisced.
The secretary and assistant secretary also agreed that the Apala music lord was the official musician of the club who hardly missed their annual parties because of love for the club and good proceeds he made after each show. Babalola, then a school teacher, explained how he would travel on his motorcycle to meet HarunaIsola in Ijebu-Igbo to engage his service for the club.
"I would travel to his OkeAgbo residence in Ijebu-Igbo on my Suzuki motorcycle. It was fun riding on the machine from Osogbo here to Ijebu-Igbo because there were few vehicles on the road, and such a journey was less risky. There was no security threat. I would meet HarunaIsola and also host him too in my house at my small house Ago Wandewhen he came to Osogbo.
"His son, Gani was then in school in Inisa. I was a teacher, and Haruna would tell me to help him monitor Gani in his school. Whenever Haruna was around in town, women would always come around to show off their beauty. He was loved by our women who would be itching for his attention," the outspoken Babalola recalled.
Unknown to millions who have since savoured that masterpiece, HarunaIsola made a slip on the list of club members he mentioned. He mixed up the name of the Social Secretary, AdisaOlayiwola and rendered it AdisaOlawale, first name of the club President,Olawale Oladiran. The conspicuous error, however, was saved by the melodious lyrics which remain favourite of lovers of dance, especially the track wherein he sang in English Language thus: "Students, come and dance our music, apala is very easy fenikeni."
The flip side contains a tribute to the reigning Olubadan of Ibadan, Oba SaliuAkanmuAdetunji whomHarunaIsola serenaded as a young socialite.
The secretary and assistant gave an insight into the background of Oroki Social Club and described it as a child of necessity, revealing that a politically inclined gathering of Osogbo youths snowballed into the club. During the political unrest, which pitted the late Premier of the Western Region, Chief Obafemi Awolowo and his deputy, Chief Samuel Akintola against each other in 1962 elections, Osogbo Youths Movement was formed by about 51 young men in their 20s to make their voice heard in the political affairs of the town.
Alleged intimidation, harassment and threat to jobs by the Akintola-led government of the day forced members to seek an escape route against government's reigning persecution because of their soft spot for Awolowo, hence the birth of Oroki Social Club, a name, which was said to have been suggested during a debate on a way forward to actualize their objective of playing a pivotal role in the affairs of the town.
"Some of us were civil servants who were not expected to be involved in politics. We then agreed on Oroki Social Club as a smart way to beat the government.  We became so popular that many youths applied to join us but we rejected them because we did not want to make it a forum for all comers to avoid strange bed fellows in our midst," Daodu said.
What is the fate of the club which then had women wing peopled by wives of members? Babalola and Daodu regrettably said nature had taken its toll on the club as only three executive members are alive today.
Notwithstanding, Babalola declared he was fulfilled that through his discretional power as secretary, he ensured children of members were encouraged to go to higher schools, many of them, according to him, today occupy respectable positions in public and private organisations.
"I had wished to study to higher levels at least to have a first degree but I was underprivileged as a kid. My parents could not afford to pay my school fees; so I made it an obligation to ensure my own kids and children of my friends were well-read.
"I give glory to God that we are very proud of successful children all over the world. We can say these children are also beneficiaries of Oroki Social Club because I was using my Peugeot 404 then to travel to different places to secure admission for them. The club still exists but no more in physical sense because time and things have changed," he noted.
Apparently appreciating the significance of the club to the town, a former National President of Osogbo Progressives Union (OPU), AlhajiAjadiBadmus explained efforts his administration attempted to revive the club but regrettably said the desired result remained elusive.
The two-term president also admitted that the club brought more fame to the name of Osogbo aside being home of culture exemplified by the annual OsunOsogbo festival and appreciable presence of art practitioners.
Another Osogbo indigene, Pharmacist MuftauSanni recalled his journey to Togo some years ago when he ran into public places whereHarunaIsola'sOroki Social Club album was enjoying unobstructed airtime among the nationals.
Both secretary and his assistant wished Nigeria a return to the 70s characterized by a promising economy which was powered by the Oil boom.  The Arab-Israeli hostility in 1973, eventuating in an unimaginable harvest for oil-producing nations like Nigeria with impact on the improved standard of living and promotion of social activities like night clubs and weekend parties.
Another club, Egbe Bomodeoku, in Osogbo would also engage Haruna Isola but the album dedicated to the club comparatively made a little impact in social circle.