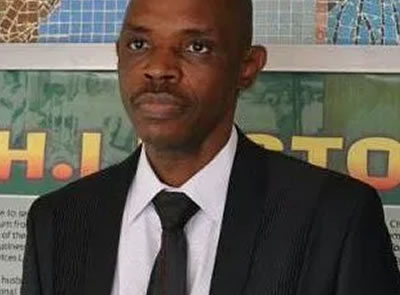 Of the three editors on the driver seat of Tribune titles, Dr Lasisi Olagunju has lately carved a distinct identity for himself as a much sought after columnist in the class of Sam Omatsheye of The Nation. His Monday Line has arguably metamorphosed into a must-read for lovers of intellectual engagement spiced with indigenous anecdotes.
Olagunju is the editor of Saturday Tribune, even though his column is published in Nigerian Tribune as agenda-setting piece of sorts with which his class of readers kick start their new work week.
Aside that the Obafemi Awolowo University, Ile-Ife first class graduate is a holder of a doctorate degree from the University of Ibadan, his physical frame of a Basketball player also stands him out among his colleagues, namely Alhaji DeboAbdullai (Nigerian Tribune) and Alhaji SinaOladehinde (Sunday Tribune) both of whom share almost same height.
Reflecting on how his column has turned to hot cake which readers syndicated on social media every Monday, Olagunju told TheTabloid.net of the stimulus behind the column, which earned him columnist of the year at an edition of the Nigeria Media Merit Award (NMMA).
While Olagunju refused to be explicit, he, however, revealed: "Before I write my column each week, I first take a pause, pray and begin. I would not tell you why I do this. That is personal to me."
Those who have closely observed the Osun State-born always attest to a rare combination of brilliance and native intelligence which guide his interpersonal relations. For that quality, he is respected and sometimes feared because he is also said to be on top of almost every issue discussed with him.
"He could feign ignorance of a topic to assess your understanding of the subject. That's wisdom at its best, and that is what, I think, is working for him. In fact, to have served a General for almost eight years without a record of a slip means he knows his onions," a source told TheTabloid.net.