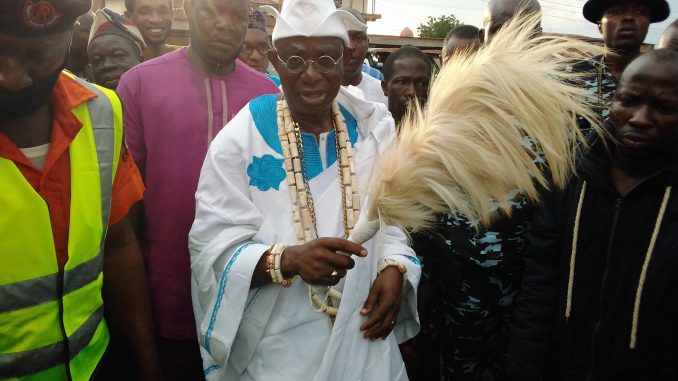 October 11, 2020 saw Oba-Ile, the cradle of all Oba towns in Yorubaland, witnessing human traffic which the ancient town rarely records.
The attraction was the 2020 edition of the annual Obedu Festival, a cultural event which connects Oba-Ile with history of its existence among other Yoruba towns and communities.
The Tabloid.net gathered that Obedu was the figurative compass which guided Oduyale, the founder of Oba-Ile out of Ile-Ife to the settlement that later transformed to the Osun State town. It is said that the role which Obedu played in the life of Oba-Ile before he disappeared into the earth, impelled the people to remember and celebrate him every year.
When it was time for Obedu to transit to higher realm, was said to have left behind a chain on the spot into where he disappeared and instructed Oba-Ile people to call upon him whenever their peace was threatened.
He assured them of his prompt response to their aid to save them from the threat. The people acted a doubting Thomas and tested the efficacy of Obedu's claim. To their surprise, he rose and killed all in his sight indiscriminately, an act which he regretted and made him to severe further physical contact with them.
The Oloba of Oba-Ile, Oba Adekunle AsamuOyeyemi confirmed that over 400 years after the incident, his people annually gather to remember Obedu through visit to Obedu shrine, the spot where the historic figure entered the earth and left a chain behind. Oba
Oyeyemi said the chain remains on that spot till date. He was corroborated by Baba Keke of Oba-Ile, Omoba Rasheed Adebayo Oyedokun who also said Obedu and Oba-Ile are inseparable.
Twenty-four hours to the 2020 edition of Obedu Festival, the Oloba had hosted some indigenes and friends of the town in his palace where they marked the annual Oba-Ile Day, which ought to have come earlier in August but rescheduled due to the COVID-19 pandemic.
If the attendance at Oba-Ile Day was successfully controlled in compliance to COVID-19 preventive measure, Obedu Festival opened the gate of the palace to a mammoth crowd of sons and daughters of the town who converged in celebration of the festival.
A traditional woman known as Arugba and Aworo had started the rite which later led Oba Oyeyemi to Obedu Shrine located some kilometres to the town. Custom has it that the Oloba cannot go to the shrine until Arugba returns to the palace. She entered the palace carrying on her head festival rites item covered in red cloth. Her arrival into the palace entrance electrified the people all of whom raised their hands and pointed them to the sky in supplication to Obedu.
An indigene, a female, Adeola Bilqis, who claimed to have arrived Oba-Ile purposely to be part of the festival told our correspondent that the general reaction to the sight of Arugba on her way to the palace naturally elicited spontaneous emotions, saying the act predated the living generation of her people.
"We are told that by doing that at that particular moment, all prayers we offer will be answered. That has been the practice long before this generation of Oba-Ile people was born. It is not a question of whether I believe it or not, it is a question of the custom of my town, which no other religion can take away from me.
"For instance, I am a Muslim but being a Muslim does not mean I should turn my back at traditional festival of my root. Whatever anybody says against my coming to attend Obedu Festival, I don't care because my faith is between me and the person who created me, which is God. Next year, I shall be here, God willing," the outspoken lady assured.
Aside traditional performances by a culture group comprising young girls in all white costume and bands of drummers, a fuji musician called Asunmo Eriki was also on the frontage of the palace where he treated the surging crowd with his old and latest number to the admiration of the audience, majority of whom were familiar with his music.
In his lively performance, Eriki attested: "Obedu Festival is my show. I was here at last edition. I am here this year, and I shall be here next year and every year. I thank people of Oba-Ile for the recognition and patronage of my music. I shall always be here with different style," he said.
The Oloba-In-Council, a group of traditional chiefs were led by the Eesa of Oba-Ile, Dr Remi Abimbola, a lecturer at the Federal University, Oye, Ekiti State. The chiefs were all resplendent in a uniform Ankara fabrics and later paid homage to the Oloba shortly after he had returned from Obedu Shrine to the palace.
Also in white attire, Oba Oyeyemi performed some special dance just before he returned to the palace. He did the dances at three separate spots few metres to the palace entrance. The dance was heralded by heavy drumming and hail of K-a-b-i-y-e-s-i  ooo.
The Oloba expressed his gratitude to the turn-out of his subjects and clarified that there is difference between religion and culture like Obedu Festival. He said he was on the throne to protect custom and tradition, which his forefather bequeathed for him, adding that nothing, would stop him from performing the rites, which he insisted should not be regarded as rituals.
"Isn't it derogatory to describe the rites we do as rituals? They cannot be rituals as long as they are not performed under secrecy. The shrine is there as our main connection with our ancestor. Every Yoruba town and community has different ways of reconnecting with their ancestors. So, what we are doing here today is our own way of remembering and celebrating Obedu.
"You can feel the mood of everybody. You can see that they are happy to be back in town to witness the festival. The success of this year edition would encourage other indigenes to come and witness it in subsequent edition. Oba-Ile of today is totally different because I am on the throne for a purpose, which is to open up the town for the outside world.
"Have you ever covered this festival as a journalist? Something facilitated your coming definitely. That is where we are going. Oba-Ile cannot remain on the same spot, and we are determined to take it to higher level where tourists from different parts of the world would come and watch Obedu Festival and relax before they return to their destination. Everything is in the pipeline," he revealed.
The Elemo of Oba-Ile, Chief Salawu Fasasi Adeoye also attested that Obedu festival is a rallying point for the indigenes of the town from time immemorial. Adeoye, who was installed in 1993, thanked Oba Oyeyemi for his commitment to the promotion of the festival.
Yoruba culture enthusiasts, who witnessed Obedu festival, enjoyed full compliment of security as law enforcement agencies-regular police, civil defence, Department of State Security (DSS) and soldiers took position at different location apparently to prevent break down of law and order.
"We invited the security personnel to be on a safer side. The situation in the country now as regard security requires pro-active measure like what we have here today. I don't want anybody to use my town as a springboard for chaos. The security agents have a mandate to keep eagle eye on every nook and cranny, and I think they are doing well so far. We thank them," the traditional ruler remarked