The Nigerian Society of Engineers (NSE) Ota Branch has held her first quiz competition tagged Engr. Olatunji Akinosi Science Technology Engineering and Mathematics Quiz competition.
It was held on May 24, 2023, at the National Laboratory Complex of the Nigerian Road and Building Research Institute (NBRRI), Ota, Ogun State.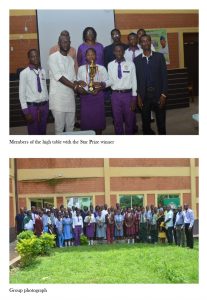 Of 10 schools drawn from Ado-Odo Ota area of the state, eight participated in the Computer- based quiz in the core S.T.E.M subjects of Biology, Chemistry, Mathematics, and Physics.
Chairman of Ota Branch of the NSE, Engr. Adewale Adeyemi informed the audience that one of the reasons for the academic contest is to activate the interest of the young ones in foundational subjects required to produce engineers for the future.
That is, according to him, those who are expected to innovate and invent new ideas to improve the nation's infrastructure and culminate into moving the nation from an importing to a production economy.
A House of Representatives member-elect for the Ado-Odo Ota Federal Constituency, Engr. Olatunji Akinosi was represented by Mr. Balogun Oladimeji.
He appreciated efforts of teachers, organizers, and students. He reaffirmed Engr. Akinosi's continuous sponsorship of the S.T.E.M. Quiz and promised that scholarships to students would likely be added.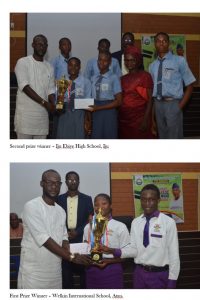 He encouraged students to be focused, dedicated and committed to the right course.
In her introductory remark, the Quiz Master, Engr. Dr. Edith Alagbe, laid down the rules and explained that the CBT was an innovation of the branch, to create a platform for study and competition in tandem with the expectations of the Joint Admission and Matriculation Board (JAMB) exams and foster the use of laptops and devices for more productive engagements by the students.
In his vote of thanks, General Secretary, Engr Olalekan Oluwaji also appreciated ed Engr. Akinosi for the support and management of (NBRRI) for providing an ambient venue for the competition. He also thanked the All Progressives Congress (APC) members of Ado-Odo Ota Constituency for their support in persons, the STEM committee for their tenacity, all members of the branch for their commitment to upholding the vision and mission of the Society.