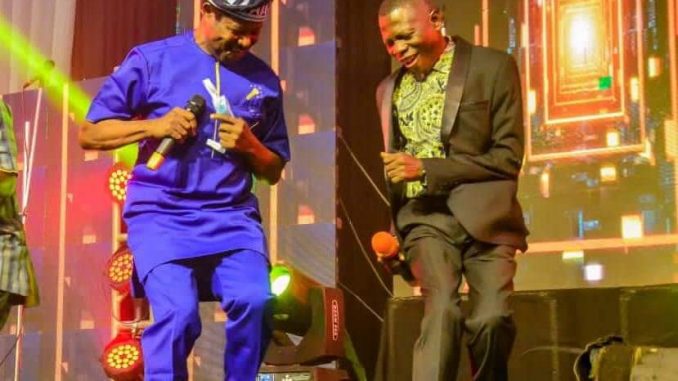 At 75 years, that King Sunny Ade tastes better at every live performance was a popular verdict at the Felicia Hall, Jogor Centre, Liberty road, Ibadan, the Oyo State capital on Sunday during his show in honour of another juju music star, Micho Ade who celebrated his 50th year of his career.
Musicians like Witty Wale Thompson, Akin George also expressed their talents but KSA, appearing in a simple blue outfit, was hailed as having stolen the show which was staged on a very glamorous platform.
Dignitaries across the country, including royal fathers, could not but shower him with ovation during and after his electrifying display of his full grasp of his juju act.
Special Adviser to Ekiti State Governor Kayode Fayemi on Culture Ambassador Wale Ojo-Lanre found the sound irresistible and made his way to the front of KSA where he put up some dramatic dance and appreciated the musician according to the social requirement.
To the applause of his audience, KSA did remix of some of his old tracks and spiced them with comical stagecraft with his band members, a spectacle which, at a point, turned Micho Ade to not only an onlooker but also a trainee on his special day.
The ceremony started with arrival of invited guests in twos and threes. Ambassador Yemi Farounbi, Otunba Sola Adewunmi, Dr Yinka Joel Ayefele and host of others had settled on their respective seat before Micho Ade was ushered in, and his citation read by the acclaimed Queen of red carpet, Fola Slim.
To balance the event as that organised by one who doesn't disconnect with his root, a cultural group, Ayebola also treated the audience to its traditional performance.
Chief of host, who is Chairman and Chief Executive Officer of the Fresh FM, Dr. Olayinka Ayefele(MON) was all smiles at the turnout of the guests, revealing to them that he cut his music career teeth from Micho Ade as a guitarist.
Ayefele expressed his joy that Micho Ade was alive to see the day, lauded him for his creativity and perseverance, seeking support for Micho Ade to have better instruments.
Ayefele took the lead with his donation of N500,000 to Micho Ade's music school project while Chairman, U fit fly, Segun Ogunkeyede, said he would sponsor his trip to Dubai between October 22 and 29 2022.
Besides, Chairman of the occasion, Otunba Sola Adewunmi, who called Micho Ade humility personified, prayed to God to give him more strength to continue his musical career.
Chairperson, Miss Bimbo Esho also thanked God for the celebrant, stating that it was a lot of hard work for her and a privilege to celebrate another icon.
Deaconess Akanni donated N100,000, and Kabiyesi Ayede Temidire, launched the album with 100 dollars.
The ceremony also featured resentation of a big frame gift by CAC Ile Aanu Choir and cutting of the cake coordinated by a popular On Air Personality, Mr Tunde Olaniyi ( Ti o Common)
Order of Photograph was performed by Otunba Kola Olotu while vote of thanks was said by Micho Ade. The event was organized and packaged by Apreel1 Events Management.
A notable fan of KSA and Publisher of The Newscoven, Mr Dapo Falade remarked that KSA would always outshine young musicians as long as he lives.
"Do you remember what he did to a top fuji musician over 10 years ago? KSA, is a master of beats any day any where. I wasn't at that show but I am not surprised by reports I got of his performance," he said.