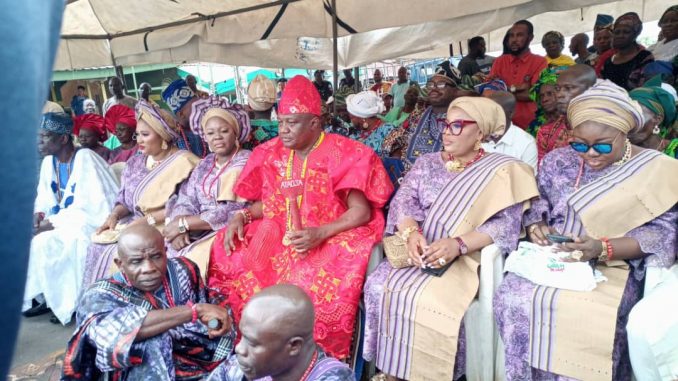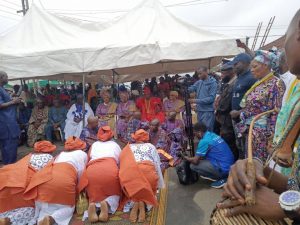 For a few hours yesterday, the Orita Gbaemu and Oja Oba section of the Station Road in Osogbo, the Osun State capital, played host to a sizeable number of legs and colourful costumes, marking beginning of the annual Osun Osogbo Festival.
The cynosure of all eyes at the event, known as the Iwopopo, was the Ataoja of Osogbo, Oba Jimoh Oyetunji Olanipekun, who decked in a red and yellow damask and led a traditional procession from the Palace to the Gbaemu Junction and vice versa.
The Tabloid.net gathered that the Iwopopo is the traditional cleansing of the designated road, preparatory to variety of  features which make up the globally recognised cultural gathering. Other associated events included Ibo Ade, Atupa Olojumerindinlogun, Ifa Arugba and the grand finale held between August 4 and August 12, 2022.
Elegantly complemented by his Oloris, all of whom appeared in a uniform attire, Oba Olanipekun received distinctive groups who, one after the other, paid homage to him while he, in return, prayed for them and for the town as traditionally required from the day of Larooye, the first Ataoja in history.
Also in the Ataoja's convoy, to and from Orita Gbaemu, were traditional chiefs and other dignitaries, including Osun State Commissioner for Special Duties, Mr Lekan Badmus, who stood in for his principal, Governor Gboyega Oyetola whom Badmus said would have loved to witness the traditional event.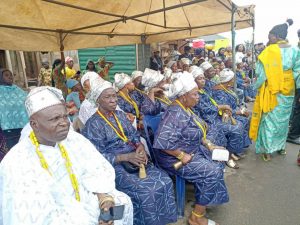 The outspoken Oba Olanipekun used the presence of the governor's representative to update the state government on the disappointing state of the pavilion under which invited guests are hosted inside the Osun Osogbo grove on the grand finale of the festival.
Oba Olanipekun also disclosed efforts he had since made to save the situation and the town of embarrassment at the usually crowd-pulling closing ceremony.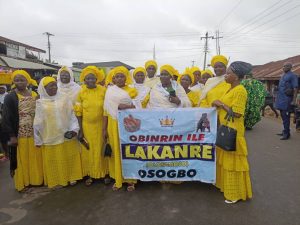 Though the Ataoja sent his greetings to Governor Oyetola, he pointed out that never had the governor personally attended any edition of the festival, the celebration of history of the state capital, the seat of the government.
The royal father noted, "He (governor) used to send representative. I am not surprised. I will not hesitate to tell you that the pavilion at the Osun grove has collapsed. Almost N1million will be needed to repair it. As Ataoja your representative, I have already commenced repair work on it."