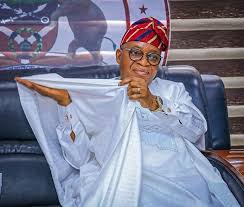 Governor of Osun State, Alhaji Gboyega Oyetola, the Olowo of Owo, Oba Ajibade Ogunoye, the Aloko of Iloko-Ijesa, Oba Hakeem Ogungbangbe are top on list of dignitaries to witness the Iba Day holding today in the ancient town in Ifelodun Local Government of Osun State.
The Eburu of Iba, Oba Adekunle Adeogun Okunoye told TheTabloid.net that Iba is destined for greatness, which his reign is set to actualize, hence the occasion aimed at raising a sum of N500 million development fund.
Coming from success of the second Eburu Adekunle Annual Symposium on Innovation in City Governance and Monarchy as well as the second edition of the annual Oriki Yoruba fiesta held penultimate Saturday, Oba Okunoye said he had no doubt that today's event would turn out as expected, in terms of response to the town's request.
Oba Okunoye revealed that he had personally set the ball rolling in actualizing his missions on the throne of his forefathers, using his private resources to change face of the town.
However, the professor averred, "Town's development needs assistance from other people who share one's vision. And I am glad that we are getting there steadily. The Eburu Adekunle Cultural Renaissance, for instance, is gradually opening up Iba to outsiders who had not found time to come here. That is one of my missions, that is, to give Iba a broader outlook."