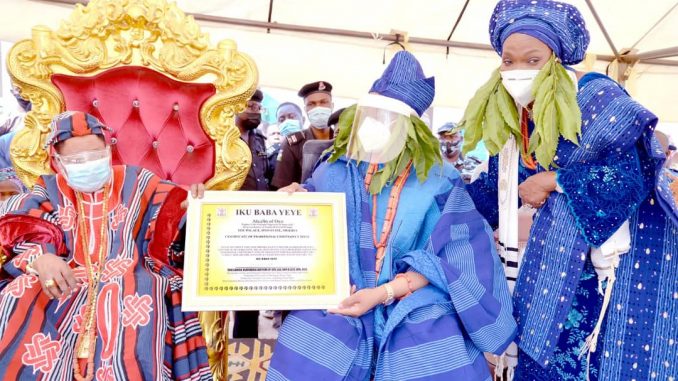 Save for the last minutes review of the activities originally lined up to celebrate the 50th Coronation anniversary of the Alaafin of Oyo, Oba Lamidi Olayiwola Adeyemi, the installation of Dr Tunde Afolabi (MFR) and his wife, Engineer Mrs Oluseyi Afolabi as the Akogun and Yeye Akogun of of Yorubaland respectively on January 16, 2021 would have drawn a mammoth traffic of eminent guests to the ancient town.
But with a release issues and signed by Oba Adeyemi informing the public of his respect to government efforts to stop further spread of the dreaded Coronavirus, the new Akogun restricted his guests to Oyo to a handful of friends conspicuously led by the former Governor of Osun State, Prince Olagunsoye Oyinlola, who emerged the cynosure of all eyes when his presence was formally acknowledged by the compere of the event, ArchBishop Ayo Ladigbolu.
Oyinlola would later be tasked with responsibility of making vote of thanks on behalf of the Akogun and his wife. Decked in a light blue flowing agbada matched with a cap, Oyinlola appreciated the Alaafin for deeming it fit to honour Dr Afolabi whom he said was his long time friend. The Okuku prince also assured the traditional ruler of Afolabi's readiness to live beyond what his new status had imposed on him as regards social responsibilities to the town.
"Kabiyesi, I must say that we all heard what Baba Ayo Ladigbolu has reeled out as Akogun's areas of responsibilities. And I am saying it here that Akogun is also aware and he is capable to do more than expectations. Over the years, I have found him as a man of honour who does not make empty promises. He will definitely make you and the town happy. I thank you for this honour. May you live long on the throne," he said.
Before Oyinlola delivered his extemporaneous vote of thanks, the traditional rite had been performed to formally install the couple chiefs. As usual, the Akoko leaf was inserted into the cap and gele of Akogun and his wife at a spot about 20 metres to where the Alaafin, his wives, chiefs and other guests were seated. Thereafter, a band of palace drummers besieged the new chiefs and led them to the Alaafin where they paid obeisance and received royal blessing.
Oba Adeyemi congratulated the couple and highlighted qualities which earned them the titles including the Akogun's exploit in his career and selfless services to the humanity, especially in his scholarship scheme, which his foundation offers indigent students of higher institution of learning. The Alaafin affirmed that Dr Afolabi was a round peg in a round hole for the above attributes.
"I met him at Samuel Ajayi Crowther University and Technical University and found out the extent of his humanism. It is rare to see people of his class, in terms of empowering the underprivileged of the society. I am happy that we are witnessing today. If not because of the ravaging pandemics, I am sure, this arena would not contain guests who would have accompanied you to this occasion. But we need to comply with government directive. Despite that we have had a successful installation today. May you and your wife live long," he prayed.
Oba Adeyemi applauded Oyinlola and recalled his tenure as governor of Osun State and military administrator of Lagos State. He said Oyinlola had always demonstrated his royal blood at every occasion, saying he is a good ambassador of Yoruba.
"I was the first Oba to have visited him when he was military administrator of Lagos State. The kind of honour he extended to me is still fresh in my memory till date. When I was returning home, he still accompanied me with a bagful of money. How else does a prince treat a royal father? That is why I am not surprised at his rising profile after his military career," he noted.
The occasion was spiced up with traditional dance among other displays. The panegyrics, which Oba Adeyemi wives' did before the traditional ruler make his speech, thrilled the guests, some of whom watched such performance by wives of traditional rulers for the first time.
Chief Akogun of Yorubaland, a Geologist, is the Chairman/ Chief Executive Officer of Amni International Petroleum Development Company Limited, a company which was incorporated in 1993. He is the immediate past President of the Petroleum Club, Lagos and member of advisory board.
The 50th Coronation anniversary of Oba Adeyemi paraded a number of activities which started on January 12, 2021 with interdenominational service among Muslims, Christians and Traditional worshippers in the palace. The following day, January 13, 2021 witness the Alaafin performing ground breaking and foundation laying ceremony of Oranyan Heritage Foundation along Oyo-Ogbomoso highway.
Speaking at the ceremony, the founder of Oranyan Heritage Foundation who doubles as the Iyalaje of Oyo, Chief Mrs Comfort Titilola Orija-Adesoye appreciated Oba Adeyemi for his approval of the project and his presence at the occasion, wishing him many more successful years on the throne.
"I am highly grateful to His Imperial Majesty, Oba Adeyemi III for believing in me when the request for the allocation of this 50 acres of land for OAF project was ascended to without hesitation. Once again, thank you, kabiyesi. During your time as the Alaafin of Oyo, the history of the Alaafinate is rewritten being the longest reigning IKU BABAYEYE of our time. Thank you for making out time to witness the ground breaking and foundation laying of A MUSEUM TO CELEBRATE THE BLACK WOMEN IN HISTORY. Remain blessed forever," she said.
Oba Adeyemi responded with history which he shared with the Iyalode during their childhood. To the amazement of the audience, he recalled how he would help her carry her load from farm and take her piece of meat in return.
January 14, 2021 had the palace besieged by traditional rulers from far and near sharing the historic day with Oba Adeyemi. Thanksgiving service held at St Church, Koso, Oyo after which Alaafin returned to the palace field and gave out cars.