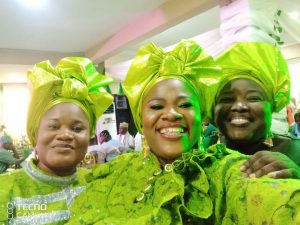 Event hall of the Lagos State Cooperative Federation, Ogba, Lagos was the place to be on Saturday August 27, 2022 when family, friends and members of the All Progressives Congress (APC) home and abroad converged in honour of the women leader of the APC in the United Kingdom, Hajia Aolat Sule.
Sule hosted the final burial for her late mother, Alhaja Kudrat Abeje Ogungbadero who passed away in July, 2022, a month to Sule's birthday.
Despite the morning downpour which threatened attendance, guests nonetheless turned up in an impressive number and relished the party spiced by a clone of the late Dr Sikiru Ayinde Barrister known as Hammed Ololade Barry 2.
Ololade's nostalgic renditions surprised many who were watching his performance for the first time. The Owode-based musician said he considered the outing as opportunity to showcase the brand of fuji which his organisation is noted for in the social circle.
"I am happy by the feedback we have received after the party. I thank Barrister lovers, members of the APC and members of the Lagos State House of Assembly for their kind gestures towards us," he said.
Members of Barrister fans groups from Lagos, Abeokuta, Ibadan, Iwo and Ilorin, graced the occasion in solidarity for Sule whose online Barrybration platform has projected Barrister's many timeless works.
Inspite of his five hour-battle with Lagos-Ibadan expressway traffic gridlock, Alhaji Lukman Badru, made it to the venue and admitted his fulfilment, adding that his host deserves his presence because of the mutual respect between them.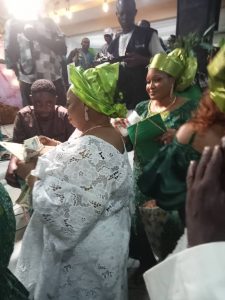 "I couldn't have missed the party. I saw the traffic problem on our way to Lagos as one of sacrifices to make in honour of that woman who is also passionate in her human relations. I congratulate her for surviving her mother and organising a befitting party in her memory," he said.
Another guest, Engineer Banji Elesin-nla similarly expressed his satisfaction at the party and appreciated what he called his host's sense of organisation and sophistication.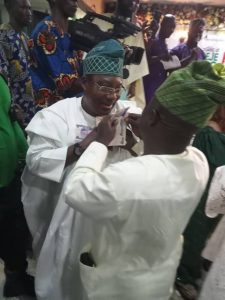 "It was a fantastic outing devoid of security lapse. I enjoyed myself throughout. It was more fun hearing Barry 2 doing it in Barrister way. Barry 2 really made my day by his memorable performance. He made me feel as if Barrister was on the band stand," he  recalled.
Yet another guest, who doubles as Sule's confidant, Mrs Hakeemot Oyegoke said it is a thing of joy to survive parents who passed away at a ripe age like that of the late Ogungbadero.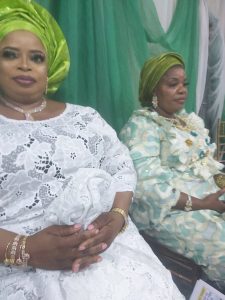 She added, "Another wonderful thing is to be endowed with good health to celebrate such parent in a colourful manner; so success of the party is for my dear big sister: Aolat Oluwatomisin Awele Sule. This did not just be, but owing to her way of interraction with people, religiously, politically, socially and to every individual that comes her way.
"She sincerely reaped what she sowed. I am particularly glad to be part of her, not as a sister/guest, but as the director of the organization (Moredan eventful world) that decorated the venue of the event wxquisitely. I am fulfilled! it was an event well planned."
Sule thanked God and all her guests that made her ceremony a reality. The social media influencier said she owed her late mother prayers and celebration.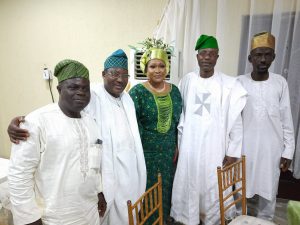 "My beloved mother deserves everything I did because she was a mother in millions. She passed away a month and a day to my birthday. This is painful but I thank God for the life she lived.
"I sincerely appreciate all our guests for honouring us with their presence. It is one thing to send invites out to friends, another thing is for the invited to turn up. For this, I thank everyone," she submitted.