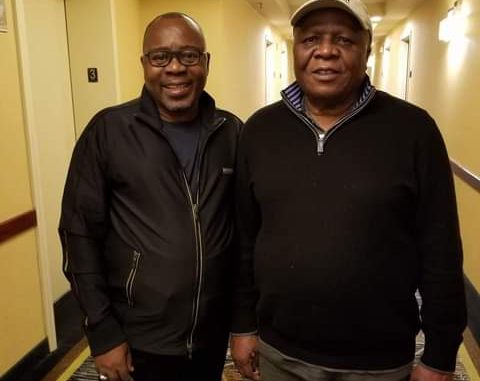 From his military background in the Nigeria Air force in the 80s through 90s, Alhaji Gbadebo Badru was trained with discipline and respect to the nation and people that come his way. On no condition must be compromise these ethics, hence his modest accomplishment in politics where he is regarded not only as as king maker but also as power behind the throne.
In his public life, from the aborted Third Republic during which he served as a strong aide to the first civilian Governor of Osun State, the late Alhaji Isiaka Adeleke, he had come across all kinds of personalities with whom he relate at different levels.
Only a tiny few of those people, however, have same influence which the late Akinrun of Ikirun, Oba Abdulrauf Olayiwola Adedeji had on Badru during his lifetime.
The Tabloid.net couldn't trace the history of their relationship and circumstance through which they became father and son. But close look at their attitude to life reveals affinity and bond which sustained them until Oba Adedeji fled the scene unannounced on February 3, 2021.
Recalling the incident, Badru said though he was not new to news of deaths, that of the Akinrun was a blow effect of which remains in him till 41 days after.
"I can't accurately remember who shocking the news came to me. It's was like an expensive joke or better still an April fool because I couldn't just get it until it was no longer news in town. That death caught me unawares but who are we to query God, the creator of all of us. It is His own prerogative to create and take. We can only pray to God to repose his soul and count him among his favoured ones," he prayed.
The Akinrun was known for playing fatherly role to Badru at different occasions. For instance when he was turbaned as the Asiwaju Adeen of Iwo in 2019, Oba Adedeji was in attendance. It was gathered that the monarch arrived early and gave Badru royal support at the occasion.
"Can you believe that Kabiyesi still went to my residence and waited for me till I was through in the mosque. How many traditional rulers can give one such honour? That is just one evidence of his humility and respect for fellow human being despite his status as a royal father who has right to chose functions to attend," he disclosed.
Asked on the Akinrun's active political life, Badru submitted that the traditional ruler proved to the world that he was a progressive, and very proud of his political ideology having understood the fact that no one can be neutral on political issue, adding that his respect for him was sustained by that openness.
"Even when I was in the other party, when we were in government, kabiyesi could not be influences or won over. He was such a principled man who wouldn't mind standing alone on his point of argument. Am I really surprised?
"I shouldn't because I know him as an intellectual who would take you round the world during discussions and educate you better on matters on the table. There is nothing I can say about kabiyesi that can equal to his return to the world. But that's impossible. He has come and he has gone. May be rest in perfect peace," Badru prayed.
His wife, Alhaja Adefunke Badru is also already missing Oba Adedeji for his "unassuming character and adherence to his words." She recalled occasions when the traditional ruler would arrive their events on scheduled time and appear without wearing crown and bead.
"Kabiyesi lived a very simple life. If you had never met him, you might not pick him out of guests. His philosophy was simplicity. That is what he shared with Alhaji who is also simple to the core," she testified.