To incur her wrath is to promote a lazy woman who waits for mana to drop from the sky. Erelu Funmi Rotiba's energy in her Ibadan office naturally infects her subordinates and clients such that they keep with her pace sometimes painfully. But going by her defence, she is more loved for setting a standard that female folks are not created as inferior beings. The Ondo State-born founder of Special Tours and Travels Ltd, Imperial House of Culture and Vogue Brand Collection speaks with TheTabloid.net. Excerpts
What does holiday culture mean to you, and do Nigerians have it?
Nigerian holiday culture is more business-like. It is like going on usual business trip. For example, Nigerians travel to Dubai to go shopping and sightseeing. I can say that at this stage of our understanding the concept of holiday, we are still on average with our holiday culture. We love to burn our energy on our works with commensurate energy to relax and enjoy the fruit of our labour at serene, cool places. But I can see that bad economy, which makes almost everybody spends too much hours on work, could be responsible.
What do you think should be done to do it better?
We should increase awareness and create recreational activities within our country; this will boost ours. Naturally, recreational activities like tourists attractions draw people to themselves, and this is a way for government to make cool money. But here, our priority seems not to be in this area.
Is holiday really important to man who struggle to make ends meet?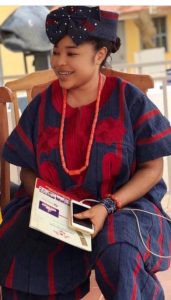 Who says not? That is where the white people get it better than us. They create season to unwind, relax their muscles so that when they return to work, they are full of fresh energy. Holiday is important part of life; it boosts knowledge and healthy living of individuals.
For how long have you been in the business of travel and cultural promotion?
Let me break it down this way. I founded the Imperial House of Culture Ltd five years ago;
Special Tours & Travels Ltd 13 years ago and the Vogue Brands Collections three years ago. And I am so passionate about all these enterprises because they are the essence of my being. Without them, I am not too sure you would have located me.
What would you tell government as regards the mass of unexplored tourism potentials in the country?
We have said it time without number but we shall not be tired of saying it over again. Government should focus attention on tourism to boost the economy and create more employments.
What would you tell women?
What I always tell them is very simple. I say no woman should be idle. Era of wives looking up to husbands to carry responsibilities is over. Every woman should find something doing. We are the builder of the world; we are the mother of our men who must be up and doing. Any woman who is not in this bracket is not worth her status. Women should work and work very hard to earn respect of men and the society.