Operatives of the National Drug Law Enforcement Agency (NDLEA) have successfully dismantled a trans-border drug cartel and arrested five leaders of the syndicates operating in parts of the world in a special operation.
The Tabloid.net gathered that the operation lasted weeks during which different quantities of skunk, methamphetamine and ephedrine as well as air compressors used to conceal and distribute them globally were recovered.
Director, Media and Advocacy of the agency, Mr Femi Babafemi, described the duty as a special operation coming on the heels of a warning by Chairman/Chief Executive of the Agency, Brig. Gen. Mohamed Buba Marwa (Retd) that drug barons and cartels would have it rough in 2023 if they fail to back out of the criminal business.
Babafemi confirmed that leaders of the cartel, which spreads across Dubai, UAE; Cotonou, Benin Republic; Togo; Oman, Thailand and Europe as well as Lagos, Imo and Onitsha in Anambra state, were, while on Christmas and New Year holidays in their villages, still coordinating efforts to send their illicit consignments to Dubai and other parts of the world.
He said luck betrayed them on December 29, 20022 when their freight agent, Onyeisue Collins Chukwudi was arrested by NDLEA officers at the SAHCO export shed of the Murtala Muhammed International Airport, MMIA, Ikeja Lagos for attempting to export three big automobile air compressors to Dubai. A quick follow up operation led to the recovery of additional five compressors at his home at 24 Legacy road, Ayobo area of Lagos.
A total of 27.50kgs of skunk were taken out of the air compressors after welding equipment were used to cut them open.
According to him, further investigations revealed that the freight agent was working for a bigger organized criminal group. As a result, extensive operational tools were deployed to track the first kingpin, Onuoha Peter Obioma who lives in Benin Republic and Togo but comes occasionally to do business in Lagos.
"The efforts paid off on Saturday 7th January 2023 when Obioma walked into the waiting arms of NDLEA operatives with a bag containing additional air compressors used to conceal 15.7kgs skunk and a crystalline substance that later tested positive to methamphetamine after the Agency's sniffer dogs identified compressors with drug concealment.
Obioma's statement led to the unraveling of two other leaders of the cartel: Dubai-based Ugo Kelechi Alex (aka KC) and Iwueke Ugochukwu (aka Odugwu), an Onitsha, Anambra based businessman, who were at that point still enjoying the Christmas and New Year holidays in their village in Imo State.
"A well-coordinated operation was thereafter carried out on Tuesday 10th January at their ancestral homes in Umuobi village, Igbejere community, Ihitti-Uboma LGA, Imo State, while the arrow head of the cartel identified as Ezenwekwe Obinna Nicodemus, an automobile parts dealer at Alaba International market, Lagos was put under surveillance. A Lexus SUV and a Toyota jeep were immediately recovered from Kelechi and Iwueke," he said.
After series of dramatic bids to evade arrest, NDLEA operatives eventually pinned Obinna down at a bar in Mazamaza, Mile 2 area of Lagos on January 14. A search of his home led to the recovery of 607 grams of ephedrine, a handful of Cannabis weighing 20 grams as well as other paraphernalia, including 271 grams of dimethyl sulfone used as a cutting agent for ephedrine, a chemical precursor and an active ingredient for the production of methamphetamine. A weighing scale and an International passport were equally recovered from his house.
Meanwhile, no fewer than 2,601.5 kilograms of cannabis and 102,500 pills of pharmaceutical opioids were seized during interdiction operations across Plateau, Edo, Delta, Taraba, Kogi, Kano, Lagos and Adamawa State in the past week. While 309 kgs of cannabis were recovered from a Bauchi-bound Toyota Camry car marked KUJ 218 BS driven by a suspect, Godwin Ojo, 37, on Saturday 28th Jan. along Bauchi road, Jos, Plateau state, 718 kgs of the same substance were seized in an uncompleted building in Sabongida-Ora, Owan West LGA, Edo state.
In Delta State, at least 250.3kgs of C/S were recovered from three suspects: Wilson Ejougo, 43; Okpor Charles Chuks, 33; and Grace Isaiah, 51, in raids across Abbi town, Ndokwa West LGA, and Asaba, the state capital. A suspect, Umar Halidu, 35, was arrested with 18 kgs of cannabis at Mutum Biyu, Gassol LGA, Taraba State, while the trio of Ali Abdulwahab, 48; Bashir Musa, 31, and Ibrahim Shuaibu Abdullahi, 38, were nabbed with 532kgs of the psychoactive substance in their truck in Kogi state.
Not less than 189 blocks of C/S weighing 131kgs were seized from a suspect, Shafi'u Abubakar, 29, in Mariri area of Kano and a total of 119.4 kgs of the same substance recovered from four suspects in parts of Lagos State, while additional 523.8kgs were seized in a bus heading to Port Harcourt along Lagos-Ibadan expressway in the early hours of January 22. Four suspects: Okechukwu Umen; Lanre Adebayo Ismaila, 47; Adeshina Adigun Fatai, 50; and Emmanuel Omijeh, 42, have been arrested in connection with the seizure and three million naira (N3,000,000) offered as bribe kept as part of the exhibits for their prosecution.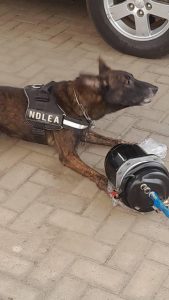 In Adamawa, 102, 500 pills of opioids were recovered from the store of a mobile dealer at old park, Mubi in a joint operation with military personnel.
In his reaction to the special operation that led to the dismantling of the trans-border cartel, Marwa commended all the officers involved, stating that the feat is a confirmation that his warning to drug barons at a media briefing on January 18, is no fluke but a work plan well-grounded on determination and commitment of the officers and men of the Agency to rid Nigeria of substance abuse and illicit drug trafficking. He charged personnel of the MMIA Command, and those of Plateau, Edo, Delta, Taraba, Kogi, Kano, Lagos and Adamawa States as well as their compatriots across the country to remain steadfast and focused on the corporate goal of the agency.