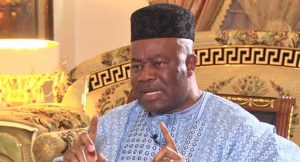 President of the Senate, Godswill Akpabio, on Monday, congratulated the Editor of Vanguard Newspaper, Mr Eze Anaba,
on his election as the President, Nigerian Guild of Editors (NGE).
He also lauded the emergence of the Editor, Nation's Capital of Thisday Newspaper, Mr. Iyobosa Uwugiaren, as General Secretary and all other newly elected Executive Officers of the national media body.
Akpabio described the emergence of Anaba as a testament to his dedication, commitment and professionalism while describing him as a square peg in a square hole.
He charged Anaba to bring to bare his reputation for attention to details, humility, excellence and innovativeness which has been his hallmark in the Vanguard Newspaper.
A statement from the Media Office of the President of the 10th Senate, called for renewed partnership between the media and the Legislature in particular and the Federal Government led by President Bola Ahmed Tinubu in general to advance democratic governance in the country as well as make the Renewed Hope Agenda a reality for the generality of Nigerians.
The President of the Senate stated that though the requirements of the new responsibilities are daunting, he is convinced that the new officers have what it takes to effectively and efficiently lead and take the organization to higher heights.
He urged the new executive to work towards upholding the ethics of the journalism profession as well as using the vast powers of the media to support critical economic and social reforms being championed by President Bola Ahmed Tinubu for the overall benefit of Nigerians.
He specifically urged Anaba and the entire leadership of the NGE to lead the needed change in the journalism profession in the country with the aim of making it more responsive and development focussed.
Akpabio said: "Your elevation came at a time the entire nation is desirous of a new thinking in the management of its affairs. I am confident that you are well-equipped to contribute to the realization of a new NGE, the journalism profession and Nigeria in general, during your tenure."
He also urged the NGE to join hands with the Nigeria Union of Journalists (NUJ) and other relevant stakeholders to rid the profession of quacks and fake news peddlers.
While wishing Anaba, Uwugiaren and all newly elected NGE national officers a successful tenure of office, the Senate President urged them to bring their rich experience in further uplifting and expanding the frontiers of the apex Editor's body in the country.