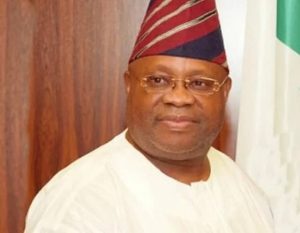 Osun State Governor, Senator Ademola Adeleke has expressed his delight over appointments of Major T. A Lagbaja as the Chief of Army Staff and Bashir Adewale Adeniyi as the acting Comptroller-General of the Nigeria Customs Service as recognition of capacity and outstanding track records.
The governor, who welcomed the elevation of the two indigenes of Osun state as a great honour, appreciated President Bola Tinubu for trusting the duo with those important roles.
In a congratulatory message signed by his Spokesperson, Mallam Olawale Rasheed, Adeleke said Major Lagbaja and CG Adeniyi are pride of the state, expressing strong belief in their capacity to deliver on their assigned mandates.
Eulogizing the two agency heads as men of thoroughbred professionals, the governor said the records of General Lagbaja and Mr Adeniyi in their respective services are assuring that they will take their organizations to greater levels of efficiency and optimal performance in the discharge of their constitutional duties.
"I heartily congratulate Major T. A Lagbaja and CG Bashir Adewale Adeniyi on their appointments as the Chief of Army Staff and the acting Comptroller-General of the Nigeria Customs Service by President Bola Tinubu," the statement noted.
"Their elevation is by every means a great feat for us in Osun state, and on behalf of the good people of this state, I want to sincerely appreciate President Tinubu for counting these two indigenes worthy for the positions. It is a proud moment for us, and I recognize this huge honour done to us as a state.
"Looking at the impressive service records of General Lagbaja and CG Adeniyi, I share the overwhelming expectations that counted for their elevations and believe they will excel in their new roles."
The governor assured the two agency  heads of his government's support and cooperation, noting that his prayer is to see Osun indigenes excel in their respective endeavors.