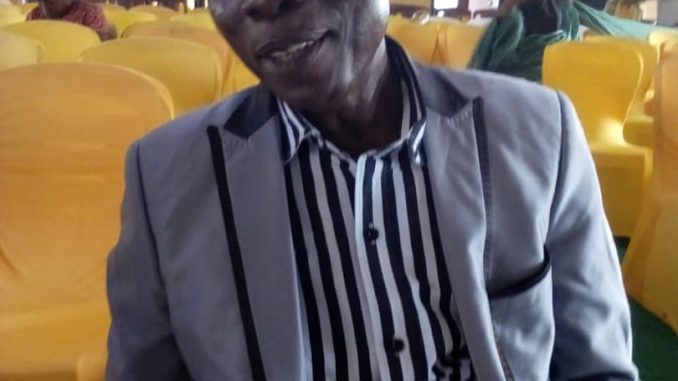 After all his guests had departed the NUJ Press Centre, Iyaganku, Ibadan,  venue of his anniversary lecture titled 'Music as catalyst for sustainable socio-cultural values' on June 1, 2022, the juju rock master, Mr Micho Ade spoke with TUNDE BUSARI on his career, which took off from Jossy Ayorinde and His Morning Star Band in his Ikere-Ekiti, Ekiti State hometown. Excerpts
Your profile reveals that you started your band in 1976. What were the challenges associated with that foundation?
There were different experiences to start a band but I thank God that those experiences later worked for me and made us strong in the profession. One needed to have a sponsor to buy instruments if one did not come from a rich family who could help one to buy the instruments. That period, you needed to own your instruments unlike now that you hire for performances. I thank God that the challenge back them was useful to the growth of the band.
Are you aware you sound and perform like King Sunny Ade? Is it deliberate to tread that path?
I am aware that fans called me Sunny Ibadan but the truth is that I didn't deliberately pattern my style after his. It evolved naturally according to the gift which God give me.
When did you first meet KSA?
I didn't meet him, I first saw him at his show in Akure, I think, in 1974. He couldn't have identified me in the crowd but I was fulfilled that I was able to watch his live performance. I was inspired the more after the show. You could say that was the connection between us because I was in my formative years.
When did you meet in person?
That was in 1979 here in Ibadan. We were holding a meeting of musicians. I walked to him and introduced myself. He embraced me and advised me to be hardworking and focused. He was friendly, and behaved like a big brother to me.
Who marketed your that chart buster elpee titled 'Ogun Laye', which you released in 1991?
The company was called the Elephant Sounds. I was the first musician signed by the company. I did another record for them after 'Ogun Laye'.
What was the commercial result of that elpee?
I wouldn't know, to be honest with you. I didn't know. All I know was that it was accepted by public.
Why didn't you know?
Artists then didn't go after sales of their albums and royalties from them. We were more interested in having our songs recorded and released to public. We loved to hear our music being played everywhere we go.
Was that not financial carelessness?
Honestly, we didn't see it that way. We were just excited and satisfied once our albums were out there at records stores. Once our songs were played, live show would come, and that was where we made our money to sustain ourselves and the band.
Based on the message in that 'Ogun Laye', I want to assume, it was a reference to your personal experience of life.
Thst was the true picture of what happened. So, you are correct.
How correct, sir?
Thank you. I recorded it to share my experience to teach my fans lessons.
What happened to you?
From January to December 1990, I faced some challenges, which really affected me. It was from one problem to another; moving from UCH Ibadan to the General Hospital in Ikeja, Lagos. I was sick. My brothers, who were living with me too, were sick, one after the other. There was so much distractions to my career. It was a threat to my life but I thank God that I survived the travails. Then, I felt I must share that experience with my fans so that they would pick some lessons from there.