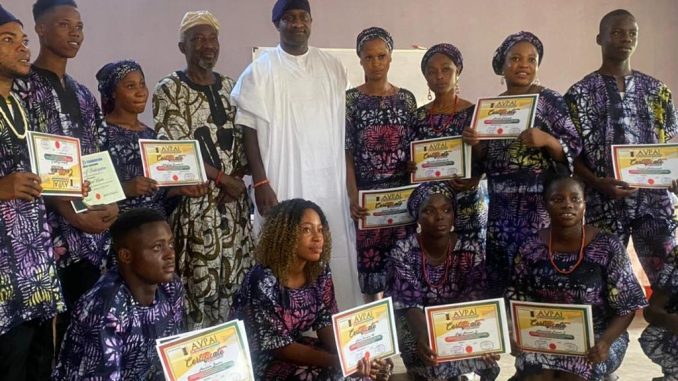 Although the management of the upwardly mobile Abeni Visual and Performing Arts Institute, (AVPAI), Iragbiji, Osun State took the matriculation of its fresh students off public glare, the school premises witnessed an appreciable number of dignitaries in honour of the brain behind it, Chief Muraina Oyelami.
The Tabloid.net gathered that Oyelami, a product of the defunct Osogbo School of Arts, is a painter and drummer of a global appeal and the Eesa of Iragbiji, his home town, where he houses arguably one of the best private museums in Nigeria.
In twos and threes, students and their parents were being ushered into the expansive premises located on the newly rehabilitated Iragbiji-Osogbo road in a conducive ambiance surrounded by lush green vegetation likened to what obtains in Europe.
The dateline was April 7, 2021, a day, Oyelami choose purposely to control traffic of friends of the institute who usually look forward to such occasion to express their support for the high chief reputed for his passion to bequeath new generation of artists to the society.
Mindful that it was a work day when guests are expected to return to their places of work, the management adhered strictly to time frame for the event, commencing though slightly behind schedule, and winding up at record time.
Singing, Chanting, Drumming and dancing characterized the programme, which showcased to audience quality of intensive training, including practicals, to which students of the institute had since been exposed.
Presentation of certificate rounded off the occasion with the Chief Executive Officer of the UK-based Aliviar Insurance Company, Otunba Babatunde Loye performing the duty alongside a chief.
While speaking with our correspondent, Loye expressed his astonishment at the students and facilities he met at the AVPAI, heartily commending his decision to participate at the event through his sponsor of about 15 new students to the school.
The Ila-Orangun-born said that the Orangun of Ila, Oba Abdulwahab Oyedotun, during his visit to the palace, passionately shared with him his worry about the growing joblessness of the youths, asking him to select a few for Iragbiji vocation programme.
"I was touched when kabiyesi told me. Then I told him that if that was what he needed I would do it. That is the background to my presence here today. And I am happy because what I see is an inspiration to do more, knowing that the students are in a safe hand and environment which is quite right for learning. I particularly appreciate the management of the institute and proprietor for this initiative to empower our young ones," he noted.
In the same vein, an ex-student of the institute, Ogunkeye Ronke averred that she would always be proud that she attended the three-month programme, jovially beating her chest that despite her Nursing profession, all she had learnt in the institute were currently complementing her income. She attested that she sew bags, makes vest, Kampala and also into silk screen printing, all of which, she maintained, combined with dance she also learnt.
"I am happy that I have been more empowered here. This school is what we need to help the youths instead of sharing a token with them. What we learnt here is lifetime benefits. I thank our father, Chief Muraina Oyelami for showing us what made him a popular figure in the society. I am imploring parents to bring their children to learn different vocations here," she noted.
Chief Oyelami, decked in his usual adire fabrics, watched the proceedings with a profound attention, maintaining his calm mien, even while audience were laughing off the performance on stage. Nonetheless, he exuded a sigh of fulfillment seeing his concept transforming to reality in his life time with blocks of classrooms and newly completed guests' house which has boosted the aesthetics of the institute.
However, Oyelami was partly overwhelmed by goose bumps on account of the school's multi-purpose hall which, according to him, is still yet uncompleted. He said he could not accurately calculate the amount which had been sunk into the project but affirmed his resolve to ensure the hall is complete to serve the purpose for which it was designed.
"Due to my exposure to similar institute around the world, I know that at least a multi-purpose hall is required here too to make our work easier. I am saying it again that whether you are a Muslim or a Christian, what we do here is purely arts, not even traditional religion.
"I know that there is future for our arts; that is why I am grooming the young ones to be relevant in that future. The nation cannot afford to turn a blind eye to human resources as arts which hold potentials to earn Nigeria more revenue," he stressed.