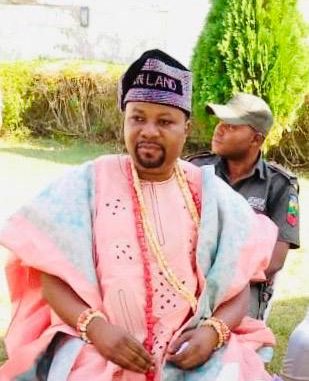 It is rarity for an individual to hold two chieftaincy titles in one town. That is the story of Chief Bamidele Moruf Onifade, the Lemo and Oluomo of Ikirun, the headquarters of Ifelodun Local Government Council of Osun State. To this unusual chief, love for one's town and his people is rewarding ultimately. Self-development is the compass to his current social status at home and across the world. His love for the late Akinrun of Ikirun, Oba AbdulRauf Olayiwola Adedeji can scarcely be rivaled. Onifade told The Tabloid.net why the late monarch would remain evergreen in his memory. Excerpts
How close were you with the late Akinrun?
I am not sure I can answer that question. You should probably go to town and ask people about my relationship with Kabiyesi. It was something I cannot quantify, in terms of his love for me. How many have privilege of their traditional rulers paying them regular visits at a short interval and a short notice? Baba could just call me that he was already on his way to my home here. He would say he was not doing anything in the palace, that he was bored.
What did he do on his visits?
You would be surprised that he would just sit quietly as if he was not the king of the whole town. He would sit calmly and watch me and my friends sharing drinks.
Did he drink along with you?
You surely don't know Kabiyesi. He did not drink; he would just sit and mock us. In fact, there is a particular drink known as 1000 Stories, he loved to create jokes around it. When we finished a bottle and replaced it with another, he would say 'you are now drinking 2000 Stories'. So, whenever he was coming, he would say on phone that 'I am coming for your 1000 Stories.' Yet, he would not touch even the bottle. His simplicity always enthralled me, making me to wonder why many people take life with a strong hand. I can go on without repeating myself. Let me just pause here to continue praying for his soul on his journey to the higher realm. My aides here can attest to my condition since February 3, when he joined our ancestors.
How did you receive news of his transition?
I had travelled to Lagos for some days. I just returned to the town. Suddenly, I saw Olori's calls. She told me 'something has happened.' Daddy has left me o'. I asked her 'which daddy is that?' She replied: my husband has left me o.' I still asked: 'which husband?' I could not connect what she was saying in an unusual voice. She finally broke the news, saying 'kabiyesi has passed on.' I broke down instantly and looked as if I was in a deep slumber. But when I realized that it was the truth, I had to gather myself as a chief, a community leader who is not expected to betray emotions at lease in public. If I must say the truth, I will say the news sounded as if I had never heard that somebody had died before.
Was it your closeness that earned you two titles from him?
That is not so, but partially you are right.
How?
My first title, Elemo, is a traditional title, which was conferred on me after my family had picked me as their representative in the palace. That one is hereditary; it is our family title. The other title, Oluomo, can be said to have been by my closeness with kabiyesi. But I need to make something clear on it. Kabiyesi lived an incorruptible life, which, may be, was not welcomed by some people. You might be close to him and get no title from him. His life depended on promoting merit over mediocrity. Again, some may have problem with that; he did not bother.
Are you a man of merit to have got that title? How did it happen?
One day, I was with him; that was in August last year. We were discussing as usual with other people. Along the line, somebody said that out of all chieftaincy titles in Ikirun, there was no Oluomo title. We were silent for a while, including Kabiyesi. The next thing Kabiyesi would say was that 'Elemo, will you be Oluomo?' I was a bit shy hearing that question.
What did you tell him?
We are talking of your royal father here; I was just there listening to him. He asked me, and I said 'Kabiyesi, you are my lord, I am ready to take whatever you give me.' Then, he said, 'you will hear from me.' Then we left the palace. To my surprise, he sent letter of appointment the following morning. I could not believe it. He told me that he had observed me for a long time and I had not disappointed him in showing love and committing my resources to the course of the town. I thanked him for the compliment. He said giving me the title was a way to challenge and encourage other indigenes of the towns who were distant from what was going on in Ikirun. He said he was giving me the honour to show others that honour was reserved for them if they also come and contribute to the development of Ikirun. He also said that 'I did not know you before and when I made you Elemo. So, I did not have much power over that title of your family. But now I know you based on your contributions so far, I can give you my own title which I can come out and defend before man and before God.' I was humble hearing him. You know Kabiyesi was brilliant. I am only not happy that he was not there on the day Governor Adegboyega Oyetola was performing foundation stone laying ceremony or the Minaret International University here in Ikirun on Tuesday. This is a project was Kabiyesi worked tirelessly to get for Ikirun. In fact, at a point, he was wrongly accused over the land on which the university is sited. At that ceremony, I almost shed tears recalling all these stories of his struggle for higher institutions in our town. But I am happy that it is going into history that he played that role.
What do you think he did not do right during his reign?
There is nothing I can say that he did not do right because he was a man of a strong conviction. Before he embarked on anything, he must have consulted some books and read to borrow ideas from different scholars. He was such a brilliant man. So, people like that can hardly be faulted on their decisions. Well, he showed it that he was a supporter of the ruling party. Yes, one would say he was not right as his position requires. But his explanation on the day I discussed it with him, beat me. He said he could not support more than one party at a time because he was entitled to only one vote at election. He said he did not want to deceive other parties. You would agree with me that he had a good reason. But according to our culture, a traditional ruler is supposed to open his palace to all political parties. Kabiyesi was truthful to himself, and I like him for that.