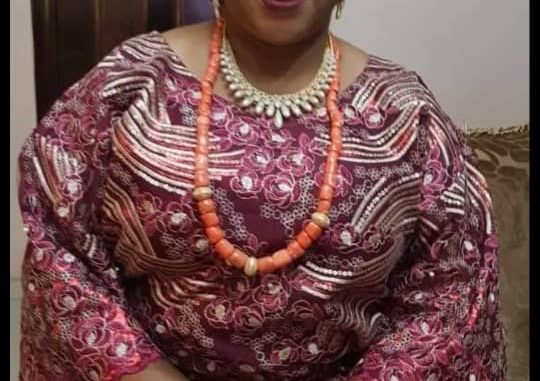 Like every other bereaved wife, the widow of the late Akinrun of Ikinrun, Olori Esther Abimbola Adedeji is currently mourning the untimely disappearance of her hubby from the terrestrial realm on February 3, 2021. Getting to grant interview was experience of camel passing through a needle. She wore a heavy look which spoke the cloggy state of her mind, especially her future in the absence of Oba AbdulRauf Olayiwola Adedeji. She, however, gave in to persuasion and words of assurance that she would not be misquoted. When she opened up to our correspondent, it was a no hold barred session. Excerpts
Can you reflect and share your journey with kabiyesi?
Is that necessary at this period I am mourning him? I don't think this is a right time for that kind of mental exercise. If you won't mind, kindly permit me to honour him with silence for now.
Don't you think the best honour you owe him is to allow the public know him better than they may have known him?
The truth of the matter is that we cannot all see things same way. God did not create us to see things same way. So, one should not bother herself in making any comparison on how one is seen and assessed. I want to believe you understand what I mean here. Please, permit me to stop at that. Honestly, I had received calls for interviews, and I turned all of them down due to the reason above.
It is okay, you can be as brief as may want.
I can't be brief on the journey of our matrimony because it was a chain of events. It did not just start one day and ended on the same day.
How do you mean by this?
I was trying to say that our Rome was not built overnight; it took us some time to come to a common ground that we were going to get married.
When was that?
Do you mean when we were married or when we first met?
I am honestly interested in both dates.
We met, I think, in 2011.
Where did you meet?
We met in the palace?
Which palace?
Kabiyesi's palace?
Were you based in Ikirun then?
No. I was based in Lagos.
Then what brought you to the palace?
We came to introduce an agricultural product to him after my late uncle, Mr Remi Olowude, had told me about him in Lagos.
Why did your uncle tell you about him?
My company just imported some agricultural products from China, and we needed market outside Lagos. So, I told my uncle who told me that he would call one of his friends based in Osun State. I was thinking the person was in government but he told me he was a traditional ruler.
What was your reaction when he mentioned a traditional ruler?
As if you were there; I told him immediately that I was not interested in any traditional ruler. I told him that my eye was on Osun State Government because I knew government must have ministry of agriculture. That was my target. But he told me that his friend could achieve same result if he got across to him. Let me say, he succeeded to convince me. That was the background to my visit to the palace.
What was your first impression of him on your first meeting in the palace?
I saw an unassuming traditional ruler who wore no air on that day. I could not quickly recognize him among other traditional rulers, like the Aragbiji and the Oloyan, until when he took his seat. He appeared calm and reserved. I did not know that he had invited other traditional rulers to the palace to meet me and see how my products would be of assistance to their people who were mostly farmers. But something unusual happened that day. I think I should stop here.
You can't hang the narrative here. I can see you are also somehow enjoying it. Go ahead and conclude the story of your first meeting.
We brought eight samples of the product to Ikirun, and we even picked them randomly inside the container. But to my surprise none of them worked when we tried to test it. Together with me on the visit was my brother, Mr Dotun Adesupo. I was watching him sweating it out with the motorized sprayer but there was no luck.
Were you embarrassed at that moment?
No. I wasn't. I was just seated and watching him.
Then how did that disappointment turned to marriage?
No. that incident did not turn to the marriage. It was later that events, which led to marriage, played out.
How?
After we had returned to Lagos, Kabiyesi spoke to my uncle and expressed his mind that he would marry me if I did not mind. My uncle was in the US, from where he called and told me what kabiyesi had discussed with him. Then kabiyesi was a widower, if that word is allowed to be used. I did not know until my uncle called and told me.
Did your uncle encourage you or advise you against that proposal?
He told me that he knew Kabiyesi so well that I would not have cause to regret it if I marry him. I listened to my uncle and asked him to give me time to pray and fast over it. I told him that prayer and fasting would guide me on whether to accept the proposal or not. H asked me of when I would start the prayer and fasting, and I told him that I would start the following day. So, for seven days, I was on prayer and fasting. He monitored me by counting the number of days; so on the last day, he called me and asked for the result. I told him that God said I should go into it. He was happy. He reported back to kabiyesi, and that was how communication began between us. But before then, I should not forget to say that when we returned to Lagos from our first visit to the palace, I felt sick and learnt that Kabiyesi was worried as he was regularly calling my uncle about my whereabouts and condition.
When did you visit kabiyesi after you had formally given him the nod?
That was during the month of Ramadan in 2012. I came with some items, which he really appreciated even though I was by then not qualified to prepare food for him according to Islamic rule. I spent some days and returned to Lagos to come back later and become familiar with the palace.
Was that how you got married?
No. when I saw his seriousness about the whole thing, I told him that he would need to officially request for my hand in marriage through a letter. He said there was no problem with that and sent the letter written and signed on his official letter head paper. On December 15, 2012, he came to Lagos and did introduction. Those who accompanied him were the Oloyan of Oyan and his late Olori. The then Baba Olobu, who is now Baale Oke-Iba was also in attendance including Baba Giwa Kila of Ikirunland.
You married him for nine years and few months. Did it occur to you that yours won't be a long journey?
How would have imagine that? I never saw it. God did not show it to me. I was overwhelmed by his humility and care and understanding of human being. Kabiyesi was endowed by God with a lot of things which many people don't have. His love is infectious; his calmness was his strong asset including his honesty. There are a lot in him which made him a rare human being. I think I was overwhelmed those attributes such that I could not think of a time like this coming this soon and unexpected. Can you see why I was reluctant to speak with you? It like you are here to make this loss look fresher to me. I am emotional but I think it is natural. It is what I owe kabiyesi who loved me absolutely.
Can you recall what led to his sudden departure?
I can recall that on Monday he hosted some people. He later said he wanted to rest; that was the beginning but no one could imagine what eventually happened.
What are the specific thing you were going to miss in him?
I have listed them earlier. His way of life, which suits mine, is going to be missed. He related with me as husband should relate with his wife. There is nothing we did not talk about. Whenever he said he wanted to observe siesta, you would find him reading. He loved books and loved to encourage me to also read.
How did you balance your religious difference?
I have said it that he was a husband one should always pray to have. He did not force his religion on me. He would always say that Godliness is most important than religions we carry about.
What will you tell the people of Ikirun?
I composed a song (singing) which is based on togetherness and unity. They should continue to promote the legacy which Kabiyesi struggled for. Ikirun shall be great, get to where kabiyesi had envisioned.