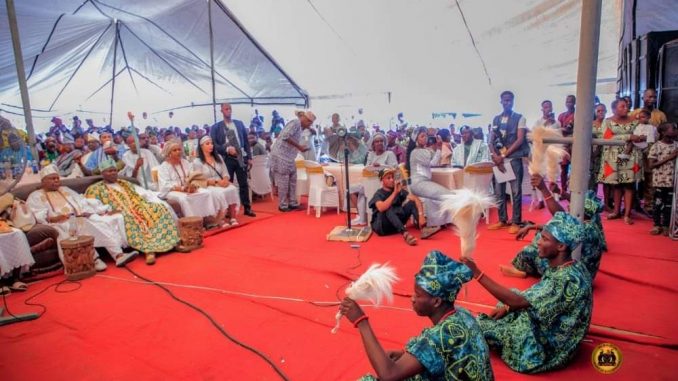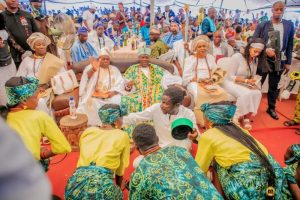 Aside the United Nations Educational, Scientific and Cultural Organisation (UNESCO)-recognised Osun Festival, which draws a community of tourists from home and diaspora to Osogbo in the month of August, another cultural event,  now attracting congregants to the Ataoja, Oba Jimoh Olanipekun Oyetunji's town, is the Ogbeyonu celebration promoted by the Araba of Osogbo, Chief Ifayemi Elebuibon.
Annually held in September of Gregorian calendar, the 2022 edition of the fiesta kicked off on September 1 to end on September 9, and climaxed at the popular Elebuibon Street, off the Osogbo-Ikirun highway where residents witnessed a convergence of culture enthusiasts, including traditional rulers and their chiefs. It was an herculean task for these guests to find space to park vehicles, a reason which called to task the choice of the venue that left the attendees spilling over the enclosed premises to the street because the massive canopy could not contain everyone.
However, the fiesta was congregation of culture, colours, songs, sounds and styles. Assorted foods and drinks were served to all tables; Barbecue stands ushered guests into the venue while bands of drummers from different places also made their presence known with their talking drums.
The Osun State Cultural Troupe, led by Mrs Grace Ray Eyiwumi, regaled the audience with variety of dances which earned them applause and crisp Naira notes. Other groups, including Ifalase from Lagos, followed suite, one after the other, and gave a good account of themselves as troupes which must have endured some rehearsal sessions before the event.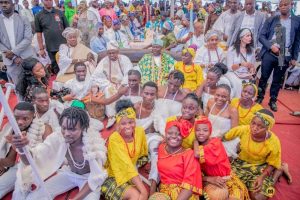 The naturally calm Elebuibon was so enamoured by the performers' pieces such that he rose from the seat, he shared with the Olowu of Kuta, Oba Adekunle Oyelude Makama, and took to the dance floor where he was promptly complemented by his radiant wives.  It is on record that Oba Makama, who was at the event in company of his traditional chiefs and aides, has become a permanent feature of the Ogbeyonu Festival; he scarcely misses any edition since his path crossed with that of Elebuibon whom he revers as a genuine culture ambassador of which, according to him, the Yorubas should be proud.
"I am happy you note my relationship with the Ogbeyonu Festival. It is my own way of showing love to Araba and also to identify with his crusade to enlighten the global community that Yoruba is rich in culture. Araba is beyond any doubt, in terms of his integrity and strict adherence to the Ifa teaching which he projects day and night, here and abroad.
"Do you expect me to keep a distance with such a blessing to the custom which produced me and will continue to produce all Yoruba traditional rulers? I am not a son who points to his father's house with a wrong finger. I am a custodian of Yoruba culture, which is the essence of my being on the throne. It is hypocritical to try to claim or do otherwise when the truth is known to everybody that traditional process makes Yoruba kings from time immemorial till tomorrow," the outspoken royal father affirmed.
The Asipa of Osogbo, Chief Ajadi Badmus made a cameo but to the appreciation of Elebuibon, who warmly ushered him into his palatial hall exclusively reserved for his special guests. Badmus, who was once a two-term national president of the Osogbo Progressives Union (OPU), said his presence was in line with his shared history with Elebuibon whom, he revealed, has lived a consistent life in the course of promoting his heritage.
He further revealed Elebuibon's passion for the socio-cultural development of Osogbo as a thing which makes him stands out among sons and daughters of the town, saying he is Osogbo's contribution to Nigeria and indeed an export to the world at large.
"He is our treasure in this town, in the area of his specialization. I am always of the belief that everybody will not be an engineer or lawyer but everybody should endeavor to make a mark in his or her chosen field as exemplified by the Araba today.
"You know where he stands; he sticks to his Ifa faith and relates with people from other religion well. That is all God needs in human beings to live with one another. I felicitate with him, and I am happy that I am part of his numerous guests," he enthused.
There was a legion of Ifa Priests who graced the occasion in solidarity for the Araba. The widely travelled Dr Ifagbenusola Atanda and the unassuming Agbongbon Ifakayode Faniyi, who was specifically accompanied by his godchildren, were in attendance.
Faniyi disclosed that he had been involved in the festival since 1977 and congratulated the Araba for celebrating yet another edition, which he described as the best, in terms of attendance.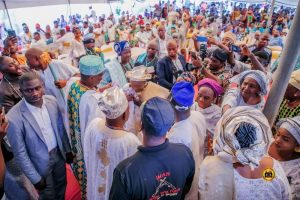 An Ibadan-based fuji ace, Alhaji Adebisi Akande (Taye Currency), was on the band stand, treating Elebuibon and the audience to traditional lyrics in tune with the celebration. Taye Currency, from his intro performance, disabused minds of critics who had thought he was unsuitable to feature at the occasion.
Unable to contain the joy raging inside him, Elebuibon again rose, charged towards the stage and danced to the music, soon after which a cluster of invitees also rose from their seats, submerged him and drenched him with Naira notes of mixed denominations.
"I did not know that he is this mature in music. I almost wrote him off when I got to know he was the one to perform for Baba. I know about only two fuji musicians who are good in singing the type of songs that would be relevant at event like this. But Taye proved me wrong. I like the way he started and how he praised Baba Araba. If he did not impress Baba, I trust him, he would not stand to dance," one Olamilekan Akeem caught while comically sharing his view with his group of friends in Yoruba language.
Elebuibon used the festival to preach a sermon on innate strengths with which womenfolk are created. The thrust of that sermon is a necessary caution on men not to underrate the opposite sex but to treat them fairly and respectfully.
The Araba referenced some female organs, particularly vagina, painted as pot of their power, which, according to him, is used beneficially and destructively, dependent on circumstance.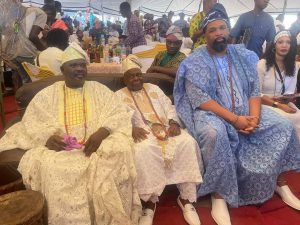 "Another important body part of a woman is her chest which holds their breast. Many men have fallen into the pit of difficulties and misfortunes simply because they lay upon the wrong chest. Laying upon the right chest can bestow blessing and prosperity while the wrong one can ruin anyone," he elucidated.
Elebuibon also used the festival to notify reading public of his latest publication titled -Iyere: The Voice of Ifa', an exposition of Yoruba divination chant.
He wrapped up the bright day with expression of his gratitude, on behalf of his family and the staff of the Ancient Philosophy International and Ogbeyonu Temple, to guests and his numerous clients and disciples at home and abroad.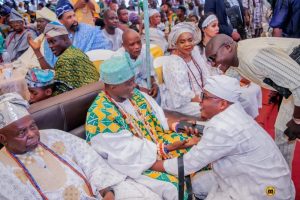 "We also appreciate the solid support of the Asoju Araba Ifatoki Ogundiran Elebuibon. You will not die, I will be alive as well by this time next year. Let us rejoice and rejuvenate in long life," he said.