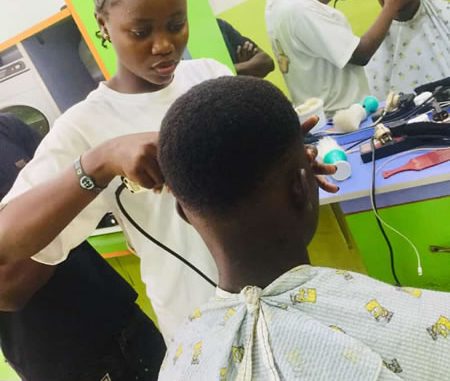 While waiting for her admission into Yaba College of Technology, Lagos to study Mass Communication, Olorunsola Sandra opted for a vocation considered odd for female folk. She is an apprentice in Ibadan, the Oyo State capital to fulfil her passion to be different. Sandra speaks with TUNDE BUSARI. Excerpts
Which secondary school did you attend?
Yejide Girls Grammar School, Ibadan.
What's your parents' response to your vocation?
They said, 'if that's what you want go for it.'
 How and when did you begin your apprenticeship?
I first started in 2018, then I left after eight months. I came to Seuncezy Executive Barbing Saloon 2020.
Is barbing profitable?
Yes, barbing is profitable. It all depends on your standard.
What interests you in barbing?
To be honest, I just felt like 'this is what you should do'.
I just like it.
Don't customers complain about how you barb?
None that I have heard of.
Do you derive joy in doing it?
Yes
How many minutes does it take you to barber?
Depends on the hair cut
Do you barber for your dad?
I wish I could but my dad is late. He died in 2007.
Do you intend to barber for your husband and sons?
Yes sir.
How can you describe your boss?
He is good at what he does. He takes his own apprentices like his siblings.
It is an honor to be one of his apprentices.
What does fashion mean to you?
To me, fashion is a way to express and discover yourself. You can challenge yourself to go out of your comfort zone and try new things and, thus, give yourself confidence.
What's your favourite dress?
I love dressing simple
What's your favourite food?
Yam and egg
Name your best musicians.
Frank Edward & Lawrence Oyor
Which country do you wish to visit
South Korea
Why did you choose Mass Communication as your course of study?
I like discovering new things
Do you plan to go into business after graduation?
 Having a saloon of my own is my dream.
Have you any advice to Nigerian youths, as regards employment?
In a country like Nigeria, for a company to employ you it takes the grace of God or connection. But no matter what, you do have something you do. What you learn can never be taken away from you.
 Advice to the government
Actually there are a lot of youths who are interested in a trade or the other but the capital to pay and money to feed etc. I did training for three months-ITF programs. After the training,they gave us a startup kit then N15000, that is N5000 for each month for Transport fare and other needs. But that opportunity is limited for those working under the federal government or those who know them. If the government can make it in a way everybody will be involved, this country will be in a better state.