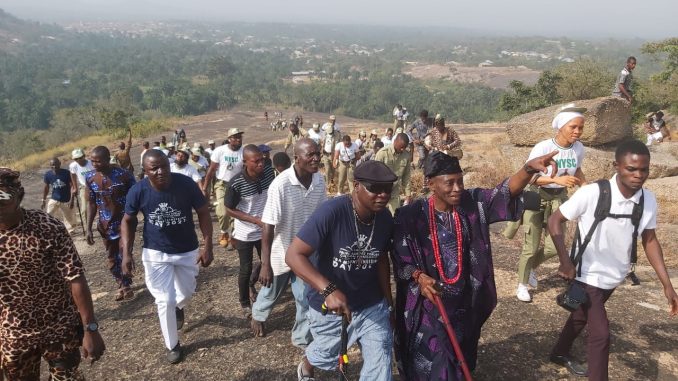 Before 2020 in Iba, Osun State, every December was month of Christmas and Boxing Day when sojourning sons and daughters of the town would return home to enjoy the festivities with their kith and kins.
The royal father of the town, the Eburu of Iba, Oba Adekunle Adeogun Okunoye, however, brought his ingenuity to the town as a globally accomplished scholar who felt his domain deserved much more attention than that offered by Xmas and Boxing Day.
Rising from the drawing board, he came up with what he creatively branded Eburu Adekunle Yoruba Cultural Renaissance, a body tasked to, among others, oversee Oriki Yoruba Festival and associated events to be held before the yuletide.
In December 2021, Oba Okunoye staged a test run of the cultural fiesta and got fired up by public response, especially applause which greeted the gathering of chanters and dancers savoured by invited traditional rulers like the Orangun of Ila, Oba AbdulWahab Oyedotun.
The Araba of Osogbo, Chief Yemi Elebuibon, the Eesa of Iragbiji, Chief Muraina Oyelami, and a theatre practitioner, Alhaji Kareem Adepoju (Baba Wande), Chief Sulaimon Aremu, (Ajobiewe) also attended, with all returning home with an individual award. From the media, a prodigious broadcaster then of the Nigeria Television Authority (NTA), Osogbo, Prince Fatai Adiyeloja and Publisher of Kingdoms and Power magazine, Aare Tunde Odofin witnessed it.
Lessons learnt in the maiden edition became an asset, which the organizing committee of the second edition, turned around to record a better outing. Headed by the Ile-Ife Prince Adiyeloja, the committee, enjoyed confidence of Oba Okunoye, who was then thousands of kilometres away in his US base. Scope of Oriki Yoruba Festival was expanded to incorporate other items from December 9 to December 11.
Day One hosted cultural performances by pupils, while Day Two witnesed the first of its kind mountaineering, which attracted an appreciable number of participants, all of whom climbed the Obadu mountain, sitting quietly in few distance to the Iyaniwura Palace.
Youths corps members, on primary assignment in Iba spiced the physical exercise with their sizable presence. Also on that tour were the popular Taiwo and Kehinde Oguntoye, whose demonstrable understanding of tourism also brought more glamour and inspiration to other participants.
The Eburu-In-Council, a group of traditional chiefs led by the Eesa of Iba, Chief Gabriel Oyelade, joined the monarch on the endurance trip. The cynosure of all eyes was the 77-year-old Chief Oyelade who, also in T-shirt, made substantial but failed efforts to reach the zenith of the mountain.
Oba Okunoye expressed his resolution to bring the world to Iba through the mountain and Oriki Yoruba, appealing to government and corporate entities to see untapped resources at his backyard.
"What we have done here today represents a good beginning, leading us to a brighter future of prosperity. We can no longer afford to concentrate our energy on oil alone. With God support, I will not relent in making noise with this nature wonder, which is a big tourism market. Let the Dangotes come around and see what God has given us and invest here; we have serenity, which expatriates cannot find in big cities," he said.
On Day three, Oriki Yoruba took the centre stage, kicking off with arrival of distinguished guests, including representative of Osun State Governor, Dr Dr Simeon Adebisi Obawale, who delivered Governor Gboyega Oyetola's speech.
The governor commended Oba Okunoye and his people for their respect for the Yoruba cultural heritage, of which, according to him, Oriki was significant.
Oriki, Oyetola stressed, occupied a great significant place in the lives, tradition and culture of the Yoruba, adding that it was a means of identifying different clans of Yoruba and understanding the people's lineage or pedigree of an individual.
"Our Administration is intensifying efforts and bringing all hands on deck to revive, promote and propagate the rich cultural potential in the various communities across the State. I am particularly happy that "Eburu Adekunle Yoruba Cultural Renaissance" has come to stay. Kabiyesi's focus on Oriki is timely as many families are fast losing it," he noted.
The Ekefa Olubadan, Oloye Lekan Alabi quoted copiously from the speech of the late sage, Chief Obafemi Awolowo and the Sardauna of Sokoto, Sir Ahmadu Bello emphasizing the diverse nature of Nigeria, which Awolowo described as a creation of the colonialist.
Alabi said Sardauna pointedly stated that it was the British who orchestrated the forced union among different ethnic groups, literally reaffirming the need to revert to regionalism.
Oba Okunoye underscored the essence of the Oriki Yoruba and commended the government. Chanters took turns to entertain the guests through powerful rendition of panegyrics. The catch-them- young aspect of the program rekindled hope for sustainability as a little girl of about six years of age Asabi confidently went round major towns and cities through her soul-lifting renditions of their ancestral exploits , antecedents and peculiarities.
High points of the events were presentation by a professor of History, Professor Siyan Oyefeso , who was intermittently requesting a chanter to give him cognomen of Yoruba towns In his key note address.  Dr Tunde Adegbola gave a comprehensive meaning of Oriki Yoruba just as the Araba Elebuibon attributed characteristics of products of certain Yoruba communities to their ancestral Oriki.
Elebuibon explained, "If they are hunters, farmers, warriors, blacksmiths or serial adulterers don't look beyond their ancestors. The Eburu Iba is on a right track, and we of traditional faith, have responsibility to give him our support like attending his cultural events. He does not allow his exposure to western civilization to becloud his traditional thinking."
Regardless of the success achieved at the end of the grand finale programme, that it started long behind schedule called the organization to task. Some guests, who had arrived early according to directive contained in their invites, were disappointed by a long wait. "Kabiyesi needs to work on this issue of time. He should know better that weekends are always busy. But, as far as I am concerned, he is trying to bring respect back to the Yoruba race," a source said.