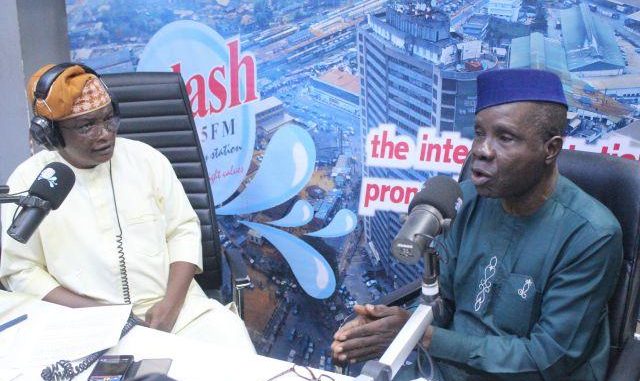 General Overseer of the Divine Seed of God Chapel Ministries, Ibadan, Prophet Moses Wale Olagunju was, during the week, featured on the Parrot Xtra/Ayekooto On Radio anchored by Olayinka Agboola and broadcast live on Splash 105.5FM. During the interaction, he revealed he had not bathed for almost 21 years and had no intimate relationship with his wife. He also revealed causes of Nigeria's problems and why some pastors are into fraudulent activities… Excerpts
How easy is it to serve God?
It is easy when you have a genuine call from God because with Him all things are possible. When I received the divine instruction from God to separate myself for a special assignment, I was not obstinate about it. For with God all things are possible, formerly, I used to take my bath in the morning and in the night because of heat, but when I heeded the divine instruction not to take my bath, it became very easy for me and I have not had a bath for close to 21 years now. I have also not moved close to my wife.
We can all see that churches and mosques are increasing in our society, yet corruption and other vices are also on the increase. What do you think is really happening sir?
Poverty is the reason why there are numerous churches in Nigeria today. It is really difficult to differentiate those who were genuinely called by God and those who decided to call themselves because of their selfish interests. We now have numerous pastors who jumped into ministerial work because of poverty and joblessness and this has increased the number of thieves and fraudsters in today's churches. We now have thieves and pen robbers parading themselves as pastors in many of our churches today because when someone calls himself a prophet and cajoles members of his church to buy him a car or ask them to empty their account in the name of giving offering, what do we call such pastors? Are they not also indulging in the fraud known as 'Yahoo Yahoo? Church members are also indulging in fraud to satisfy the so-called men of God; all these are the reason why indiscipline is increasing in our society today.
How do you raise offerings and funds in your own church sir?
I only rely on offering that members willingly and joyfully contribute. We do not force them to pay tithes unlike what we are now seeing nowadays whereby our pastors now neglect the issue of salvation and focus their attention on tithes and offerings. This is definitely not right. A true Christian must know that it is his/her duty to pay tithes without being forced.
You once prophesied that Nigerians would face hardship, what is the way out?
We have been confronted with the reality that famine and hardship will increase in the nation. I have foretold it and it is still happening and it will still increase. Part of the situation, which our people do not understand, is that Nigeria has been destroyed. If any politician is promising to salvage the situation of things in the country, such a person is a liar even if one of Bola Tinubu, Atiku Abubakar or Peter Obi wins the presidential election, none of them will be able to salvage the country from its current predicament. Things are spoilt beyond redemption. The only solution to Nigeria's problem is restructuring.
You were also quoted in some newspapers as saying something about Governor Seyi Makinde's second term in office?
I fasted for Governor Seyi Makinde for 45 days and nights for him to emerge as the governor of Oyo State, some important personalities in his government are quite aware of this even though they did not even bother to appreciate. I can mention Senator Hosea Agboola, Niyi Farinto and others. I predicted that Engr. Seyi Makinde will eventually emerge as the governor of Oyo State as far back as year 2009. I have all the prophesies written in a document even when he went to Social Democratic Party (SDP) I was one of the people that encouraged him to go, likewise when he joined People Democratic Party (PDP) before he eventually emerged the governor. God told me things, problems that will unfold in his administration but they refused to take my message with seriousness. He will not return for a second term.
Is it because he did not give you his attention sir?
No. The prophecy is based on what God said and not because of what his government did to me.
Many of our politicians swear with the Holy Books of Quran and Bible yet corruption persists?
As Christians, the Bible does not support swearing. God said our 'yes' should always be our 'yes' and our 'no' should equally be our 'no'. God knew that man is liable to error, that is why He did not support swearing of an oath with the Bible. Most people are just going about with the Bible, it does not have any meaning to them but whosoever wants to make Heaven should always know that his or her 'yes' must be 'yes' and 'no' should be 'no'.
You also prophesied that prominent Kings would die in Oyo State in 2022? And your prophesy came to pass…
When God revealed a vision to an individual, it is not to frighten but to warn the persons involved to be watchful and be prayerful, but so many people believe that the moment a prophet releases a prophecy he is only seeking after popularity and wealth. I do not release prophecy to frighten people or to gather wealth.
I have also said that there are some principalities that are making it difficult for this country not to move forward but I will not mention them, for they know themselves but very soon they will pass away. It is only God that can restore the fortunes of Nigeria, no man can do it, if any politician says that he can do it, tell the person that he is a liar, how can he repair something that has been destroyed completely.
The price of fuel has risen to N190 naira per liter; can he bring the price down to N30 naira?
We only need God's intervention for Nigeria to be restored again. Let's consider the ASUU and federal government brouhaha, the FG said they need billions to settle them, but where will they get such huge amount of money from? At the end of the day, we all know that corruption is a major problem we have in the country.
What advice do you have for Nigerian politicians?
I just want our politicians to permit the fear of God in their hearts so that God can lead this country by Himself, if politicians have the fear of God, the country will be peaceful and prosperous. Sometimes, even their followers too are not helping matters because when a leader decides to govern very well, some people might be bent on destroying it.