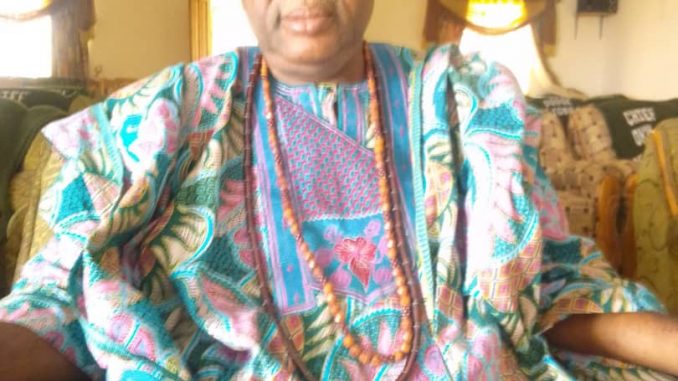 Though the Saloro of Igbajo, High Chief Bode Adeniyi is arguably a tough talker and quite uncompromising, his soft heart for his hometown and humanity as a whole is not a subject for debate floor. That attribute commensurably earned him another title, Chief Bobasewa of Igbajo, and ultimately a special place in the heart of the late Owa of Igbajo, Oba Olufemi Fashade. In an interview with The Tabloid.net inside the hall where the Owa-In-Council hold meeting with the traditional ruler, the former Lagos-based Saloro explains how he emerged the chairman, planning committee of the final burial for Oba Fashade among other issues which are directly connected with development of Igbajo. Excerpts.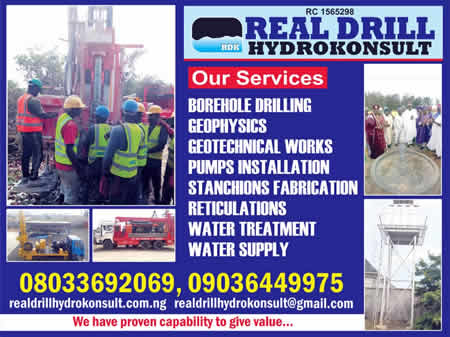 I am interested on circumstance under which you emerged as chairman of the planning committee of the burial for Oba Fashade. Kindly share this information with me.
Does it matter how I became the chairman?
It is important to educate the public.
If you insist, I will say I was nominated in absentia.
How do you mean?
I was not in town when my name was put forward and got general approval.
Where were you?
I was in Lagos. In fact, it happened that I just lost my mother then and was making efforts towards her funeral. That was two months ago. I received the call from home but I could not travel immediately. When I was through in Lagos, I rushed down home and accepted the assignment. I normally see anything I am asked to do at home as assignment which I must handle well because of the trust involved.
How significant is the nomination to you apart from the trust it imposed on you?
You have even said it: Trust. Trust has covered whatever I would like to say about the nomination. I am happy that my people repose such confidence in me. I also saw the assignment as opportunity to show how much I like our late kabiyesi. It goes to say that I was ready to give the assignment all it requires to be successful. And so far, we are on course, working together with members of the committee, all of whom are also showing their love for our kabiyesi and Igbajo.
How did you become the Saloro of Igbajo?
Before I was installed the Saloro in 2017, I was first installed the Bobasewa of Igbajo in 2011 when Kabiyesi was celebrating an occasion. On the same day, Kabiyesi also installed my wife as Yeye Bobasewa. That chieftaincy title is honourary and ceremonial. I have earlier had the Otunba Tunwase of Agege, Lagos and Bobawoga of Itori Egba by Oba Abdulfatai Akorede Akamo, who had been my friend for a long time in Agege. Bobasewa came when Kabiyesi told one of my friends that he needed to honour a member of our club, Klobb Progresso and he should nominate one person. The issue was discussed and I was picked. How I became Saloro followed natural procedure.
What does that mean?
It means, the title is traditional; it is about my family lineage. There are three compounds which produce Saloro, and when the immediate past holder passed away, it came to the turn of my family. My family members met and decided that I was their candidate. It is even funny when they told me that 'after all you are close to Kabiyesi, go and tell him that you are our candidate for the vacant post of Saloro.' Of course, my relationship with kabiyesi was known to many people because we understood each other such that Olori would always commend my loyalty to him. Whenever I came home and was returning to Lagos, he would send me to some people, assignment which I delivered diligently. In fact, his assignment usually was what I first did whenever I entered Lagos. I think he was impressed. I was also impressed because I considered it honour to have been chosen for that purpose. He listened to me whenever I needed to pass a message to him or make a suggestion on issues of importance. He knew I would not mislead him.
Did that factor make it easy for you to be installed?
In fact, that was the first time kabiyesi shocked me. I went to him as my family had directed me and had no inkling of what was awaiting me there.
What was that?
It was as if he had read my mind to know what I was coming to tell him. As soon as he saw me, he asked, 'what can I do for you?' Then I told kabiyesi about my intention backed by my family. He raised his voice and said to me instantly that 'No, no, no, no, it is not automatic.' I could not believe my ears when he emphasized it that the title was not automatic. When I realized how serious he was, I moved discussion away from it and told him I was leaving. Then I left the palace with that shock.
Then what happened afterwards? What changed his mind?
I did not know that he had another candidate in mind. But being a fair and transparent Oba, he gave us a level playing field. We faced a panel without his intervention. In the end, I was chosen. It was after the whole process that I understood him.
What lesson did you learn from that experience?
Kabiyesi taught me that there is need to separate personal relationship from community issue as sensitive as traditional title. Honestly, I appreciated him for standing firm and showing that nobody and nothing could compromise him. That is an attribute which a good leader must possess. Yu don't just act to please people; you act to please your conscience and free your mind of guilt. That is what kabiyesi stood for throughout his reign. You may not like his strictness to principle but you would know that he was not partial on issues. I am not saying he was infallible; nobody is but he did his best to live above board.
You sound that you were very fond of him. What are other things you shared with him?
Our relationship cannot be quantified because it is more than ordinary relationship. For instance, I am the only one who could enter the palace and ask him to give beer. And he never turned me down. Whenever we were discussing and I found out that it was becoming too long and everything was dry, I would tell say 'Kabiyesi I need to drink.' Not long afterwards, I would be served.
Can we say that privilege came from your position as the Saloro?
It may partly be the reason because Saloro is one who has a total loyalty to the Owa. In the olden day, the title was called Ese Owa. He is equivalent to chief of staff to president or governor. Saloro must be able to read mind and mood of kabiyesi and understand what he wants. Perhaps, kabiyesi saw that in me. I can recall that Olori also had absolute trust in me, and that trust must have also been extended to Kabiyesi because they were an ideal couple. I like the way they relate with each other. I think their closeness to God must be responsible as good Christians of Baptist denomination. I am happy that kabiyesi lived his life the way he wanted it and left when his time was up.
I have discovered that the Igbajo Polytechnic is dear to an average indigene of the town. Where do you see this institution in the next one decade?
The polytechnic was properly founded; it stands on solid foundation on which other structures are built. So, I have no doubt about its bright future. The school is our collective baby which we all hold dearly to our heart. Other towns were challenged by the success of the school and also set up their schools. Igbajo is known for community development initiatives. So, the Polytechnic is one of our efforts. Part of the fund we realized during our COVID-19 palliative was directed to the school. If you visit the campus now, you will see a new building, which houses Mass Communication department. We discovered that Mass Communication draws more students to Polytechnic, hence the construction of the department. We are all making our contributions to ensure the school outlives all of us. In terms of that school, I can say that kabiyesi died a fulfilled traditional ruler for his tireless efforts from foundation to where the school was before his departure in December