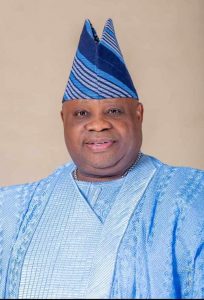 By Olawale Rasheed
The superlative performance of Governor Ademola Adeleke has necessitated a change of strategy within the opposition. As the Governor cannot be faulted on performance rating, the focus is then shifted to how state decisions are taken, how appointments are made and how the wheel of state is piloted. As an insider, let me assert that the man in control of Osun state is Senator Ademola Adeleke.
The opposition propaganda is to posit albeit falsely that somebody else other than the Governor rules. The fake ploy is to paint a picture of a rudderless administration. The fault and the weakness of these strategies is that a state on autopilot as they want us to believe cannot be delivering as much as the Osun state government is performing. A state with discordant leadership structure must have manifested chaos and internal implosion, one year after. Yet, the state is running seamlessly, hard state policies are implemented. Critical matters are thrashed out. The five point agenda is being implemented. Workers are happy. Citizens acknowledged unprecedented delivery. Pensioners are full of joy. Infrastructure deficits are being addressed. The state is progressing.
Who is in control other than the Governor, Senator Adeleke? That question stems from a mischievous mindset trying to undermine the huge popularity of the Governor and his high performance rating. As nobody can fault innovative governance Osun is experiencing, the shot is at how decisions are made. Again as an insider, let me assure the naysayers that Governor Adeleke holds the ace, the green pen. He decides, he approves. Like the Governor often jocularly noted, "I got the pen".
How are decisions arrived at? Let me further educate detractors that this is a democracy, not a military junta. The Governor has the party, the cabinet, the assembly and well wishers to consult. Even under military administration, consultation takes place. The all-powerful Abacha has a kitchen cabinet talk-less of General Babangida the Maradona of our time.
A democratic government is built on consultation from bottom to top. Institutional structures, both formal and informal are an integral part of democratic decision making. In a democracy, interests of high and the low are taken into accounts.Negotiation, horse-trading and give and take are the hallmark of democratic system of government
When somebody accuses Governor Adeleke of running a parliamentary system or collegiate system of government, I wonder what his understanding of democracy is. Democracy is not a one man show. It is not a platform of a tyrant. It is the field of a consensus builder, a leader who must ensure all interests are integrated for the general good of the state. A democratic leader with all the executive authorities understands the imperative of policy negotiations. Hence he wields power not in a vacuum but as an outcome of a well grounded bottom to top counseling admonitory process.
Such a mindset of the leader ensures the strengthening of the leadership structure, the buying in of policy outcomes and the successful implementation of policies and decisions. In the case of Osun, successful policy design premised on best practices of consultation and counseling from all stakeholders ensures successful outcomes. We have seen such in the infrastructure, health and education sectors. That manifested well in the public sector reforms championed by the Governor.
Another area opposition activists need enlightenment is the constant attack on the Governor's family. As highlighted above, a Governor is entitled to take advice from party leadership, cabinet, lawmakers and of course his family, both immediate and extended. Family members are as much a stakeholder as the other institutional actors. They are citizens of Osun and they are also party men and women. Having their brother as Governor should not deprive them of participation in the governance process. The Adeleke family is blessed and the family has a duty to stand by their brother who is in power.
Is the family breaking any law? Absolutely not. Has the Governor abdicated his official powers to any adviser or family member ? No. Is the Governor granting undue favoritism to his family? No. Governor Adeleke remains firmly in control but he is at liberty to listen to advice from his party leadership, his cabinet, the legislature and his family. Why should I block my family because I am a Governor? The duty of a Governor is to ensure the right balance within the law under the involvement of all stakeholders.
If only critics know the man called Ademola Adeleke, they will stop wasting time concocting false narratives about a Governor not in control of state power. In every decision, there is a statutory process. Such order of actions are not only enforced but observed across board. Here is a Governor widely known as "Mr Harsh Pen". He is not only in the know of starting point of decisions and policies, he followed up and still wields the big stick, his pen, at the final stage.
Beyond all the above, what is the essence of the public policy process? As a trained policy professional , I can assert that it is simply about service delivery to the public. Efficient actions on public sector reform, workers welfare, health care coverage, educational reform, infrastructure upgrade among others. Governor Adeleke's style of leadership has satisfied the main essence of public governance- delivery of democratic dividends and good governance.
More impressive is that such meeting of public needs happened under impressive observance of due process and compliance with procurement laws. A democratically elected Governor won't alienate critical stakeholders even as he governs within the bounds of the law. President Bola Tinubu today runs a presidency with a multidimensional team with various power centers which he manages, all within the law. As he listens to powerful forces within his fold, he integrates such with institutional and geo-regional forces. Governor Adeleke also sits atop a very dynamic and complex state system. His style ensures all forces are heard and processed while final decisions are taken with a strict eye on public good.
Let me finally submit that the opposition's new strategy is dead on arrival for many reasons. Firstly, democracy stipulates consultation and counseling. A democrat must engage all forces. In the multiplicity of power centers, the democratically elected leader must hold the final say as he has his eye on service delivery and good governance.
Mallam Olawale Rasheed is the Special Adviser/Spokesperson to Governor Ademola Adeleke