Azeez Abiodun is an Osogbo-based artist with a modest profile of his career. Art arguably flows in his veins being a proud son of an artist father. Recently, the soft-speaking Abiodun attended the third edition of the Ibadan Art Fair where a number of his creative works were exhibited. Here is his diary.
"The Ibadan Art Fair is a seasonal event. The exhibition comes up on October 8th, 2022, a day show. display of artwork for sale, mostly in the painting category, at affordable prices.
The show is organized by Affordable Art online, owned by Madam Oyindamola Adelumola. I was privileged for the first time to have participated in the third edition since the beginning of the show.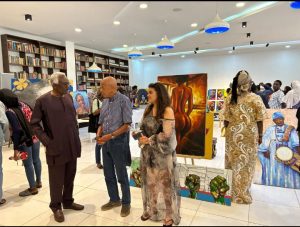 "I traveled from Osogbo to Ibadan on October 7, a day before the event, and upon arrival at the venue, I met with the Affordable Art online team and the MD for the first time. I was delighted to meet her. she welcomed me with a customized shirt inscription of my name at the back of the event.
"Madam Oyindamola took me out for dinner immediately after the stage was set up, and she informed me that a portion of my painting had been sold even though the show had yet to open.
"I left to stay in a nearby hotel and arrived at the venue the next morning. The show starts around 11 a.m.People began to arrive in large numbers to attend the event, including art collectors.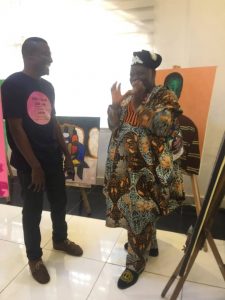 "I had the opportunity to meet and interact with people who have great talent in the art industry, such as Dr. Tunde Odunlade, Mr. Akinola Ebenezer, Dr. Ellis Oyekola, Oluwole Omofemi as well as an art collector, friends, and colleagues.
"When I met with art enthusiasts, I received a variety of positive responses about my art and style. Questions like how do you come up with your concept? What sparked your interest? Is your father a true artist? How do you pick your favorite color? and much more.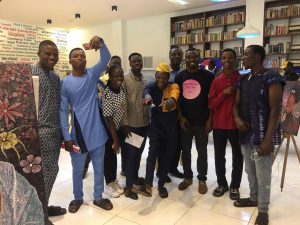 "The exhibition broadened my understanding of art, the art market, and the significance of art shows for artists. I realized that education occurs not only in the classroom but also on the exhibition grounds. It is, indeed, a mental shift."