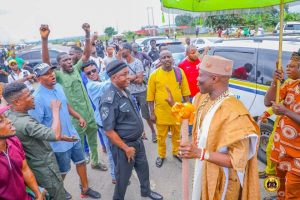 The Olowu of Kuta, Oba Adekunle Oyelude Makama today ran into a band of students protesters on Lagos-Ibadan expressway and calmned their nerves.
The enraged students took to the highway in  expression of their frustration over the current face-off between the Academic Staff Union of Universities (ASUU) and the federal government.
Upon sighting the crowd, Makama ordered his entourage, including traditional rulers, to pull over, soon after which he alighted and engaged the students' leaders in a father-son talk.
The Tabloid.net gathered that the protest compounded traffic problem on the expressway but some policemen closely monitored the proceedings from breeding anarchy.
The Olowu explained that he never thought of a likely danger before he dropped from his vehicle and spoke with the students, saying his status as a father and natural ruler made his action an obligation he needed to perform.
He added that he also considered the plight of other road users blocked from their journey, thanking the students for their listening ears and calling on government and ASUU to sheath their swords in the interest of the suffering students.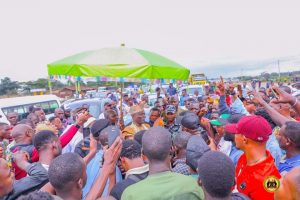 "I am appealing to the relevant authorities to please save the future leaders of our nation from becoming vanguard of destruction by considering all various options in resolving the problem.
"God bless Nigerian students. God bless the Federal Republic of Nigeria.Thanks to the security agents for being very civil and highly cautious in handling the situation," he remarked.