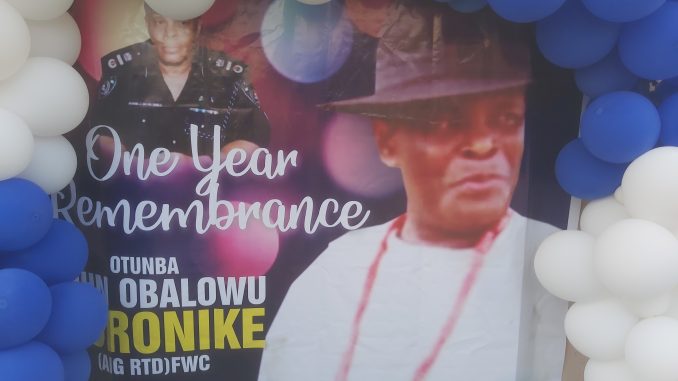 Alhaji Fasehun Lasisi, Pastor Peter Obiebi, Mr Bunmi Daramola, Mr Ade Makinde, Erelu Bandele Aribisala and Mr P.A. Ajagunna have one thing in common. They are all members of the Yusuf-Akinde Estate Residents Association, Alakuko, Ogun State. Another feature they share is their collective grief caused by the untimely loss of one of them whom they, in a chorus of unanimity, regard as a vigorous and very charming figure.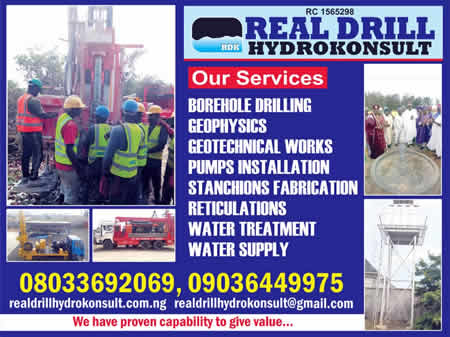 The all-smiling Otunba John Obalowu Moronike, a retired Assistant Inspector General of Police, did not show a clue that he was approaching his exit point at his last appearance at the association meeting where he usually offered security advice and enlightened the residents on security tips to survive the current challenge faced by the nation. The announcement of his demise on September 9, 2021, thus, caused a stir and practically destabilized the estate. Till when he was finally interred on October 30, 2021 in his Kwara State, the news still sounded unreal.
However, a year has passed and the members joined his widow, Mrs Onome Moronike. The slowly recovering Moronike hosted a one year anniversary in honour of her late hubby who would, according to her, admirably call her "my baby girl." Friday, September 9, 2022 witnessed an unusual human and vehicular traffic at the estate frontage of the Moronike residence where guests, comprising of the estate residents, family members, friends, colleagues and associates from within and outside the state, converged and remembered the late lovable officer whose impacts on lives of many are revealed to be legendary.
After prayers, praise and worship as well as reading of Revelation Chapter 7; Verse 11 to 7, entertainment of guests took over with good-looking and enthusiastic waiters of a catering service company, shuttling from table to table, making requests and catering for guests' needs. A standing DJ was blasting music out and spicing the ambiance with his occasional humorous commentaries. The Alakuko Divisional Police Headquarters was conspicuously on ground, giving guests assurance of safety of their possessions, even though it was a strictly private get-together impregnable to gatecrashers.
Shortly before he left the gathering, chairman of the residents association, Alhaji Lasisi told The Tabloid.net that Moronike lived a life worthy of emulation in his simplicity and broad mind on issues of the estate and the nation as a whole, saying regrettably that the neighbourhood is missing his unannounced departure to the great beyond.
"He was our God father in this estate; that is what we call him; he related with and united everyone in his usual smiles. We felt his absence more in the last three or four festivals that passed without him. He was never a religious bias man. We all know that the world has missed a genuine heart. He was a godly man in the area of identifying with the masses. He was not discriminatory on tribe, religion or class. He was comfortable mixing freely with people from different backgrounds. This is one quality not many people of his class are blessed with," the Ilesa-born chartered accountant said.
The pioneer chairman of the association, Mr Daramola similarly remarked that Moronike was lively to be with, saying there was no dull moment engaging him on topical issues such as governance and the English Premier League club, Arsenal, love of which he shared with Moronike. He further said that the deceased would not spare a word against any anti-masses public policy, recalling his regular views on such policies.
"He built up no airs around himself. He was down to earth and was completely approachable with a listening ear. ‌He was so comfortable with people of all shades and would always rise to any occasion invited, even at very short notice. Tall, handsome, well-built and charismatic, his presence would dignify any ceremony to the delight of the celebrant and guests," he noted.
Mr Makinde too affirmed Moronike's warm reception of all members of the association to his home and at public functions, where he loved to exchange banters with everyone around him. He wished Moronike had delayed his exit for more years so that, he agonized, the people would enjoy his love, his words and his service to humanity for which he was being surrounded by the old and young within and outside the tasteful community.
"We wished those words of wisdom of yours could continue to energize us since you could not be separated from them. They were the virtues that separated you from others. They were what made you who you were. They explained why you were deeply loved and respected. But we finally came to realize that they were all wishes. Go you must go. The journey hereafter you must continue. The Power that granted you the grace upon this earthly journey had called you to move closer. Our loss, their gain! The heaven gained what we lost you," he quipped.
Pastor Obiebi and Mr Ajagunna were equally nostalgic with Obiebi simply describing Moronike as "very friendly, and accommodating with everyone."
To Erelu Bandele, Moronike's passage represents a void in her itinerary in the estate because, according to her, the late Kwara State-born officer, gave her family an unencumbered access to his such that her grandchildren have not come to term with his departure. She disclosed that her grandchildren still ask about him having been addicted to his bond and warmth, adding that his family has served as her second home in the estate.
"If you did not find me in my house, you would meet me here relaxing with his family. I cannot say how I have coped in the past one year. He was loved by other people for his open mind to everyone. You saw him and felt happy with the way he would welcome to you to his house; he was a nonsense man but approachable and lover of child education. He would say that education naturally breaks wall of ignorance and poverty. He was such a God-fearing man," she intoned.
While Mrs Moronike would always put on a face of courage in the absence of her heartthrob, her words, however, nakedly depicts her sense of loss of a partner with whom she had made an oath to spend the rest of her promising life on account of the species of husband which the deceased symbolized in their well over a decade romance. She also rued the burden of accepting that the widely acclaimed handsome Moronike had fled to the higher realm where his parents had inhabited many years back, stating her failure to accurately describe the true feelings flaming inside her heart and soul.
"You have passed on to the other side, though I wish you could still be here with me. You were a remarkable man; dependable loving and caring; you were the centre of the world. You were my companion and my friend. You made me laugh, you made me smile, you made me feel on top of the world and inspire me to always break new grounds in the course of my means of livelihood. You were everything a woman should look out for in a husband," she explained.
The widow further reflected that her husband would not wait to listen to what she called her silly talks, regardless of their motives, attesting that he would still give her all the attention she craved to her amazement. She also stated that he accepted her in totality, making her to refer to him as one in a trillion from Genesis of their love affairs to the Revelation.
"Your love showed me how good life could be; your death showed me how cruel life sometimes is; but good or bad, life has to go on, even though it is not easy to carry on. Forever will you live in my heart and mind. Forever you live in my thoughts. I will remember you with fond memories, most especially the times I call your pet like Otunba, Bobo. I still think of those lovely moments of us together with hope, I believe we will meet again somewhere and somehow," she further expressed while showing appreciating guests who graced the anniversary..
The former commissioner of Police, Imo and Osun State Commands, was born on September 28, 1951 in Bode Saadu, Mooro Local Government, Kwara State. He attended the Christ Anglican School in his hometown between 1958 and 1962, after which he proceeded to the Community Modern School, Babanloma from 1963 to 1965. He went further at the Government Secondary School, Ilorin where he sat for his West African School Certificate in 1970. In January 1971, he was admitted into the ITC Ilorin for his Higher School Certificate class. He gained admission into the University of Ilorin but narrowly missed a fist class in Bachelor of Education in Guidance and Counseling in 1979.
The athletic and good-natured Moronike was enlisted into the Nigeria Police and emerged the best overall cadet Assistant Superintendent of Police in 1980, thereby commencing, on a promising pace, a career in the law enforcement agency and climbing to the elite floor before his retirement. He attended the National War College, Abuja Course 13 between 2004 and 2005, coming out as a Fellow of the college (fwc). Soon afterwards in 2005, his thirst for more knowledge led him to the University of Ibadan where he bagged a Masters degree in the Strategic Studies.
Being a cerebral retiree, he showed no sign of fatigue in his intellectual deliverables; his regular intervention on the state of the nation became his pastime; he would always engage his facebook wall where he fearlessly expressed his personal but informed views on issues of public interest.
On October 25, 2020, he wrote: "Yoruba bo, won ni, "en ko ile, e o ko omo, awon omo ti e o ko ni o gbe ile ti eko ta." You are building houses but you refused to train your children, the children you refused to train will sell off your houses. Nowadays, they burn down the houses. Where and when did we get it wrong? When we abandoned our culture, traditions, norms and way of life and chose to follow OYINBO way of life. The Yorubas had advanced and sophisticated way of life before the coming of the whites who brought the Bible and the Arabs who brought the Quran through the Fulanis.
"We stopped teaching our children about our culture and swallow line hook and sinker, foreign ways of life. We jettisoned our history and culture including our language and took to foreign languages. We lost our values and norms which are better taught in Yoruba and became a tribe with half education. "ALA BO EKO". We lost our values of hard work, respect for elders, fear of God, community service, quest for education, and respect for those in authority etc.
"Money became our god. No one cares about the way you got the money any more. We began to worship money bags. The love of money, which is the root of all evil misled our youths to believe that once you have money you can rule the world. Armed robbery, kidnapping, political thuggery, AREA BOYS (twale) drug pushing , became the order of the day. Big donations to communities attracted chieftancy titles, election of people of dubious characters into government, those who care more about their families rather than those who elected them.
"Thieves, who emptied our treasury and stored them abroad for their families and because we have lost our values such people continue to rule. They have money to spread around during elections. Who were the ARSONIST, LOOTERS AND MURDERERS during the protests? YOUR CHILDREN THAT YOU REFUSED TO TRAIN. The Armed robbers, thugs that you used during elections, young beggars (AREA BOYS) etc.
"We as parents have failed our children by not giving them "HOME TRAINING " We need to go back to the basics.. Start to speak Yoruba to your children. Teach them the values and norms of the Yorubas. Make teaching of Yoruba a compulsory subject in Yoruba land. Shun people whose source of wealth is unknown, train the AREA BOYS in skills that will help them become useful members of the society. (farming, carpentry, bricklaying fashion designing etc. The PRESS and NOLLY WOOD. have big roles to play. Teach the children the values norms and culture of YORUBA RACE. "Abo oro la so fun Omoluabi, to ba de inu re,, adi odidi. Abo mI ree, eku ikale."
Also on May 12, 2021, he wrote: "Who do we blame for these woes? The people we elected to represent us at the National Assembly. They got to Abuja and thought they were there to feather their nests. The most disappointing is the Senate President who is from Yobe State. BOKO HARAM is attacking and killing his kith and kin and because of his stupid loyalty to the APC is blocking the Senate from calling the President to order. If the President is invited to the Senate to deal with the security problems within a couple of weeks or be impeached, things would have taken a better turn. Since the National Assembly cares less about the lives of citizens, we have the right to deal with them.
"Let us start to recall them. If they had supported those who were consistently bringing to the fore the killings in the country, things would have changed for better. Secondly, the Governors and the House of Assembly members don't know what to do. Make laws that will protect the lives and property of citizens of your States. The Federal government is incapable of protecting the lives and property of the citizens of this nation. The agenda of the President is to turn the country into a safe haven for Fulanis through out the West Africa sub-region. Simply put he is a " TRIBAL LEADER" and a " RELIGIOUS BIGOT". he didn't hide his preference for Fulanis to rule this country. Check out his choice of those holding key positions in government.
"When southerners were to be appointed, he brought in retired Fulanis to fill the positions. eg Customs and DSS. He thought we are still under Military rule. Thirdly, Middle Belt, South East, South South and South West are the Zones building this Nation socially and economically. Take it or leave it. All they know how to do in North East and North West is to destroy. Boko Haram, Bandists, kidnappers etc. Karma for not training the poor amongst them. Fourthly, if they (North East and North West) think they can use the Military and Police to intimidate us we shall withdraw our children from the Military and Police to protect us (their parents and kith and kin). With the way things are going all options have to be on the table. ENOUGH IS ENOUGH. (O TO GEE.)"