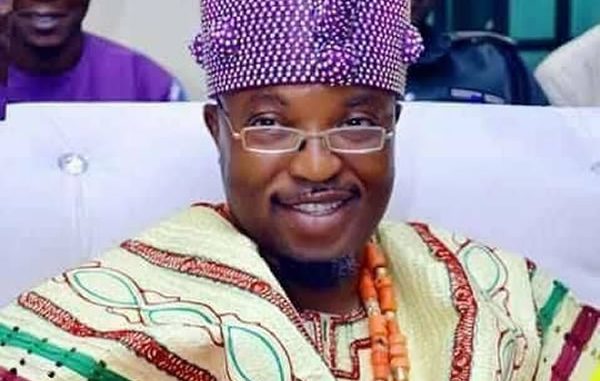 Following a clash among EndSARS protesters in Osogbo, the Osun State capital, the Oluwo of Iwo, Oba Abdulrasheed Adewale Akanbi has charged Nigerian youths to allow President Muhammed Buhari time to respond to their prayers.
Oba Akanbi, who described Buhari as a listening leader, noted that the subsequent disbandment of the SARS by the police authorities had given victory to the agitation.
The Oluwo alerted on the likely hijack of the protest by those he painted as opportunists.
He assured the protesters of better reform and asked Nigerians to apply diplomacy in addressing their grievances.
Oba Akanbi reiterated the fairness of the president and said that his once marginalized Iwo town had been revisited by Buhari with a Federal College of Education outside political power/consideration.
"This is enough reason to understand that Buhari is for all. He has demonstrated his patriotic sense of fairness in distribution of dividends of democracy, even though only God is perfect," he stated.
The Oluwo equally appealed to entertainment celebrities to control their fans in sustaining the harmony of the country to avoid suspicion of being used by unknown elements.
"As a royal father of the masses, I feel your pain and understand your language. I have history of struggle like you. Your agitation is not limited to SARS but frustration occassioned by hardship which is not unconnected with destruction of past years that chased many, including me, out of the country. Let's be hopeful in the constructive agenda of President Muhammed Buhari.
"If the youth and the masses have any request from the president, as a king of the masses, I will personally take your request to the president. Let's endeavour to give Buhari-led government an avenue to pronounce better alternative to SARS.
"Security wise, continuous terrorising the police is not in the best interest of the vulnerable masses. Kidnapping and banditry may be on the increase when we continuously disallow our security from official post.
"My position is not to exonerate the police but address holistically, the pros and cons. I pray we don't invite kidnappers to the streets, "he noted.
The traditional ruler also maintained that the police was part of the populace, adding that many of them had been killed in the process of defending Nigeria and Nigerians.
Oba Akanbi suggested that the black sheep in the force should be flushed out while operation of SARS is reviewed.
"Nigerians should do a total appraisal of the force. If we continuously wade war against them, who else will protect us? he queried.