Before and after she was crowned ambassador by the National Association of Theatre Art Practitioners, Hajia Yinka Paramole-Shabi, a veteran but active broadcaster, has lived her life for preservation and pomotion of Yoruba cultural heritage to the delight of stakeholders in art industry.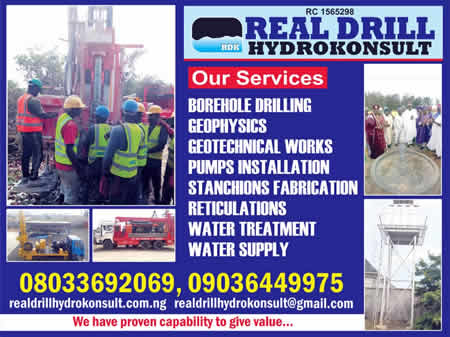 Even when she had options to do other things on her table, she stuck to her dream of saying to the world that her Yoruba culture can't be pushed to the rear, in terms of richness, in terms of aesthetics and in terms of its appeal to curiosity of foreign tourists who travel down regularly visit different sites scattered on the landscape of Yorubaland from Lagos to Kwara and Kogi State.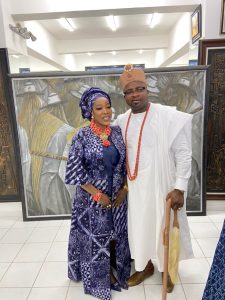 "If you know number of admirers I record each time I step out in our traditional outfit like batik, you would understand better that we are our own's problem. We willingly place our things under other things imported to us from the West and from the Far East instead of us to assert ourselves and do what Mama Nike Okundaye has, over the years, done to emerge citizen of the world through her consistent promotion of Yoruba culture.
"I think I am right here on that track too taking her as a role model of excellence. So, it is not by accident that I go after our traditional practitioners and our royal fathers to document their towns and communities visually with a view to preserving and showcasing them to the larger society beyond the shores of Nigeria," she remarked.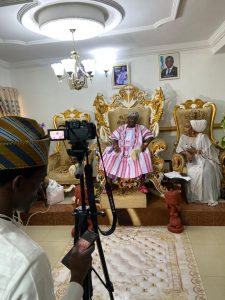 But the Lagos-born Paramole-Shabi is not all about culture promotion; she is also into selfless service to her faith of birth, which is Islam, hence her shuttles from mosque to mosque, especially during month of Ramadan, where she provides television coverage services to Tafsir (lecture) for enlightenment and education of Muslim community.
While she can't be caught on religious debate where energy is burnt on supremacy of one religion over others, she, however, would defend her faith, deploying only words of God which urges adherents to use all He gives them to propagate Islam; so, what she does through her coverage is what she calls her little contribution and responsibility decreed by God, promising to do it more as long as she breathes.
"So, when I live long and return to Him, I will have a good report to present before Him. I am so much concerned about life after here. It is not a matter of you believing or not believing the hereafter, it is the truth," she asserted.
Paramole-Shabi's fruitful broadcasting trajectory-kicking off as announcer trainee-had its foundation laid on rocky surface personified by a ring of senior colleagues at the Radio Lagos in 1982. On the exclusive list of those described as destiny helpers featured the late Demola Alase, Tinu Aina Badejo, Tokunbo Ojekunle, Tunde Aleshinloye, Tokunbo Odebunmi and Lekan Ogunbanwo, each of whom, at one time or the other, impacted significantly on the pace at which her career raced to maturation.
She would always sing praises of those professionals to whom she consistently attributes her modest exploits in the electronic media, adding "they were fantastic in roles they all played in building my career."
After that remarkable baptism at the Radio Lagos, she moved to Lagos Television upon invitation by one she calls Uncle Jimi Odumosu as a TV host in 1984 during the Buhari-Idiagbon military regime which sacked the Second Republic civilian administration on the new year eve.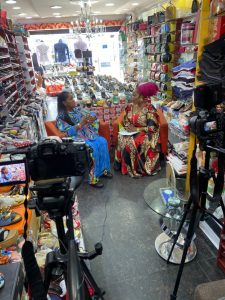 From Odumosu's tutelage, she shone, graduated and rose to one of the station's celebrated newscasters till mid 90s when she needed to apply break to devote time to her new matrimonial home and little kids who were evidently in need of her motherly attention earlier robbed them by her tight workload in the newsroom and studios.
However, apparently addicted to the career, she broke the self-imposed oath and took her talent to Ogun State Broadcasting Corporation (OGBC) and Ogun State Television (OGTV) in Abeokuta, the Ogun State capital between 1995 and 1996.
"That stint brought the best out of me, undoubtedly. l was also at a time with NTA Channel 7, Clapperboard TV with Egbon Toyin Munis and at another time on Supercreen TV, " she recalled.
A difficult decision she took after her meritorious sojourn at those stations, was her return to the drawing board where she came up with an idea to wind up, hence the birth in 1991 of her 'Yinka Paramole Commercial Enterprises. But she still read news and hosted programmes on Lagos Television.
The then infant private concern has grown to adulthood and indeed expanded to an international media production company called Lafaque Media International with corporate headquarters in Surulere, Lagos. The company currently runs the Yinka Paramole Blog on social media, featuring variety of issue-based contents cum documentaries on Yoruba towns and communities.
In addition to these areas, she focuses on attitudinal change among Nigerians with what she calls massive campaign on positivity, cultural expose, integrating seminars, and workshops.
Before 2022 eclipses, Paramole-Shabi is scheduled to host a seminar aimed at challenging Nigerian youths to take their destiny into their hands through exposure to right mentorship. To her, all hope is not lost over Nigeria's return to sanity path, affirming sternly that Nigeria is a land of immense but untapped nay wasted opportunities.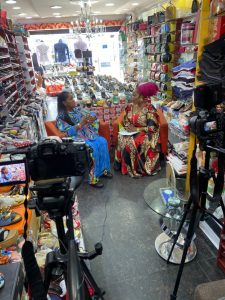 She argued that the youths are the only hope for a greater Nigeria, absence of whom, she feared, would amount to a disservice to years of sacrifices made by patriotic heroes, warning "it would be unfortunate if the paradigm shift meets us unawares like it did to some prominent nations of the world after decades of sufferings, genocide, war, famine, hunger."
To her again, improverishment and poverty are by individuals and nations choice, calling on Nigerian youths to rise and say 'no' to modern day slavery, which, according to her, is prevalent in countries "like South Africa, America, Kenya, UK and other countries whose youths could not bite into the new found fame, prominence and fortune."