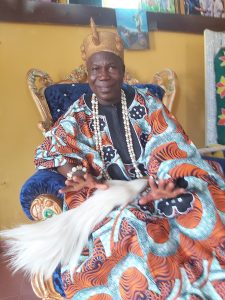 The Alado of Ado Awaye, Oba Ademola Olugbile Folakanmi has said that his fifth coronation anniversary would hold between November 16 and 19, 2022 in his domain.
Oba Folakanmi ascended to the throne on May 21, 2017 and received his staff of office on July 21, 2017.
In a release personally issued by the traditional ruler, who doubles as chairman, Ado Awaye Tourism Heritage Development Initiative (ATHDI), the anniversary would be celebrated alongside the 2022 edition of the annual Iyake International Festival held at the foot of the Ado Mountain.
According to the release, events outlined for the programme include economic summit, festival discourse, crown celebration and Iwure. Conferment of honourary chieftaincy titles, mountain activities, Royal Banquette, multi games, Arts and cultural performance, African market, prize giving, exploring Ado mountain tourism sites, mountain climbing competition, bike display, bicycle rides competition, camping experience on Ado mountain among others.
It further stated, "Kabiyesi is, therefore, using this opportunity to invite the general public to this epoc making events under the leadership of Engr. Seyi Makinde, the Executive Governor of Oyo State as the Distinguished Guest of Honour, all Sout-West Governors as Special Guests of Honour, Barrister Bayo Lawal, the Deputy Governor of Oyo State as the Guest of Honour, HRM Oba (Dr.) Khalid Oyeniyi Olabisi Oyedepo III, the Okere of Saki and Vice Chairman, Oyo State Council of Obas and Chiefs as Royal Father and Barrister (Chief) Iyiola Oladokun, Chairman National Environmental Standard and Repopulation Enforcement Agency and a former Deputy Governor of Oyo State who is also an Ado Awaye born son, as the Father of the day."
The Alado added," we intend to reconstruct the steps leading to the top of Ado mountain, renovate the chalet below the mountain and construct resting places along the paths leading to the mountain in order to add value to the year festival and solicited to the general public to be part of this historic projects".
The Tabloid.net gathered that Oba Folakanmi is the 13th and the first educated Alado of Ado Awaye in history while further findings revealed that the ancient town is important in Ekun Otun Provinces of Old Oyo Empire having been founded around 1500 AD by a Prince of Alaafin Oluaso of Oyo named Obakoyi, who is also a step brother to Alaafin Onigbogi.
It was also learnt that the Alado, was the traditional Ifa Lord to Alaafin "as it is often said in a popular Yoruba proverb that "ki e to wuye fun Alaafin, e ko gbo ohun ti Alado fe wi" (meaning before you enthrone Alaafin, listen to what Alado has to say)."
Oba Folakanmi said, "Ado Awaye is quickly becoming the tourists paradise in Oyo State, Nigeria and by extension, Africa as the town house the only natural suspended lake in the world – Iyake Lake, the mother of other tourism attractions on Ado mountain. The monarch explained further that, from its formation to its mountains and plains, everything about Ado Awaye is a wonder. The town can be said to have one of the unusual cultural heritages around the world and it has been described as an indelible footprint on the sand of history by scholars of high repute."